Final Cut Pro X 10.1's Jump Cut retiming effect is a bit of a mouthful, but it's easier to understand and apply than you might think. And likelihood is, once you get it, you'll want to use it!
With the release of FCPX 10.1 a new retiming effect has been introduced. It is the Jump Cut effect. This effect gets a bit overlooked due to folks misunderstanding exactly what it does, so I'm going to attempt to explain how it all works. The effect basically creates a series of "jump cut' type effects. Jump cuts are when we have one individual clip, and we select a group of frames to remove. Thus when it is playing back, at those edit points the action will "jump", making the missing segment obvious. Playing this back will cause a jarring effect visually and with the audience.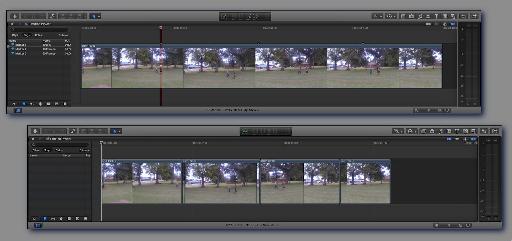 Normally in a documentary type of interview edit, we use cutaways or inserts to fill over these resulting in the jump being covered up. Yet these jump cuts can also be interesting special effects. Since it is effecting the timing of the clip, it is a retiming effect.
Setting Up The Markers
The first step to creating this effect is to place markers at each frame on your clip, where you want the action to make the jump. Place your playhead, or skimmer, on a desired frame, hit M to create a generic Marker. Simple as that. Create markers every place you want to see the action jump in your clip. Three will suffice for my example here. Double-click to name them if desired.

Selecting Proper Effect Parameters
In the Retiming shortcut menu, located in the Toolbar (see the image below), locate the "Jump Cut At Markers" option. This will present you with several choices. You can decide to skip 3, 5, 10, 20, or 30 frames. Now, this is a tad misleading, as you're not actually 'skipping', or removing these frames. You're actually "retiming" those frame.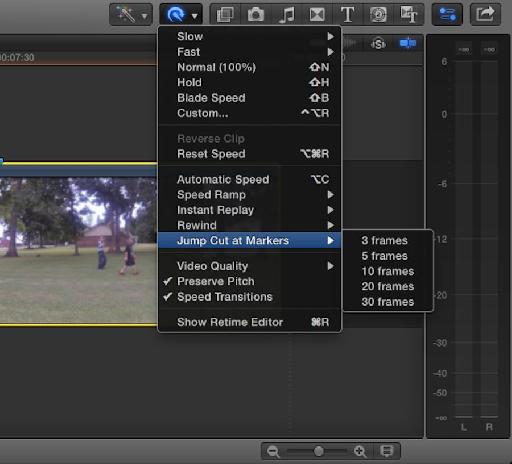 For example, if I create a Marker, then select 30 frames, FCP X will take the 30 frames after that marker, and retime them down to the duration of a single frame, thus resulting in those 30 frames being retimed to play at 3000% speed. If I place my playhead over the Jump Cut Effect created at that Marker, and zoom in on my timeline really close (hold Command while hitting the =/+ key), I will see the retimed segment. Because this is a retimed segment, and not just a bunch of frames cut out completely, I actually have more options here.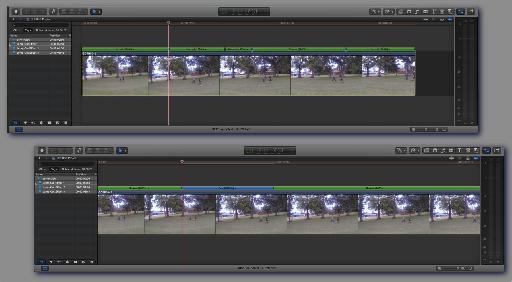 Retiming The Jump Cut
While I am zoomed in enough to see the retimed segment (use Command-R if you don't see the Retiming bar along the top of the clip), I can retime this "jump cut effect" segment as I desire. Just like any other retiming section of a clip, I can simply click the handle at the end, the right side of the segment, and drag it out to the right to slow that segment down as much as I like. I can drag it to the left to speed it up as much as I like.

In this way, I'm not locked in to the original Jump Cut effect created at each Marker, but I can tweak what they look like. Making each jump segment slower can actually give me some very interesting variations on the default look of this effect.
In my example here, I have 4 Markers, thus I created 3 instances of my Jump Cut Effect. I'll leave the first one at its default setting. I'll slow the second one down to 750% speed, and the third one to 350% speed. When played back, you'll notice that as they slow down, they get a more interesting, non-standard look and feel.
Be aware that you don't have to set all of your Markers all at once, either. Cut your clip with Command-B into 3 sections, then set a marker in each section. Apply a Jump Cut effect in the first clip segment and try skipping 5 frames (retimed to 300% speed). Then set the next one to skip 20 frames (retimed to1000% speed). Then final one to skip 30 frames (retimed to 3000% speed). This is another way you can utilize this effect and squeeze more creativity and variety out of it. There is no rule that says this effect has to be so cut and dried, so stagnant.

Conclusion
I hope this article helps you to understand not only how the Jump Cut retiming effect works, but also how flexible it can be. Play around with it, try making a variety of tweaks, mix it up, and get some really interesting effects that can enhance your music video, sports demo, event video, or whatever it is this effect can appropriately make it more exciting to your audience.