Francesco Schiavon is a master trainer for macProVideo.com and an industry recognized expert consultant for video & digital web deployment. I caught up him to chat about Lion, iOS, teaching & life.
Francesco Schiavon is one of macProVideo.com's Star Trainers. He is a recognised expert in the web and multimedia industries, a published author, a seasoned lecturer and teacher and a highly sought after consultant in the world of digital deployment for the web. Just hours before Apple released Mac OS X (10.7) Lion I caught up with Francesco to chat about Apple, OS X, iPads, his latest tutorial for macProVideo.com and his fascination with all things that grow.
RS: Hi Francesco! Thanks for taking the time to be interviewed for The Hub.
FS: You're welcome.
RS: Tell us about your Mac and training background.
FS: You can say I started my computing journey in university back in 1992. Apple released the first Mac that had a built-in video digitizer. So you could plug in a video camera into the Mac and start digitzing without having to spend thousands and thousands of dollars on hardware. I got one of those when I was studying engineering and I had always wanted to do multimedia. After doing my Masters Degree in London I came to Vancouver to do a course in Multimedia and at that point I started working too. First I began teaching part-time and working with a small start-up company that became one of the main web development companies here in Vancouver called Blast Radius.
So I've been teaching for about 15 years. And I've been a Mac user since university. It's kind of weird because I had a brand new super powerful PS2 PC that could do 16 colors. I guess it was 256 colors actually. And I had to spend all my nights at the university library because the software I was using that semester for simulations and presentations only ran on the Mac. So that's when I got my first Mac and since then I've been an avid Mac user.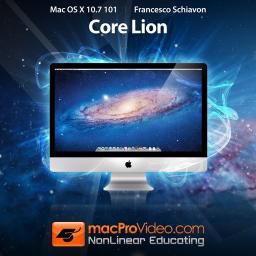 Francesco's latest tutorial: Mac OS X (10.7) 101 Core Lion
RS: So as a long-time Mac user and instructor when did you begin taking your training out of the classroom environment and distributing it to a wider audience through books and tutorial videos?
FS: Well, it was still when I was in university. When I was a student at VFS (Vancouver Film School) I ended up learning a lot by helping other people. So solving my problems first and then helping others solve their computer related problems became a very useful way for me to learn. The more I learned the easier it became for me to solve other people's problems. Almost immediately after I finished the program I started working as a part-time teaching assistant. So that's where the teaching side of my career began.
In terms of books, I was involved in a couple of books back in early 2000 regarding Quicktime. I had a relationship with Totally Hip software which meant I was very, very involved in Quicktime. This was cool and had benefits as the Quicktime community was very small, so I got to meet a number of people in Quicktime managment positions. I also got the opportunity to do a few Quicktime projects for Apple and had a chance to speak at a number of Quicktime events and a WWDC (World Wide Developer Conference).

RS: Did you delve into the development side of Quicktime?
FS: A little bit. I did mainly consulting so I wouldn't spend a lot of time developing an application from the ground up. There were a few but they weren't often very complex. Often times my work would be part of someone else's work. I did a number of players, for example, for The Mac Show (a broadcast radio show). But most of the work I did was based on scripting rather than development of Quicktime applications.
RS: So when did you first become involved with macProVideo.com?
FS: I knew Martin Sitter (CEO of macProVideo.com) long before macProVideo was born. So, I was involved from the very beginning. I did one of the first courses for the mPV library that Martin didn't do personally. I don't remember the exact title. I think it was on Capturing and Outputting with Final Cut Pro. Since then I've done all the iLife courses and many Final Cut titles, video compression and Mac OS X titles too.

[Ed - See all of the Video-Tutorials by Francesco Schiavon here.]
RS: Considering you are an expert in so many technologies and applications, which has been your favourite area or piece of software to create tutorial-videos for?
FS: My professional expertise is based in video compression and all things to do with video. So, I really enjoyed doing the Compressor courses and the tutorials on the Adobe Media Encoder. In fact, it's suprising that everyone who has an Adobe CS suite has Adobe Media Encoder, but not many people know how to best use it. So, I especially like training that involves a technical challenge.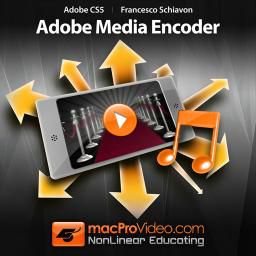 Adobe Media Encoder: An essential too included with every Adobe CS suite.
Sometimes with the training I create, for example with iDVD, it's not my first choice piece of software for creating DVDs. So when I being preparing to teaching or produce a video tutorial I come to things that don't make sense to me or potential new users and I make a note of those things. I think that's a positive. Somebody told me once if you want to learn software just teach it!

RS: That's a good philosophy to have.

FS: (laughs) I wouldn't think of it as a philosophy, but as a '˜fact'! For example, with the OS X Lion course, I used the software sometime before I started recording the tutorial. But when I was using it for the first time I began making notes as if I was learning it and was going to start teaching it right away. I felt with this new operating system I would delay the recording process to collect my thoughts and organize the course better.

RS: So in your opinion, what are the stand-out features in Lion?
FS: Well, one of them has to be the use of a touch surface. I don't know if it's because I didn't use a touch surface before... I always used to use a mouse as my input device. A few months back when I saw that Apple were working on Lion and in particular on multi-touch gestures on Trackpads I decided to get myself a Trackpad. It has changed the way I interact with my Mac. Even for people who've been using trackpads in Snow Leopard, there are a number of new features in Lion that really take advantage of a touch surface. So, for me gestures are the main thing that stood out.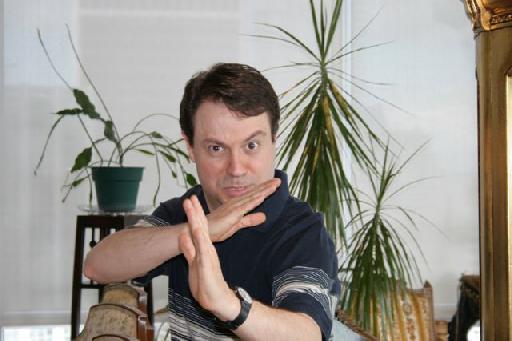 Francesco demonstrates multi-touch gestures not yet available in Mac OS X 10.7 Lion
There's a couple of other things that remind me of the '˜Back to the Mac' mantra Apple had at the end of 2010 when they announced they were working on OS X Lion. You know when I first used Lion on an iMac I said to Martin (CEO, macProVideo.com) that it feels like a 27' iPad that can run OS X apps. That was my first impression.

And there's other cool features that come to mind. I always used to work with Expose, but I don't think that many people used it in Snow Leopard. I love using it to navigate, move and copy files and even launch applications. So, Mission Control just takes Expose to the Nth degree! You get access to everything that is visible. For example, if you have a window that is hidden or tucked away in the Dock you wouldn't see it with Expose. But now (with Mission Control) it's much easier to get access to everything that is open.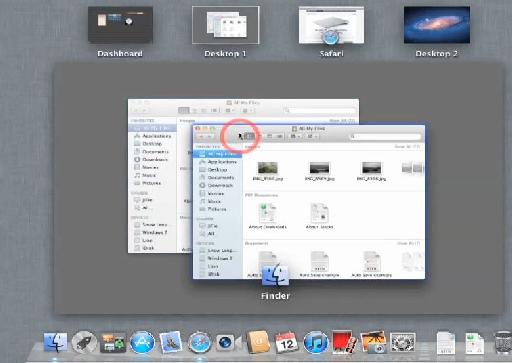 RS: Cool. Any other features which you'd recommend as highlights for Lion users to check out?

FS: Well, the Mac OS X 10.7 101 Lion course touches on them. The App Store is a very interesting feature. I've never been too interested in having commercial or tracking software on my computers. But the App Store does make it incredibly easy to, not only buy software like Final Cut Pro X, but get updates super conveniently.

RS: You mentioned earlier that Lion makes a Mac feel more like a giant iPad. What are your thoughts on the iOS platform and its integration into, or with, the Mac OS?

FS: Well, I remember the iOS presentations when the iPad first came out. Apple made the comment about the iPad being a magical device. I think this is true. Not so much because of the hardware but because of the software and how the user can interact with it. It is very natural and I remember the first time I saw an iPhone, literally after two minutes of using it I was able to get to every single option which I was never able to do on a regular phone or smart phone. Now that these iOS devices have been out for a few years we don't think about them as special anymore. It's just another device, but they were really revolutionary at the time. So in terms of Lion, I'm not sure that it is as revolutionary, but it's more of a progression.

You know Steve Jobs has talked alot about the research they've done regarding how people interact with the computer using a touch screen. The conclusion was that it wasn't the way to go and that's why they're focusing on gestures on the Trackpad. I believe Windows 8 is going towards encouraging users to physically reach out with their arms to touch a screen. That's going to be very interesting when Windows 8 comes out as it really gets tiring. Then, there's me as an example of someone who hates touching my computer screen. It would never work for me because I don't enjoy leaving lots of smudges on the screen! I would have to wipe the whole screen every 5 minutes just like I wipe smudges off my iPhone.

But there's another thing about iOS interaction. I don't know if people know how to get to all of the features. Now that iOS has matured there are many more 'hidden' features. The other day there was a discussion on the net about why the battery life was draining on someone's iPhone. One of the conclusions was that this person was running all the apps on his iPhone and he never quit them. He just didn't know how to turn them off! So, a lot of people are not aware you need to double-tap the home button and hold on an application to be able to quit it. There's a bunch of other one's like locking screen orientation that some people aren't aware of. So if things start to become even more complex on the Mac the same thing will happen. i.e. People won't intuitively know how to access these controls. For example, with some gestures you actually need to think about them as you learn them. It's like learning to ride a bike. You need to think about putting on the brakes or putting your feet on the pedals. After a few times it becomes natural and then you don't forget it ever again.

I wouldn't say there's a learning curve involved in getting the hang of gestures, but it requires some practice.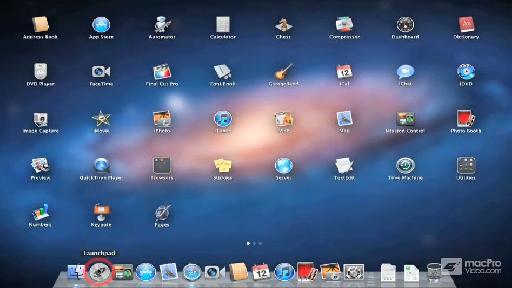 Using gestures makes Lion features like Launchpad very intuitive to access.
RS: So what else do you do outside of teaching and training software? I believe you're involved in video and cookery in some way? Am I close to the mark?

FS: Close! (laughs) I started working for a startup company called Rouxbe.com which began back in 2004. They started with a couple of chefs and they wanted to teach people how to cook and they knew they wanted to use video. My involvement has not been shooting or editing the video it was actually on a more theoretical level. In the beginning I had to come up with shooting best practices to avoid videos looking like old style, home-spun YouTube videos. We wanted the highest quality video possible.

Later, I got involved in the interaction ideas behind the website. Originally it featured video recipes so you could see exactly what the food and preparation would look like without needing to learn all the cookery terms which French chefs have been using for centuries. So the video is there to show you the way. After the recipes were created it evolved into a fully featured cookery school. When the school started I was very invovled in the architecture of how the school behaves. For example, how quizzes are generated, how it's possible to navigate from lesson to lesson, how the user interacts with the player.

In 2010 when the iPad was released, Apple contacted Rouxbe to encourage them to get their content ready for the iPad. It was a major issue for Apple that Flash didn't run on the device. So they provided support for Rouxbe to get the library working on an iPad. I was very involved in the procedure and the technique for compressing all the videos into H.264 iPad compatible format. And we also made sure it would work well on an iPhone. And it works beautifully.

RS: Thanks. I love the look of Rouxbe and will be checking it out some more. So in terms of macProVideo.com, do you have any titles in the works you are able to talk about?
FS: Well, there are a few ideas I have for future titles. There are a number of things that have changed in Lion, for example the (much, much) cheaper Lion Server. It makes it very easy and economical for small companies that want to run a Calendar server, Wiki Server, Contact Server, Profile Server for iPhones, etc even on a Mac Mini! It's a no brainer. I'm waiting for the new Mac Mini's to be released with Thunderbolt to really explore Lion Server in more depth . [Ed - they were relased by Apple about 12 hours after this interview!] I have some other ideas but we can't talk about these until much later.

RS: So Francesco, what do you do when you're not learning software, teaching software, creating Tutorial-Videos for macProVideo.com and consulting on video compression. So basically, what do you do when you're not infront of a computer?
FS: (laughs) Not much really! For me using the computer can be a way of relaxing. I do also like exploring cookery in the kitchen. A couple of nights back I created a coconut icecream for example. It didn't turn out the way I was hoping for! (laughs)
And then... It's not a hobby, but I like growing plants. I've got about 20 oak trees that I sowed last year and now they are about 70cm tall! I also have some cacti that I got by pollinating the flowers, got the little fruits, got the seeds out of the fruit and then planted them. They're about 3 years old and are now about a cetimetre tall! They're super slow!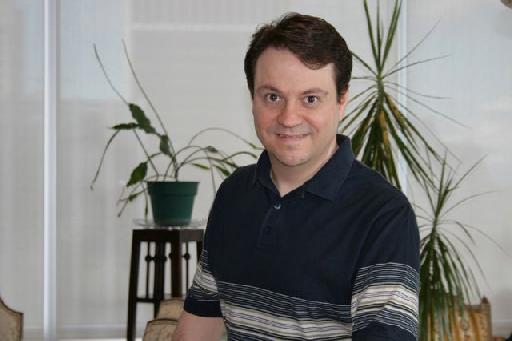 Francesco Schiavon with some experimental indoor plants.
RS: Nice. So you enjoy gardening...
FS: It's not gardening. It's just curiosity about life I guess. I don't have a garden and although I'd be sad if the trees were dead one day, but it's not like I would take it really personally. It's more about a curiosity with life and how simple and fragile it is and at the same time how relentless life can be.
RS: OK. So, are you growing these oak trees indoors?
FS: They're in pots and I plan on keeping them at a height of around a 1.5 meters. Another thing I'm really curious about is this whole bonzai experimentation. Hopefully it works. If it doesn't work then oh well...
RS: So can we expect a Bonzai growing video tutorial from you?
FS: No, not really. It's one of those things you've just got to go and try out yourself! (laughs)
RS: Thank you very much Francesco. It's been really great talking to you.
FS: Thank you. It's been a pleasure.
Check out Francesco's Mac OSX 10.7 101 - Core Lion Tutorial-Video now!