The new big update for Final Cut Pro X is here (10.2) and it's packing some big new features, support and things to make every FCP X user happy and it's free! Iain Anderson gets under the hood.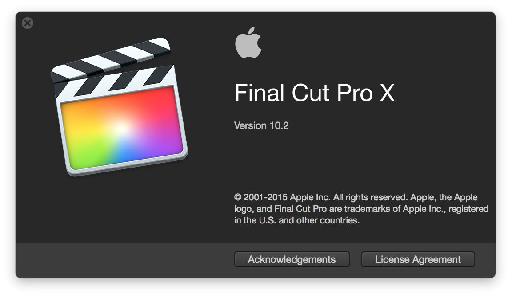 Finally!
Introduction
After what seems like a really long time, but is in fact only about a year, a major update to Final Cut Pro has been released, and it's free, like every other update before it. While the UI looks largely the same, there are many new features and several bug fixes to talk about, but before you jump straight to the App Store and hit Update, a few words.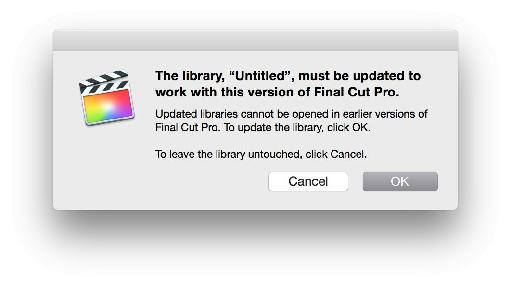 Make really sure you're not in the middle of a project when you upgrade, back up your old app and important libraries, and don't call them 'Untitled'.
Caution First
As ever, if you're in the middle of a project, don't update your main editing station, as there can always be unforeseen issues. It's always a good idea to right-click and zip each of Final Cut Pro and Motion, so you can revert in case of disaster. Libraries will be updated too, though, so only update if you're sure you can roll back safely. This update also requires not just Yosemite, but 10.10.2 or later, so you'll need to be fully up to date before you jump in.
3D Text
Now that you've just hit update and jumped on in (you did, didn't you?) all the new toys are on show. The biggest, and most obvious update is the introduction of 3D Titles'"not stereographic support, but bevels, shadows, and the appearance of depth. (It's a little like the text support in the third-party mObject plug-in, though that tool still offers a whole lot more than just 3D titles.)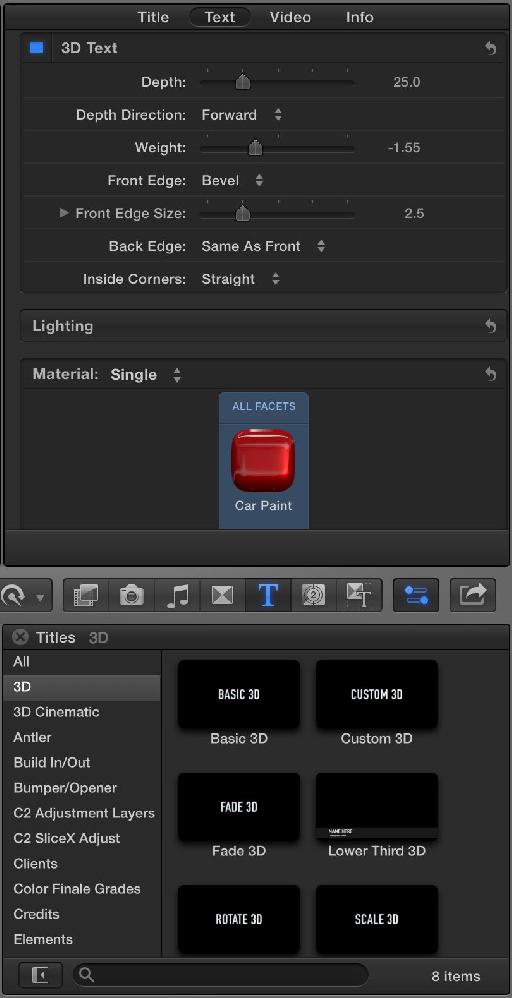 Just some of the text controls and new title options below.
FCP X has had great 2D title and 3D positioning support since day 1, so the addition of new controls that let you control how text is pushed into that third dimension seems a logical enough jump. There are many bevel options, fresh templates, you can convert your existing 2D titles to 3D, you have access to shadows and materials, and you can extend the new 3D title templates further by opening them in Motion.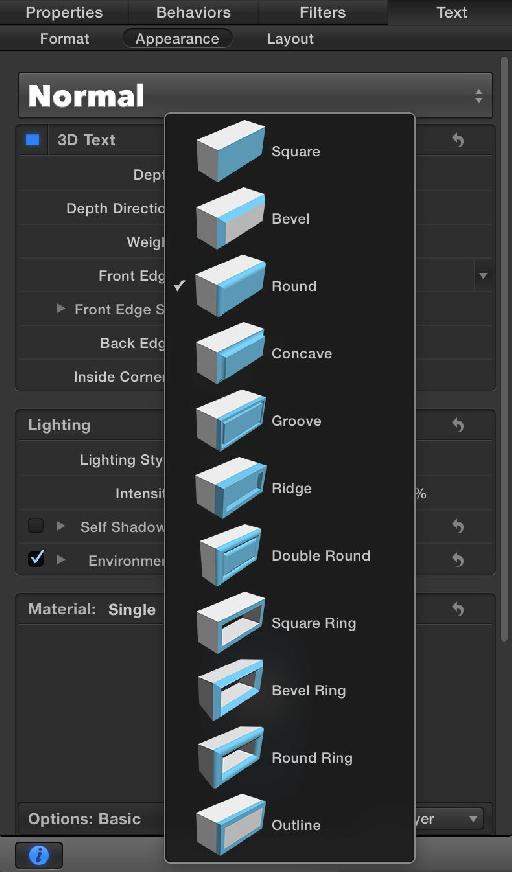 The bevel options for 3D Text in the new Motion.
Motion too?
Yes, Motion was also upgraded. The new 3D titles can be further finessed here, including multiple cameras and lights, and with many, many more controls. Texture and bump mapping, sequence text in 3D, and tons of new presets and texture options all allow you to extend FCP X's new 3D titles in interesting ways.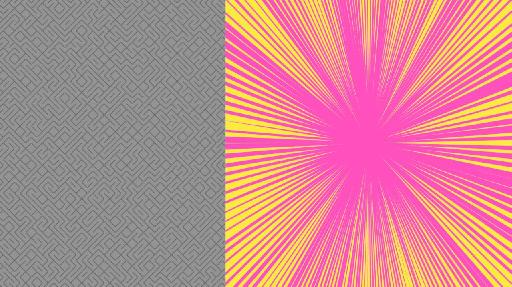 Two of the new Generators, Truchet Tiles and Manga Lines.
Outside of 3D titles, there are several new generators, improved key framing and masking controls, improved performance on Intel GPUs and on time-based effects like Echo. Bug fixes are included too, including a few keyframe-related bugs, and better stability when opening a project that's missing fonts or filters.

Add the Color Correction filter, or just press Command-6 to get access to the Color Board.
Color and Masking
In FCP X 10.1 and prior, the color board came first, and all other effects afterwards. Not any more: the Color Board is hidden by default, has been rolled into the Color Correction effect and can be placed in any order you want. Any effect'"even third-party effects'"can now use Shape or Color masks, for much greater flexibility in the way you apply effects and color grading. There are also several new masks for restricting how much of a clip is visible, including 'Draw', which allows freeform polygonal, bézier or b-spline masks.
You can now also assess your color work much more easily, as you can show many video scopes at once, splitting the area into many separate panes, and putting whatever you want in each one.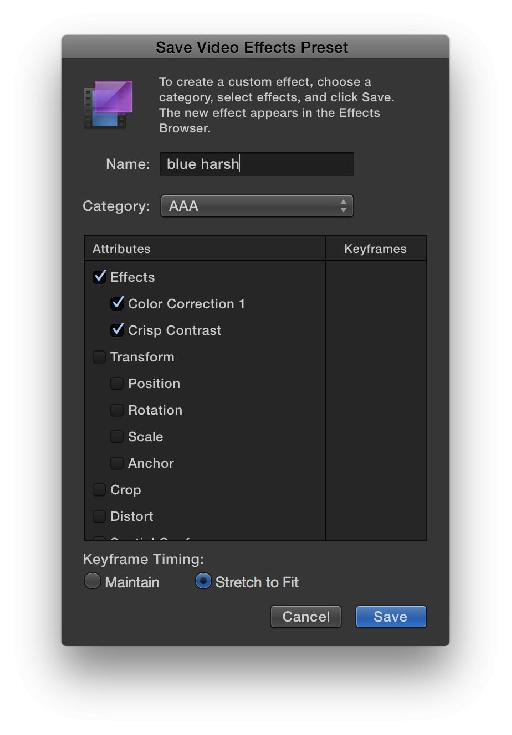 A blue, harsh preset being saved.
In fact, you can now save presets for your video effects'"much like it's been possible to save presets for audio effects and for text styles. Perhaps a bank of color grading presets will be useful to you, a selection of ways to blur, or simply common tweaks to your favorite effects. A little time invested in creating presets can save a lot of time later. (Pro tip: a '+6 dB' preset on the Gain filter saves a lot of time when the default +12 dB just isn't enough.)
Smoother Motion
Optical Flow has been improved for better slow-motion results, so if you'd tried a shot before and it didn't work, try it again. Keyframed motion is now smoother too, though if you want a full keyframe graph, you'll still have to use the Motion app itself. Also like Motion, performance on time-related effects has been improved.
More Codecs
As more cameras have come out, the codecs the manufacturers have chosen have multiplied. While you can still convert to ProRes, you can also work natively if your Mac is fast enough, and the codecs you can work with now also includes:
AVC-Ultra

XAVC S

XAVC and XDCAM (without a plug-in)

JVC H.264

RED RAW and RED RAW anamorphic with GPU and dual GPU acceleration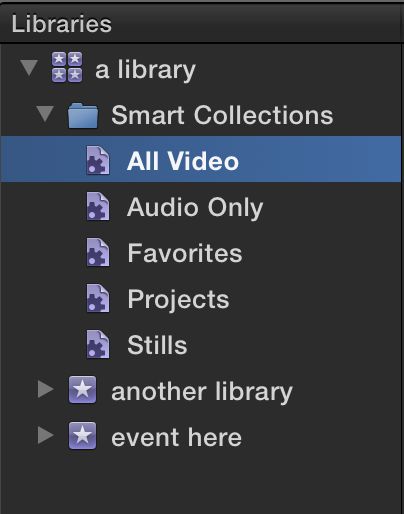 The new-look Library pane, where Smart Collections sit at the top level of each Library.
Smaller, yet important features
Smart Collections can now search across Events within a Library. Previously, Smart Collections could only search a single Event at a time, limiting their usefulness in large projects, but Events can now be effectively used as an organizational tool on even the largest jobs. The new Smart Collections folder, at the top level in each Library, also contains new presets, revealing an entire Library's audio, still images, projects, favorites, and of course whatever other Smart Collections you add yourself.

Importing options are now up-front.
Importing has been streamlined, and now shows the (many) options in a sidebar instead of hiding them until you've started the import. Compressor now supports GPU (and dual GPU) rendering when using Send To Compressor, and in fact, Compressor has a few new tricks of its own. Besides hardware-accelerated multi-pass H.264 encoding (a new trick), there's new support for creating iTunes Store Packages, including a trailer, closed captions and subtitles, options to create a stereo downmix from surround projects, and a few more tweaks too.
Bugs Fixed
All these new features would be for naught if existing issues were ignored. While not everyone will be satisfied with the list of issues addressed, there are several issues which have been fixed. Number one is that audio waveforms are drawn faster, a bugbear for editors of very long timelines especially. Long GOP video like AVCHD can now be skimmed more quickly, and badges on high-speed iPhone footage helps you spot those clips more easily.
Probably one of the neater tricks, especially relevant for long-form editors, is that if you export to an intra-frame format like ProRes, you can start playing your exported file before it's finished exporting. I look forward to an edit I can finish before it's imported (previously possible) and then start watching before it's finished saving.
Conclusion
It's taken a while, but editors are taking FCP X more seriously, with Award-winning FCP X-based work like The Other Side and This Girl Can and the feature 'Focus' finally changing perceptions. Thankfully, Apple are coming to the table too.
The big deal here is not just the proof that Apple haven't given up on their professional NLE. It's not even that they've addressed some of the real issues editors have reported. It's that they chose to launch this update at 9 a.m. on the first day for the world's biggest video trade show. The mix of new features (consumer users don't need multiple scopes) and bug fixes (audio waveform performance, for one) should go a long way to reassuring everyone that Apple haven't given up.
What to do, then? Well, if you're an FCP X user, back up your old apps, back up your projects, update (for free) once again, and watch for more tips and tricks right here.