The rise of digital cameras and editing suites means we're creating more video footage (& files) than ever before! Here's how to organise your precious shots & assets for FCP X users.
Video files are big. There's no getting around the fact that you're going to need some serious hard drive space to be able to keep your files indefinitely. While some people are content to throw old projects away, I'm a pack rat in these matters, and ideally I'd like to keep everything accessible. Still, if I don't need immediate access, onto an archive drive it goes. And how you do that? That's what we'll be looking at here. Let's dig in.

Note: I archive to external hard drives. They're not perfect for long term storage, so plan to power them up from time to time to avoid sticking, and clone to newer drives every year or two. All drives die eventually, just make sure you don't have anything important in only one place.
Also note: This strategy works well for cameras which produce media you can work with directly. If you work with an AVCHD camera, you may also wish to create Camera Archives for extra safety.
Start at the shoot
For maximum safety, you should back up your footage as soon as possible after shooting. Because I shoot on a Blackmagic Cinema Camera, that means copying the files from my SSD to another drive, ideally in the field, or at worst, as soon as the shoot is done.
That initial copy is in fact an import straight to an external drive, within FCP X. At this stage, I simply dump the footage into a new Event, giving me an opportunity to review, mark and keyword the footage, during or straight after the import.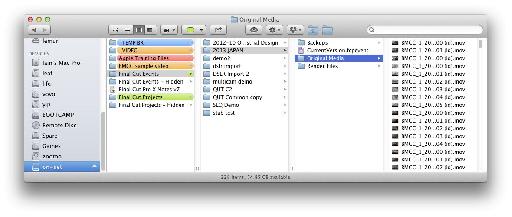 Here's an on-set drive and the Original Media folder you can dump files into.
Tip: you can create an event ahead of time, then dump your compatible files (from a DSLR or a Blackmagic) directly into the Original Media folder in that Event. Next time FCP X launches, it will scan that event and instantly import the new footage.
Back in the studio
If you were able to copy your footage in the field, great '" you should duplicate that Event you made in the field to your main FCP X working drive. If you haven't imported your footage at all yet, that's OK, import it to your main FCP X working drive now.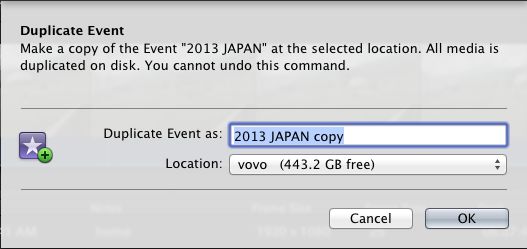 Select your Event, then choose File > Duplicate, and pick your working drive.
Tip: Be sure to use FCP X to duplicate Events. Each Event has its own unique ID, and while FCP X gives duplicates a new ID, the Finder does not, and you'll have issues if you duplicate with the Finder.
You're safe, so add metadata
Your footage is currently in at least two places. It's on your working drive in your working event, it's on your original camera media, and it might also be on your field drive. That's a good start, but this is the time to keyword and mark up your footage. Give at least basic keywords to all your footage, then mark the good parts with I and O, then mark them as Favorites with F.

And here's the event with many keywords and Favorites added.
Archive the Event NOW
Now that your footage has been organized, duplicate your Event again, but this time from your working copy on your main media drive to whichever external archive drive you want to store this on more permanently. Eject the drive and store it somewhere safe '" preferably offsite, but definitely not right next to your computer.
Complete the project and archive that too
Create a Project as usual, then proceed with the edit. When you're done, you'll have a single final Project that references the Event on your main working media drive. Connect your archive drive, then duplicate the project to that drive. Select the new copy of the Project in the Project Library, then look in the Inspector. You should see a button marked Modify Event References at the bottom '" press it.
Event References
In the list you see here, there should be two copies of your Event '" the main working copy, and the archive you made straight after keywording. With any luck, they should have the same media, but it's possible there might have been a few late additions such as music. This step makes sure we don't miss them.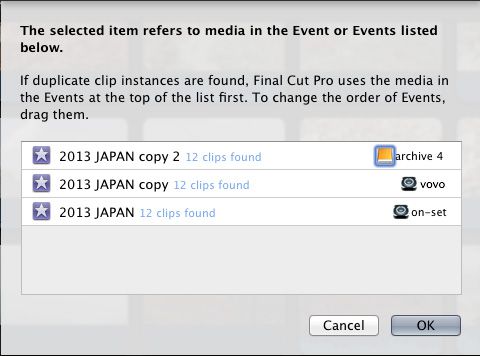 Make sure your archive drive is at the top of this list.
Drag the copy of the Event on your archive drive to the top of the list, then press OK. When you leave this dialog, the Inspector should show you that only your archive Event is in use. If the working Event shows up with one or more clips still in use, you'll need to copy them now '" just drag them across from your working Event to the archive Event and they'll copy.

Then verify that the Event on your archive drive is the only one in use.
Delete!
If you're sure that your archive copy is now good '" and scrubbing through it on a different Mac is a great way to check '" then you can delete your original working Event. You've still got a copy on an archive drive, but if one's not enough, then you should be duplicating that too. It's also a great idea to keep a copy of the final exported file in case you need to re-compress to another format. Added bonus: keeping a copy of all your final exports on yet another drive gives you an instant folio.
Remember Event Manager X
Finally, launch Event Manager X before you unmount your archive drive. That way, it will keep a record of the Events and Projects on the drive, even after it's been ejected. And that's it. For really long term storage, look to tape backup, online, or even burning to Blu-ray, but for storage of large files for a few years (enough for clients to make changes) then hard drives are the way to go.