If you want to be organized when it comes to media management, Final Cut Pro X is probably the best video editing software available. Ben Balser shows how FCPX can share your metadata too.
Final Cut Pro X is about the best NLE for dealing with metadata and media management. This media management starts when your media is imported, all the way through the editing process. Some folks are unaware that FCP X follows through with media management after you have exported, or 'Shared' your finished product. Many an NLE can not do much once the video has been set free into the outer world on its own, but FCP X is very different.
Share Attributes
For my example, I will use a simple Project timeline with a single clip in it, that clip made into a Compound Clip, in order to show that each is only a Timeline container, and for this article, they all work exactly the same way. Remember, each is only a type of Timeline, which is what I will refer to them as throughout this article.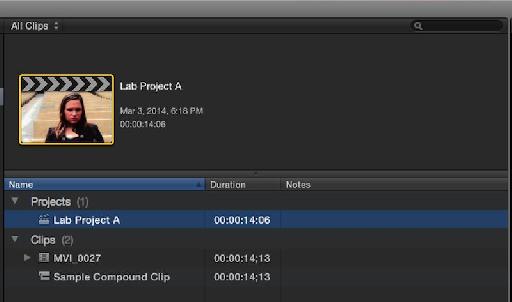 Open the Inspector with Command-4, go to the Share section. This will look the same for each type of Timeline in the Browser. The top section will give basic format information about the Timeline. Below that is an Attributes section. Here by default we can see the Title, Description, Creator and Tags metadata fields. No matter which of my Timelines I select in the Browser, the Share section will look the same. If I change this layout, it will be the same no matter what Timeline in the Browser I switch to. This is all of the metadata that will be embedded inside of the media file FCP X creates during the Share process, otherwise known as exporting.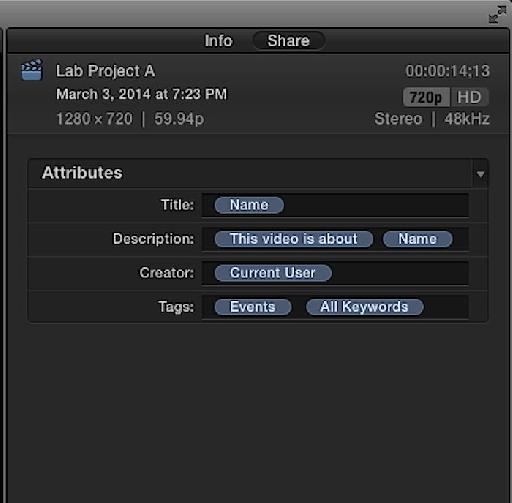 Each blue bullet you see there, such as 'name', 'Current User' is a single piece of metadata; data read from an OS X or FCP X database, or text input manually by the user. For example, for Creator, 'Current User' will pull data for the name of the currently logged in user. In the Description field, 'This video is about' is plain text that will appear exactly as is, and 'Name' is the title of the Timeline'"Project, Clip, Compound Clip, etc.
Customizing Metadata
To customize this metadata, you can simply click inside of any field and type. You can delete what is there, change it, or simply add to it. For example, in the Tags field, I can type into it the term 'Roles' followed by the enter/return key, then type in 'Duration' and enter/return again. This will add a listing of all Roles used in that Timeline, as well as the duration timecode, as embedded metadata to the exported media file.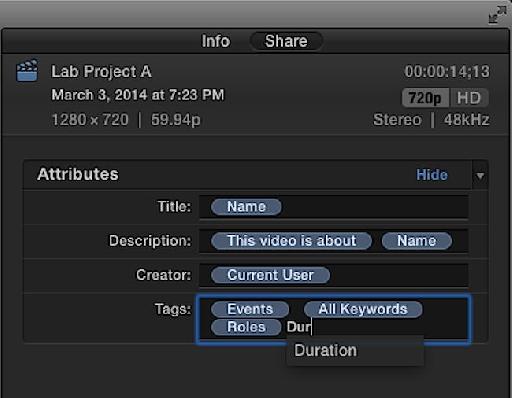 To go even further, we can add metadata fields, and customize how they are formatted by default. To add and remove metadata fields, click the small arrow icon to the right of the word Attributes and the small blue word 'Hide'. This is the list of available metadata fields. Click one that is unchecked and it appears in your Attributes section. Click one that is checked and it is not used. I will select the Copyright metadata attribute to add to my exported file.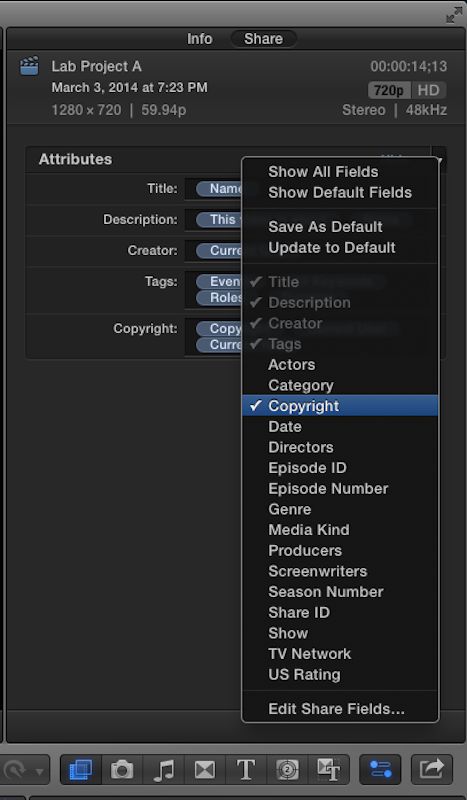 At the bottom of this menu list is an option to 'Edit Share Fields'. Selecting this allows me to customize the defaults of each field. Simply select a field from the list on the left side, then drag metadata place holders to the Format field, or delete what is already there. If you use the Custom Name place holder, at the bottom of this window, fill out the Custom Name field there. Leaving the Format of a field blank simply allows you to fill in your own metadata later in the Inspector.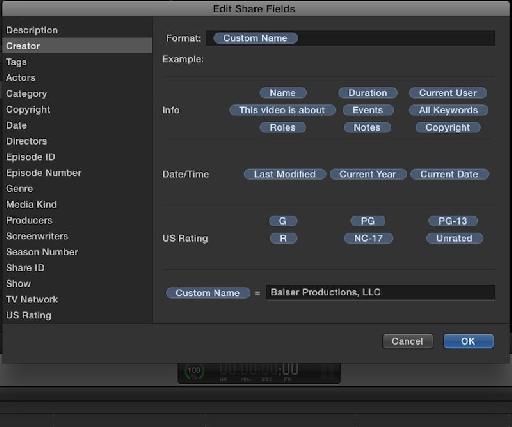 During The Share Process
Once you've customized your Share metadata, selected a Share method from the Share menu, you'll be in the Share window. Here you can change metadata one last time before the actual writing of the exported media file. Click on any field in the 'Info' section to simply change whatever you wish.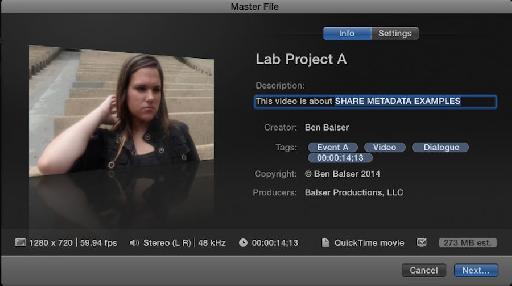 Post-Share Management
Once you have exported your media file, in the Share section of the Inspector, below the Attributes block, you will see a list that grows with each Share function you perform. These show each time this Timeline has been exported. Files that have been exported to your hard drive have a magnifying glass button to the right. Click it, and if that file still exists where it was written to, a Finder window opens revealing it.
Files that have been exported to a web sharing service will show the icon of that service. My example shows a Vimeo icon. Instead of a magnifying glass, you get a small menu arrow allowing you to go directly to that video online in your web browser, let you email a friend a URL link, or delete it from the service. Deleting it from the service also deletes the entry in the Share pane, too.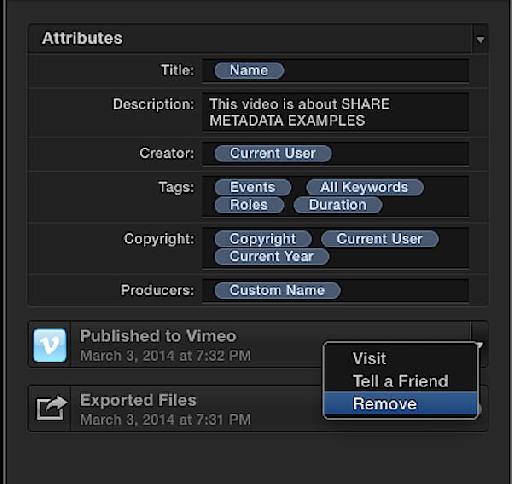 But Wait, There's More!
If you open the Information window in QuickTime player with Command-I, you will see the metadata listed there. And in the Finder, you can add criteria to a Spotlight search for the metadata you added in FCP X. Here I did a Spotlight search for the word Lab. Then I clicked the plus sign to add a second criteria. From the criteria drop-down menu, I selected Other. From there I added 'Copyright', and specified 'contains' 2014. Presto! My file is found based on metadata! If you do a complex search for a group of files, you can click the Save button to create a smart search, added to your Finder window side bar, for future use.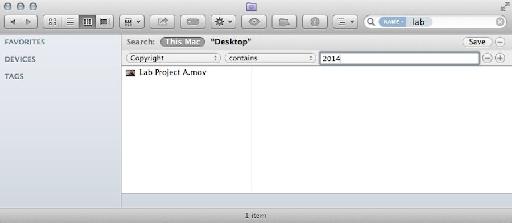 Conclusion
As you can see, during the export, or Share process, you can still use metadata to tag, watermark and track your exported media. This ability is very powerful and allows a great deal of possibilities. I hope this article helps you make the exporting, cataloging of master files, tracking of online uploads, and more, become more manageable.