Take an in-depth tour of the rough cut to refined edit workflow in Final Cut Pro X with Kiri Roberts, Apple Authorised Trainer, and video editing professional.
Though they both use a blade, the difference between an editor and a barber is that if a barber cuts too much hair there's no going back - whereas if an editor does, not all is lost. While every frame that make film or video matters, the difference between great story telling and not so great is in where we cut. Though it may seem invisible, where we cut is defined by a single frame. Out of 30 or 25 frames per second depending on the frame rate used to record, the editor eventually makes a choice of what single frame to cut on.
It's not uncommon for editors, especially new editors, to want to produce a refined cut right away at the beginning of the editing process. We know builders use more mud than is needed. They then come back and remove the excess until the structure begins to take shape. My barber has different size blades and trimmers. He starts off with a big size trimmer for removing long hair and then refines the cut with smaller blades.
Gathering Supplies
The event library and browser is nothing more than a gathering of building materials that we need accessibility to during the construction process. A big project will have need for a big collection of elements. Finding those elements easily is key to an efficient construction workflow. Just like well labelled isles in your local hardware store make it easier to find what you came for. My local hardware supplier has plenty of knowledgeable staff that will quickly point me to the right place.
A good starting point in FCP X is organizing our elements in related collections known as keyword collections that are found in an event. Just like the hardware store has trays that contain screws by size. A well organized project approach will look like the following image.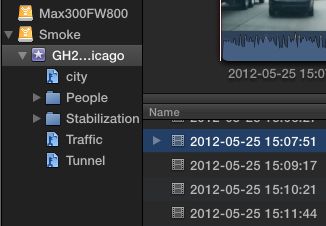 Organized Material.
Building on the premise that a project can start off as a rough cut, the range selection of a clip to be used can allow for more frames than will be used. The first key is to get familiar with the content in each clip - this may require you as the editor to just play and watch the clip a few times. After getting an idea of what's useable, the selection can then be made on the fly.
Selecting on the fly
Press Spacebar to play the selected event clip.
While playing, press '˜I' for In-point, a few frames before the intended spot.
Let playhead roll past intended end point and press '˜O' for Outpoint.


Range Selection.
The In and Out is then defined by a yellow range selection. Green hatched area in the image illustrates the useable part, the grey area outside on both ends are the handles that come in handy for transitions or for slipping the clip later on if you need to change the in or out point. Do note however that the range selection is temporary, upon clicking away on a different clip it will disappear.
Make Favorite
To permanently mark the range, tag it as a Favorite by pressing shortcut '˜F' or click on the green star icon in tool bar.

Favorite icon.
Decisions about audio
In Final Cut we now have the option to view the audio waveform associated with a browser clip. The waveform is displayed at the bottom part below video thumbnails.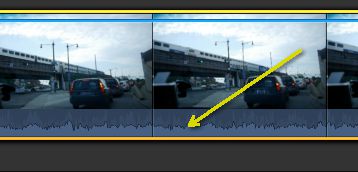 Audio Waveform.
Rough audio level adjustments are in order where the audio might be too high or too low, which necessitates adjusting levels prior to bringing the clip to the timeline. With the current clip selected you can consider the following:
Toggle On/Off waveform:
View Menu > Show Waveforms (or Hide Waveform to toggle off).
Adjust audio levels:
Select Clip > Inspector > Audio tab > Adjust Volume slider.
Inspiring Levels:
Clean and crisp audio playing at optimum levels will inspire the editing process as it provides a bedrock to lay the foundation of the story on. Conversely, inconsistent, peaking or inaudible audio disrupts the creative work flow.
Laying It Down
Having decided on what clip and what part of the clip to use, the next step is laying the clips down along the timeline, aptly named primary storyline.
Creating the project
A project is the container for the timeline, where clips are laid down to create a storyline. Once named, no more worry about losing unsaved work as FCP X automatically saves in the background.

Choose File > New Project (Command-N) to create a new Project.
First clip down

Timeline clips.
In a multi-format clip project, FCP helps a great deal by using the first clip to determine the format of your project. Any other clips will be made to conform to that.
Select the clip and press '˜E' for Append.
The clip will be edited to the primary storyline. For any subsequent clips '˜E' is a great shortcut. It saves you from having to worry that the next clip sits where the last clip ended. Regardless of where your skimmer or playhead is, Append knows to position the incoming clip to the end of the timeline always.
This workflow takes the focus away from the technicality of tools and puts it on what the story is you are telling. In no time, the timeline is populated with clips that you selected.
Audio touchups on primary storyline
With the new paradigm, FCP has been redesigned as an all in one finishing package. No doubt the editor may have to wear the hat of sound designer or colorist or even both. Even if your edit will be passed on to a sound mixer, there's no harm in adjusting your audio while you're editing. For timeline clips you may want to ensure that levels are consistent. Dialog levels will sound better matching in levels from one clip to the next. You can treat various elements you have on timeline as distinct groups. For instance, your sound effects may be louder than dialog, and music in background may be lower than dialog, so as to uphold the prominence of dialog in storytelling.
Adjusting audio levels on timeline
Select a clip and drag up or down on the waveform.

Alternatively use Control-minus (-) or Control-plus (+) to lower or raise volume.


Clip Volume.
Adjusting audio levels in the inspector
Select clip > Inspector > Audio tab > Drag volume slider to adjust volume

Inspector volume.
Fit the format
More than likely, your show or program will require that you have a targeted duration. Will it be a 30 second commercial, a 30 minute episode, a 90 minute feature, hour long documentary or 4.15 minute music video? During the rough cutting you're aware you brought in more than you need.
Clip Duration
Verify a clip is the duration you want.

Clip Duration.
Select a clip > Press Control-D, clip duration will light in blue.
Timeline Duration
Easily determined by positioning playhead at end of timeline.
Press End key or fn-End on portables.
Refining edits on primary storyline
Moving from a rough cut, you can progressively trim big clip chunks into refined segments. Timeline duration helps keep track of how long the story will run for. While there are multiple approaches to fine trimming, anything from using the blade to numerical, you may select a single tool or two based on efficiency in your workflow.
Blade it
Blade tool requires cleaning up of gaps and remnant chunks after use. Requires you to remember to switch tools, and switch back to the default selection tool.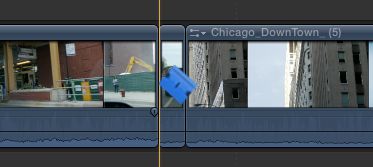 Blade tool.
Trim with precision
During the rough cut assembly In and Out points can be made on the fly as discussed earlier. When finishing by refining the edit, we need the utmost control over each frame. Where there are extraneous frames they can be shaved off by trimming the head or tail of a clip.
Trim the head
Position playhead on exact new In frame. Trim from clip beginning to playhead position.
Option + [ (Trim Start)

Trim to playhead.
Trim the tail
Position playhead on exact Out frame. Playhead position becomes new clip end.
Opt + ] (Trim End)
Trim with precision numerically
Click to Select an edit point, In or Out point.
Alternatively skim to the beginning or ending of a clip and use [ or ] on keyboard to select an edit point.
To add 5 frames type - 5, or + 5 to remove 5 frames.

Trimming numerically.
Trim with precision one frame at a time
With an edit point selected, use '˜,' or '˜.' (comma or period).
The comma key adds 1 frame at time and period key removes 1 frame at a time.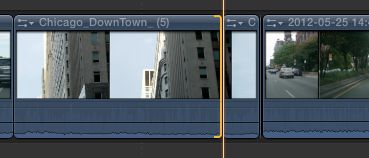 Trim 1 frame at a time.
Hold Shift-, (comma) or Shift-. (period) to trim in multiples of 10 frames.
Conclusion
FCP X provides a plethora of editing tools and methods, it is therefore incumbent upon you as the craftsman to pick and utilize the best tool for the job. They say the shortest distance between two points is a straight line. Try and use the straight line approach by using the simplest and direct way to get your edits executed. Apple's design philosophy that provides for 3 or 4 ways to do the same thing means you have the flexibility on picking the best choice.