If you consider yourself an intermediate or advanced level user of Final Cut Pro X and want to make your video editing chops faster and more efficient then these keyboard shortcuts are for you.
Video editing, retouching and design in general are much smoother if you can be at one with your software. Knowing the shortcuts is a key part of that fluency, because if you're hunting through menus looking for a command, then you're not engaged in the process itself. Keeping the cursor in the right place while switching or executing commands is vital, especially in a skimmer-heavy program like FCP X. After all, if you don't know the keystrokes for Connect or Insert (Q, W) then you can't use the skimmer for positioning—it disappears when the cursor leaves the timeline area. So what are the best obscure shortcuts, and what are the best shortcuts you can add? Let's find out.
Getting to know the Command Editor
While many shortcuts can be discovered in the menus (including the Tool menu) and more can be found by hovering, not all shortcuts can be found this way. For the master list, and to add your own, access the Command Editor, found under Final Cut Pro > Commands > Customize. You'll see a keyboard covered in small dots (indicating a command is assigned) and colors (indicating the type of command).
Most keys have a command assigned, and hovering over a keycap will show you what that command is. For more information, click on any keycap to see all the commands applied to that key with the various combinations of modifier keys (Command, Shift, Option, Control).
To find a command, the easiest way is to search in the field at the top right, though you can also click on the Command Groups area on the lower left. Either way, you'll now see a scrollable list of commands in the lower center of the window, showing the current key (if any) that each is assigned to.
Finally then, to add a shortcut: find a command, activate the desired modifier keys using the switches at the top of the window, and then drag the command to the desired key. (You can also simply hold the desired modifier keys down as you drag.)
If this is your first custom shortcut, you'll be warned that the default shortcuts can't be changed, so press Make Copy, give a name to your new shortcut set, and press OK.
Note that some commands are not in the menus and don't have shortcuts active—they are unusable until you add shortcuts. We'll definitely be adding a few of those.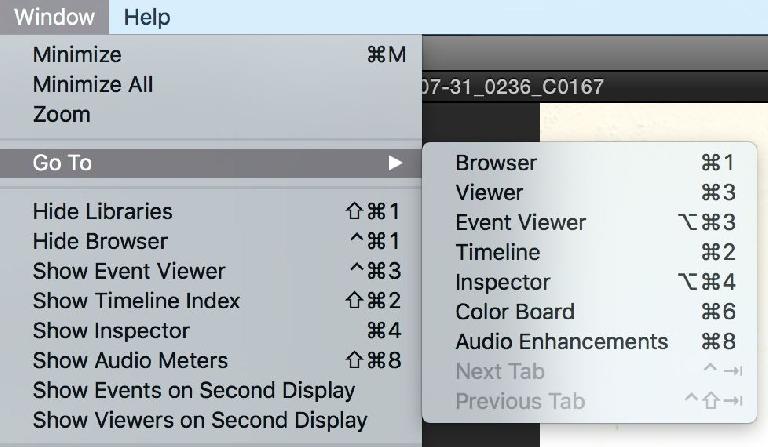 The number keys are used to show or hide parts of the interface—check the Viewer drop-down for a few more
Interface
Command-1/2/3/4/5/6/7/8 will show and select different areas of the interface, specifically the Browser/Timeline/Viewer/Inspector/Effects/Color Board/Scopes/Audio Enhancements. There are plenty of similar "number" shortcuts too, and they're mostly in the View menu if you want to find more.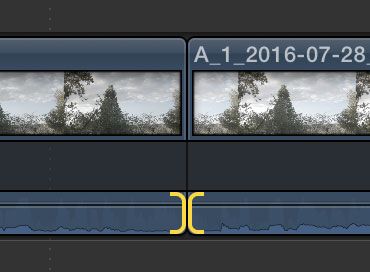 And all it took was a quick Shift-\
Edit Points
The best shortcuts for editing are those which select tiny areas that are hard to click: edit points, fade handles, and so on. Use up and down or ; and ' to jump between edits in the timeline, [ or ] to select the out point or in point near the current edit, or \ to select them both. With any edit point(s) selected, use , and . to move the selected point(s) one frame left or right, or add Shift to move by ten frames. You can also stay on the keyboard with C to select the current clip, and Shift-X to "Extend Edit", moving the currently selected edit point to the playhead.
Bonus: if you have expanded the audio on a clip, you can select the audio edit points by using Shift-[ and Shift-], and even Shift-\ works to select two immediately neighboring expanded audio edit points. Nice! There's also a hidden command to help you out here. While the built-in Control-S expands or collapses all selected clips, assign a command (perhaps to Shift-Command-S) to "Expand Audio/Video for Splits". This hidden command only expands a clip if it already has split edits, so you can select an entire timeline, then instantly see the split edits you've already created.
Playback
J/K/L and Space are well known for playback, but there's also Shift-Space to play backwards, / to play a selected area, and Shift-/ to play around the playhead. Bonus: add shortcuts to "Play Rate 1/2/4/8/16/32" and the "-1/-2…-32" equivalents to gain instant access to high-speed forward or reverse motion.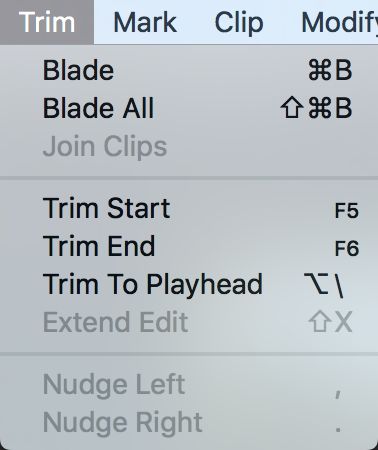 These trim commands are my favorite way to tighten an edit, with my custom shortcuts visible too
Quick Trimming and Storylines
In the menus, with commands, but without buttons, use Option-[ and Option-] to Trim Start or Trim End, shortening the current clip to the current playhead position. If you've marked an in and out on the timeline, Option-\ trims both ends to the selection instead. These commands are so handy that some editors remap Trim Start and Trim End to the G and H keys, but if you're looking for a one-key option, I'd go for F5 and F6.
The H key normally selects the Hand, and if you have a modern input device, that's no big loss. G, however, is Toggle Storyline Mode, a handy trick that creates a storyline for you when you drag two clips near one another and hold the key down. If you want to Trim with G and H, move Toggle Storyline Mode to U first. Also, if you're working with Storylines, Command-G will make one, and Command-Shift-G will break one apart.
Markers
Jumping to previous or next markers is easy: Control-; and Control-'. They are both very handy for moving quickly around the timeline to key points in the narrative that aren't edit points. Adding a marker is easy with M, but more useful is to add a marker and edit it immediately with Option-M. If you put a marker in the wrong place, you can nudge it with Control-, and Control-. or delete it with Control-M.
Bonus: add a shortcut (such as Option-Shift-M) to "Add ToDo Marker". There's also Add Chapter Marker, but sadly no "Add ToDo Marker and Modify". If you don't want to move exactly to the marker first, you can add keys to "Edit Next Marker" or "Edit Previous Marker" as well.
Color
Besides Command-6 to bring up the Color Board, you'll want to search for "color" and assign three keys to "Apply Color Correction from Previous Edit", "Apply Color Correction from Two Edits Prior", and "Apply Color Correction from Three Edits Prior". These commands are very handy indeed, and copy any color board settings from previous clips onto the current clip.
Extra bonus: these commands replace existing Color Board instances rather than adding to them as the Paste Effects (Shift-Command-V, pick and choose with a dialog) and Paste Attributes (Option-Command-V, paste all attributes instantly) commands do. They can also be used to affect many clips at once — select a series of clips, press the "Previous Edit" command key, and all clips will receive the same treatment. If the previous clip has no color correction, all the color boards on the selected clips will be removed.
Replacing
To replace a selected clip on the timeline with a clip from the browser, you can press Option-R — built-in, but not in the menus — to access Replace From Start. Bonus: add a shortcut to Replace From End to access the backtimed equivalent.
Adding clips to the timeline
Q, W and E are straightforward for Connect, Insert and Append, but if you miss old-school Overwrite, the shortcut for that is D, and if you've copied a clip, Option-V will paste it as a connected clip. Also, while Shift-Q gives a backtimed Connect, and Shift-1/2/3 let you edit in Video and Audio, Video only, or Audio only, you can ignore those last three and assign custom shortcuts to "Connect Video only to Primary Storyline" and "Connect Audio only to Primary Storyline". For shortcuts, Control-Q is open, as are Control-Option-Q and variants with Shift for backtiming.
One last built-in shortcut: hold ` (the grave key, which also has a ~ on it) to temporarily override connections, so that if you move a clip on the primary storyline, connected clips stay where they are.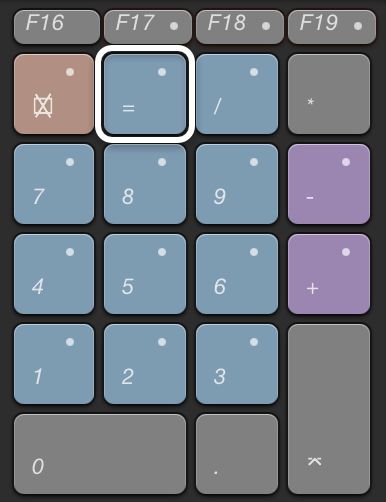 Anything you want to with numbers is quicker on a keypad
Timecodes
If you have an external keyboard, you'll want to set = on the number pad to Move Playhead Position. That way, you can type = then some numbers to immediately jump to a timecode. Also, while Control-D sets Duration, also assigning the keypad's / key to Duration makes changing clip length a breeze.
Audio
Add the Set Volume to Silence (-∞) command to the 0 key on the main keyboard. You don't need any modifier keys, zero alone is free. Control-plus and Control-minus make the volume of the current clip louder or quieter, but if you find yourself using Gain a lot to bring up audio levels past +12dB, try this:
Add a clip to a Project, then add the Gain filter. In the Gain filter parameters, set Gain [dB] to 6.0. At the bottom of the Inspector, choose Save Effects Preset, then check on just the Gain filter, name it "Gain +6dB", choose the Levels category, then and press Save. Back in the Levels category in the Effects pane, you can now find your custom filter. If you want, you can right-click it and choose Make Default Audio Effect. Now, Command-Option-E will apply that Gain +6dB effect instantly. The same trick works for any video effect, but with the shortcut Option-E.
Getting Trickier
If you want to take shortcuts a little further, you can use Automator and AppleScript to create macros that run a series of commands, one after the other. Philip Hodgetts has a solution for that here.
Conclusion
It's possible, if you want, to stay almost entirely on the keyboard in FCP X. While it's true that you could stay entirely on the mouse, or use the best from both, if you've been editing for a while then you're likely a keyboard junkie. Setting up a custom keyboard layout—especially one with hidden commands—is a terrific way to make yourself as comfortable as possible.
Learn Final Cut Pro X from start to finish in these video courses on macProVideo.com.