While FCP X has moved on to 10.0.7 from the 10.0.6 update, the later introduced a host of tasty new features to get your teeth into. Iain Anderson explores the new importing options.
The Final Cut Pro X 10.0.6 update introduced a new way of importing media. The old Import from Camera interface has grown to encompass all imports, so you'll be able to see thumbnailed, scrubbable previews of all your DSLR footage. You can even import RED footage now '" a huge boost for users of those cameras.

Import Media instead of Import Files and Import Camera
To Import anything, choose Import Media from the File menu, or press the new Import button '" the leftmost button on the toolbar, replacing the old Import from Camera button. The interface here mashes a whole heap of new capability into the old Import from Camera dialog. Instead of a list of connected cameras on the left, you'll see connected cameras and connected drives. Choose a camera or a memory card, and the bottom pane shows thumbnails of clips on that device. Choose a device like a hard drive, and you can navigate through the folder structure, similar to List view in the Finder.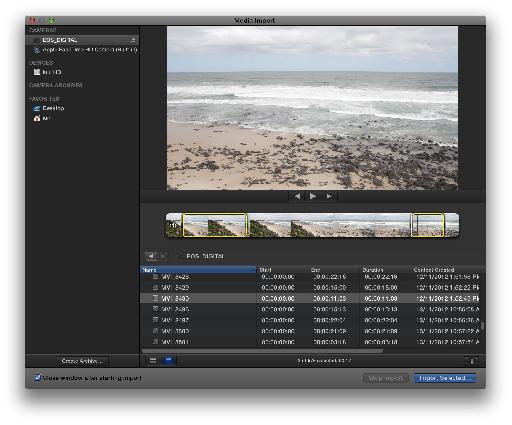 Cameras, devices, camera archives to the top left, clips to the right.
Choosing clips
Navigating to a folder gives you access to the files within it. Two small icons at the bottom left allow you to choose between filmstrip view and list view, similar to the Event library. Just like the old Import Camera mode, you can now choose to import just part of a clip, and the new ability to select multiple ranges (by Command-dragging over multiple regions) also works here. Eventually, though, you'll choose Import Selected in the bottom right corner.

A clip with multiple ranges selected.
Transcode, or don't
The same options as before work here. You don't have to optimize media nor create proxies if your Mac can handle it. There's more discussion here, but working with native media files is often hassle-free, and certainly saves space. Importing from a camera card now means that you must 'Copy files to Final Cut Events' folder, meaning that you can't be left without your media after ejecting the memory card.
Video and audio analysis is still possible, and can be done after import if you'd prefer.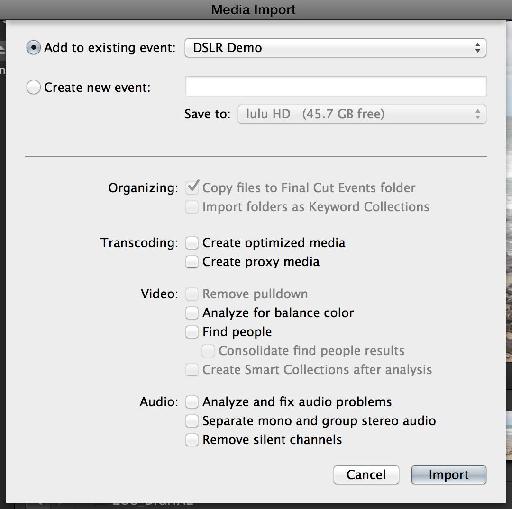 Normally, I don't like to optimize my video, or do much analysis.
Create a camera archive if you wish
If your workflow revolves around importing partial files '" or transcoding to a much heavier format '" it might be a good to idea to archive your original memory cards or camera storage devices. That way, you can reimport at a later date, and access the same files you can get now. Choose the Camera Archive button in the bottom left of the Import Media window, then give the archive a name and choose where you want to save it. Archives already saved can be found in the pane of the left side of this same Import Media window.

When you make a camera archive, just tell it where to go.
Alternatively, drag in from the Finder
One small issue: when you import using this method, the names of the files will change. Now, the original names probably weren't terribly informative, but they were at least short. The new names will be based on the date and time of the shoot, and will be on the longer side. One other issue is that some kinds of files might fail to import using Import Media '" I've had a few failures myself with DSLR-made files around 4 GB. You can still use the older Import Files workflow, and avoid any file name changes, by simply dragging your files from a Finder window to your chosen Event. Dragged files import with the settings from the Import pane in Preferences, and file names will not be changed. Entire clips will be imported, just like the older Import Files workflow.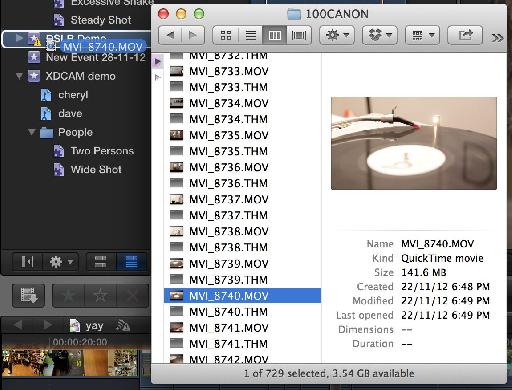 Just drag your clip(s) from the Finder to the FCP X Event name '" not the area where the clips are shown.
New support for RED footage (do transcode)
Finally, there's support for RED media. You'll need some additional software from red.com, but then it's simple. Pick the R3D files from your media, then import as usual. For realtime playback, you should optimize, which will go faster with a RED ROCKET card. Alternatively, create proxy files, and then you can relink to the full media with your grading app down the line.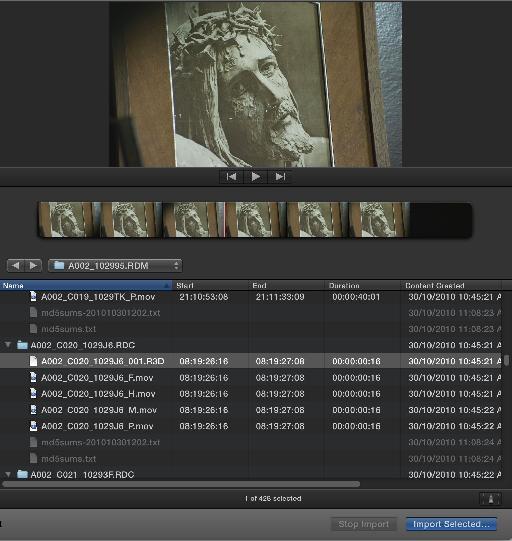 Just select the R3D clip and import away '" but do transcode it.
Importing is better than ever, but quite different. It's a quick change, but there's nothing to lose and everything to gain. Get into it!