The dust has settled and many Final Cut Pro 7 users are looking upon FCP X favourably! To ease the transition, David Smith shows us how to construct rough cuts in the first of this three-part series.
FCP 7 provided a number of basic editing tools with which an editor could build a rough cut. FCP X does the same and while there are some similarities there are also some differences. I'm going to take you through these differences and where they exist point out the similarities in a series of 3 Quick Tip articles on creating a rough cut in FCP X. This is part 1.

Step 1 - Starting Out
Lets begin by doing the equivalent of starting a new sequence. In FCP X create a new project File > New Project or press Command-N. A dialogue box appears asking you to name your Project.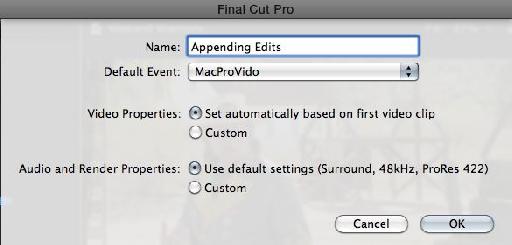 Project Settings dialogue.
Just to be clear on the difference between the FCP 7 and FCP X workflows, in 7 you created sequences inside Projects while in X you create Projects associated with Events. They're not the same thing really but for ease of transition think a of Project as you did a sequence.
The Project Settings dialogue box also contains settings similar to the Sequence Settings menu in FCP 7 but for one thing it's simpler and for another the settings are project-specific, no more forgetting to change them when you start a new project.

The New Project dialogue box's Video Properties.
The Video Properties menu is equivalent to 'Easy Set-up' in FCP 7. In the case of this exercise leave the default of 'Set Automatically based on first video clip' as this means your Project's working format will be set by the first clip you edit, like the Open Source Timeline workflow in version 7.
If you need to have a specific working format choose 'Custom' and you're into the Easy Set-up workflow again. FCP X still has an open source workflow, this makes it a little simpler I think.
Step 2 - Building Foundations
Load a clip from the Event Library into the Event Browser and skim (scrub with the mouse or trackpad) to the desired first frame of your shot. Press I to mark an in point at that frame. Skim again to the last frame you want and press O to set an out point. Your Event Browser should show a highlighted area like this: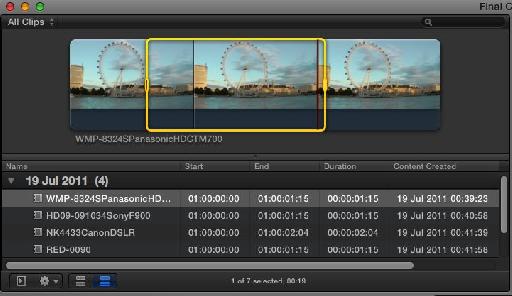 Marked Clip.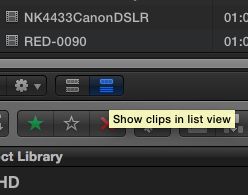 Tip: Viewing your Event Browser Clips in list view brings up a really nice filmstrip for you to work with. To switch, click on the List View button at the bottom of the Event Library as indicated in this image.
When using FCP 7, failing to get your playhead to the exact position where you want to drop the clip may introduce a slug frame mid-edit or trim the outgoing clip slightly.
In FCP X that risk has been eradicated by the 'Append the selected clip to the primary storyline' button. Pressing the Append button (or typing E) adds your clip to the end of the project on the timeline regardless of where the playhead is. This makes the flow of your first basic cut smooth and simple.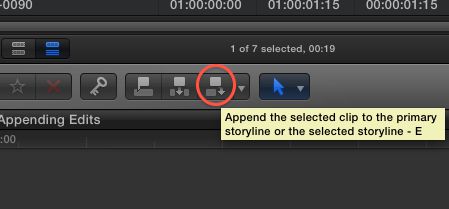 The Append Edit. Simple.
Try a quick edit yourself and see how fast you can cut a basic project using the Skim, I & O keys, and Append workflow. It's so simple to use.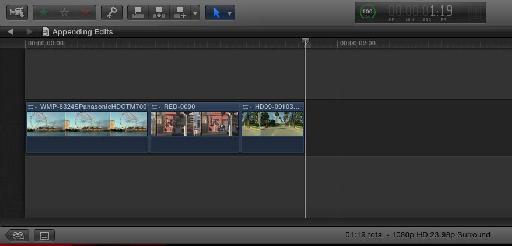 A Growing timeline.
Find Part 2 on Inserting clips here on The MPV Hub.
In the meantime learn more about editing with these tutorials by editor and expert Michael Wohl: FCP X 103 - Editing in the Magnetic Timeline and FCP X 104 - Advanced Editing Techniques