The third of our First-Look Reviews for the Final Cut Pro X suite takes a look at the most uncelebrated of apps: Compressor 4. Has this essential tool for video editors been given a mighty make-over?
On June 21, 2011, Apple released Final Cut Pro X, a complete re-write of its venerable professional video editing program. Along with it came new versions of Motion and Compressor. Compressor, now at version 4, has long been the pro's tool of choice for software video compression, especially for DVD and Web authoring, and is generally considered the best available platform for H.264 compression. In this review, we're going to take a look at the new version of Compressor and see what, if anything, has changed.

First Impressions

Unlike Final Cut Pro (FCP) and Motion, which have radically re-designed interfaces, Compressor 4 looks identical to version 3.5. The only immediate difference is that when you first launch the program, you see this window: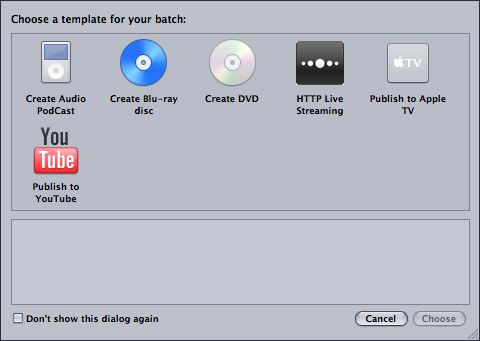 This lets you choose one of Apple's new compression templates, which are presets for video and audio compression to a variety of standard formats and hardware devices. For many users, choosing one of these templates will be all they'll need to do. Many of these templates also include what are known as Post-Processing Job Actions. Those are automated actions that, after your video is compressed, will automatically upload your compressed clip to your YouTube account, or burn a Blu-Ray disc from your MPEG files to name a few examples. Some of these Post-Processing Job Actions were also included in Compressor 3.5, so there's nothing new here, although there are more of them available than before '"see the two images below for the Job Actions available in version 3.5 and 4, respectively.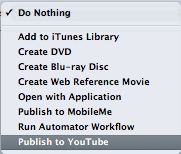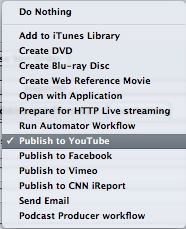 About the only other visible difference between 3.5 and 4 is that version 3.5's Batch Monitor is now called "Share Monitor":

But Share Monitor works the same as the old Batch Monitor, so the name is the only real difference.
Disappointments
So are there any reasons for version 3.5 users to upgrade to version 4? Well, if you're going to be working with FCP X and Motion 5, you'll need Compressor 4, as the "Send To Compressor" command in FCP X will only work with version 4. But other than that, I'm afraid the answer is no.
First of all, unlike FCP X and Motion 5, Compressor 4 is still a 32-bit application. You can check this by running Compressor 4, then launching Activity Monitor (in Applications > Utilities). The '˜Kind' column will display the code architecture for the application in parentheses: "64 bit" means it's a 64-bit app, no listing means it's 32-bit:

And unlike some apps, such as Safari, which allow you, for purposes of compatibility with third-party plugins, to choose whether the app will run in 64-bit or 32-bit mode ('Get Info' on the application in the Finder to see this switch):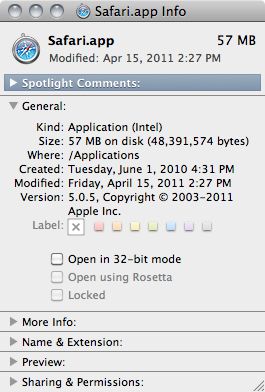 Compressor 4 has no such check box: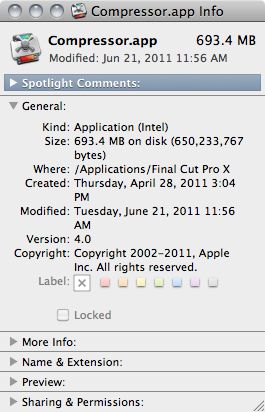 Why is this important? First, 64-bit apps can address more RAM than 32-bit apps, although for most users this isn't significant, as most users have nowhere near enough RAM to make a difference. More importantly (and without going into a lot of technical detail), 64-bit apps are generally faster than 32-bit apps, as the larger word size, with the right hardware, allows for faster code execution. And with video compression, faster is always better.
In fact, while we're on the subject, let's take a look at a quick benchmark. I compressed an 8-minute, 1280 x 720 video clip in each version to H.264 at its best settings, using the same specifications we use for our macProVideo.com online video tutorials. Here are the results:
Compressor 3.5 job: 8:52

Compressor 4.0 job: 8:52
That's right: they're exactly the same! Compressor 4, at least in my brief testing, has not been optimized in the least over Compressor 3.5. And that's the biggest disappointment of all'"like I said, in the world of video compression, faster is always better.
Final Thoughts

If you're using FCP X and Motion 5, then getting Compressor 4 (or X) is a no-brainer'"it's still among the best tools for video compression in OS X, especially for H.264. And since you must use Compressor 4 to compress from FCP X or Motion 5, you don't have a choice anyway. The sweetener here is that the price of admission is more than reasonable with Compressor priced at $50.
But if you're already working with Compressor 3.5 and don't plan to upgrade to FCP X, or at least plan to continue to do most of your professional work in Final Cut Studio, there's really no compelling reason to upgrade to Compressor 4. And that's really too bad'"it looks like Apple has missed a great opportunity to upgrade all its video tools across the board.
Use these Video Tutorials to learn everything you need to know about Final Cut Pro X and Motion 5 (coming soon)!