For new and more experienced Mac users getting to grips with the different ways of setting up a brand new Apple Mac computer can be a painless task. Iain Anderson shows you how.
With updated Macs expected this year, I'm sure a number of you will be enjoying that New Mac Smell™ over the coming months. Even if you don't buy a new Mac, you might decide to start completely fresh with macOS Sierra, and that's fine too.
When you do set up a new Mac, as a replacement for an old one or if you're a switcher from PC, there are a number of things you can do to make your life easier—before, during and after the install process. Here, we will take a look at how you can save time and avoid common pitfalls, because the default options aren't necessarily the best for creative professionals.
Migration from an old Mac
If you're moving from an old Mac to a new one, the process is ridiculously simple. During the install process, you'll be asked if you have a Time Machine backup. You say yes, you plug the drive in when prompted, and you leave it overnight. When it's done, your old Mac is more or less fully transplanted into the new one. (Note: You can also launch the Migration Assistant after a clean install, and you can copy files from an older Mac or PC directly too.)
For most of us, this process will work smoothly. It has the advantage of carrying across all the fonts, little apps, and obscure settings you've collected over the years. However, if that's exactly what you don't want, you can clean out the cruft and start over. You'll have to reinstall your apps and custom fonts and copy your files back over by hand, but you'll be starting fresh. If you are truly starting from scratch, though, make sure that you…

Pick a short name, especially if you want to show it in the menu bar
Get usernames right
If you're asked to set up a new user account, be sure to set up a short name that you're happy with. By default, the short name will simply be your first and last names sandwiched together, like "iainanderson". You can change this easily now, but it's very difficult to change it later. Be sure to make the short name into something that's actually short (like just your first name) and make sure your long name is appropriate too—skip your middle name if you don't want it shown.
iCloud
With luck, you'll have an iCloud account already—just one—and you'll be able to put those details in. All your email, calendars and iCloud documents will then seamlessly sync across, and stay in sync with any iPhone and iPad using the same Apple ID. Apps you've bought from the App Store can be re-downloaded for free, though any apps bought from elsewhere will need to be reinstalled manually.
One key thing to stay on top of is that your Apple ID is not the same as your Mac's username, and the passwords are likely to be different too. When you install software on your Mac, that's always going to be your Mac's username and password. When you install an app from the Mac App Store, or need to re-enter passwords for iCloud mail or iCloud calendars, that's your Apple ID password.
Setting better defaults in the Finder
A few years back, a new "All My Files" view was added, and while it's useful for novices who work with only a few files at once, it's absolutely hopeless if you need to organize a lot of files in a more hierarchical structure—as you often do in graphic design or other creative production. While "All My Files" is now the default view, you don't ever have to use it again.
Click on the Finder icon in the Dock at the bottom of the screen, then choose Finder > Preferences… from the menu bar at the top. In the General tab, look for the New Finder windows show: menu, and choose your home directory—with the short name you chose earlier. In the Sidebar tab, make sure your home directory is checked on, and also make sure Hard disks and External disks are ticked down below. If you want subfolders in your home directory (like Movies, Music, or Pictures) to be listed, you can check them on too, and you can banish "All My Files" by unchecking it. Close the preferences window.
If you now make a new window in the Finder, you'll see that it opens with your home directory. I'd also suggest switching to column view (Command-3, or use the third view icon above) where you only need to click once to dig a level deeper.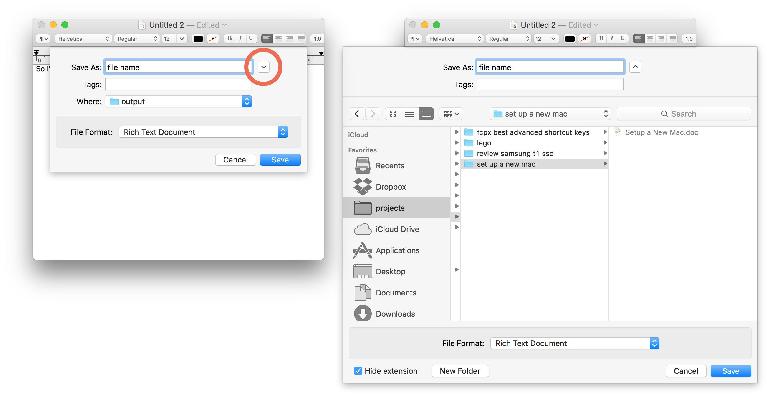 If you see the sheet on the left, press the small arrow (circled) to see the larger sheet on the right
Saving files properly
Another change made in the name of simplification is easy to overcome, but you'll have to fix it in each app you use. Launch any app that deals with files, such as TextEdit, create a new document, and choose File > Save. If this is the first time you've used this app, you'll see a very small save sheet containing a filename field, a tags field, and a drop-down menu giving a limited selection of destinations. To see a full-strength Save dialog box, just press the downward-pointing arrow to the right of the filename field, and the dialog expands to show you a sidebar and a main pane that let you navigate wherever you please.
This dialog looks like a Finder window, but it's not quite the same, and two tips will help. First, if you drag a folder from the Finder to anywhere on this dialog, the dialog will jump to that folder, so there's no need to navigate manually. Second, if you click on a filename, the filename field will change to match it, to make replacing an existing file easier. (If you've come from Windows, you might try to rename or move existing files while you're here, but by design, that won't work—head to the Finder for those tasks.)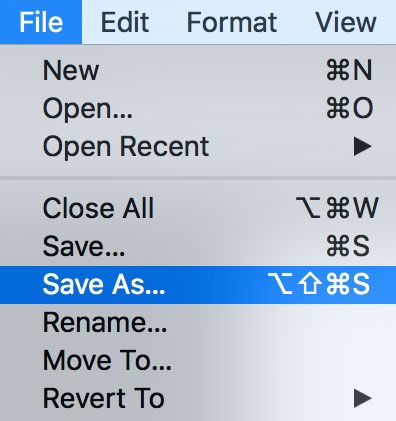 Just hold Option when accessing the File menu to access the Save As command
Finding Save As
While we're talking about saving files, a key change was made a few years ago in many of Apple's apps. As they switched to auto-save, "Save As" was replaced with "Duplicate", but the differences caused some angst. Traditionally, many people used to open an old file, make changes, Save As to make a new file, and expect the old file not to change. However, both files now contained the changes, and Duplicate didn't immediately save the file either.
If you want your traditional Save As behavior back, you need to hold Option as you access the File menu. With Option held, "Duplicate" changes to "Save As…" and brings up a new Save dialog with a checkbox called "Keep changes in original document" that you probably want to uncheck. This means that you're saving the new file straight away, and leaving the old one as it was. It's also consistent with the behavior of many creative apps, including Adobe's Creative Cloud apps.
Spotlight shortcuts
If you do use Adobe's apps, there's a system-wide Mac shortcut you should change. In Apple > System Preferences, head to Spotlight, then press Keyboard Shortcuts at the bottom left. The default shortcut keys for Show Spotlight search (Command-Space) and Show Finder search window (Command-Option-Space) have been in use as a zoom shortcut in all the Adobe apps since the dawn of time, and my muscle memory isn't going to give them up. Double-click on the existing shortcuts and replace them with Control-Space and Control-Option-Space, and then everyone's happy.
Spotlight, incidentally, is a fantastic way to launch anything—type Command-Space, then the first few letters of the app you want to launch, and then return. No need to keep a full Dock or anything else.
Getting Time Machine going
If you haven't used the instant-foolproof-backup solution called "Time Machine" before, you'll want to use it, and all you need is an external drive, preferably at least double the size of your internal drive. It's best to dedicate a new drive to this purpose if you can, and you'll be erasing it too.
Plug in the drive, and use Disk Utility to reformat it to the Mac-standard "HFS+ (Journaled)" file system. When you're done, the system will ask if you want to use it with Time Machine, and you should say yes. Now, whenever the drive is connected, your whole Mac will be backed up. Every hour that the drive is connected, a new backup is taken, and you can roll back to a previous disk state or migrate to a new system very easily. Every Mac should have a Time Machine backup.
Conclusion
Setting up a new Mac isn't hard, but the default choices aren't always the best ones for more advanced users. If you need to manage hundreds of photos, logos, layouts and exported videos, you'll need to dig around in the file system, and you don't want to have to fight to get to it. Happily, of course, you no longer have to. Enjoy!