If your Mac feels a bit sluggish don't despair! You may be able to upgrade the RAM and hard drive to make it feel like a new Mac without breaking the bank!
So I recently arrived at that inevitable point that some of us Mac lovers dread, my MacBook Pro was starting to slow a little. Many of us tend to ask more and more of our Macs as time goes by, running multiple instances of increasingly demanding apps. I felt my only option was a new machine, but I managed to avoid it for at least a little longer and here's how I did it...
This process will set you back around £150 GBP (about $240 USD) in total and you'll need the following (or at least similar) parts. Make sure you check your machine for compatibility when buying any new parts.
Seagate Momentus XT / 500Gb / 2.5inch / Sata / hybrid hard drive

Crucial 8Gb Ram kit (check the Crucial website for the correct RAM for your Mac)

2.5 inch Sata / USB hard drive enclosure

SuperDuper! hard drive cloning software

Step 1 - Planning the Upgrade Process
After talking to a few other Mac users (The Hub's Editor Rounik being amongst them), I felt that waiting until the next version of the MacBook Pro would be a good idea, so until then I decided that an upgrade was the best plan of action.
Realistically I thought my only option to boost performance was to increase the amount of RAM in my system. As I'm running a 2.53GHz Core 2 Duo system, with 4GB of RAM, I knew that I could up that to 8GB. Crucial.com sell 8Gb kits for around £60. This would be my first move but would this really boost my system performance that much?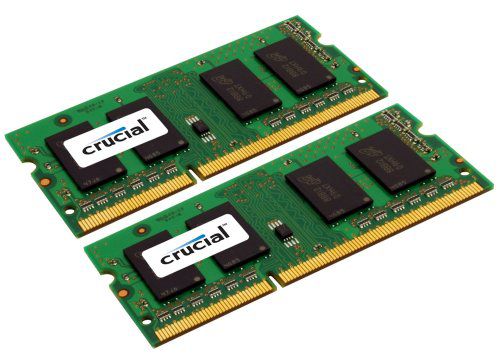 A typical Crucial RAM upgrade kit.
Another option was to move from my 5400rpm/500Gb drive to a faster 7200rpm model, this was when I came across '˜Hybrid Solid State' technology. There are a few drives featuring this tech about but I purchased the 500GB Seagate Momentus XT. This comes in at around £80 ($130 USD).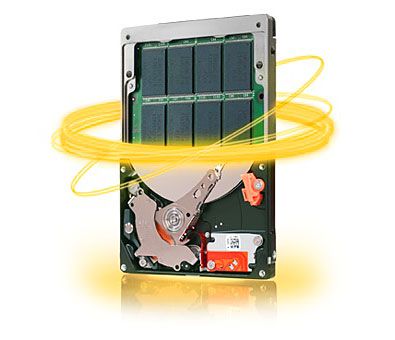 The Seagate Momentus XT drive... You know it's quick because of the flashy gold rings!
Without getting too technical, hybrid drives use a small amount of flash RAM (8GB in this case) to permanently store key data. This promises to deliver similar performance to more expensive solid state drives at a fraction of the cost. The drive I chose is also 7200rpm, but be warned this will use a little more juice, so you will probably experience shorter battery life compared to a stock 5400rpm drive.
Step 2 - Fitting the RAM
Fitting RAM in any laptop is one of the most straightforward upgrades you can do, so I decided to do this first. Upgrading your RAM should give your system more resources when running multiple applications and running audio projects that contain large files, high track counts and more virtual instruments.
Most modern '˜Unibody' MacBooks feature a single piece of aluminum as their lower case and this will need to be removed to fit both the RAM and new hard drive. On opening the lower case you should see your currently installed RAM chips somewhere around the centre of the machine.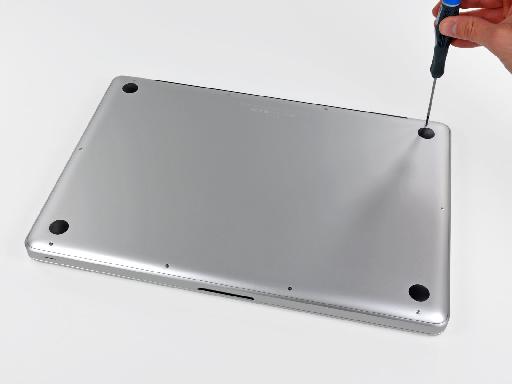 Removing the MBP's bottom case...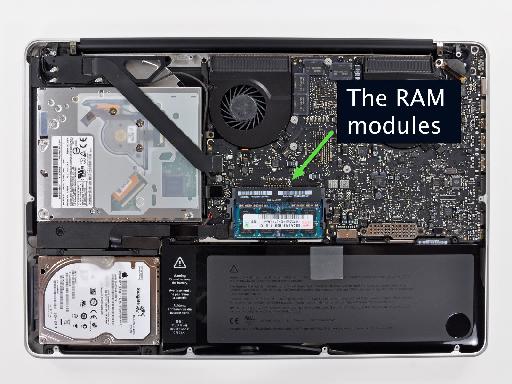 The RAM is found in the centre of a MBP's lower section.
Using the pins on either side of each chip, these should easily pop out and your newly acquired upgrade RAM should be a direct replacement. Make sure you discharge yourself of any static on a large metal object before you do this to ensure you don't damage the new (or old) RAM with static.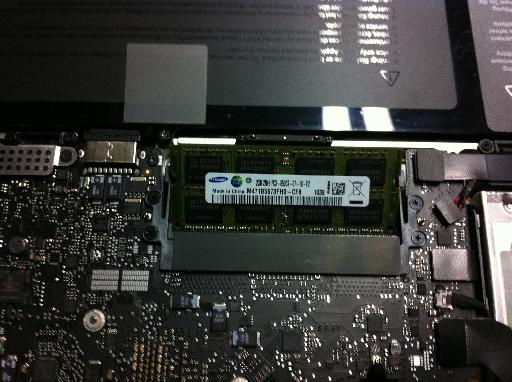 Popping out the factory installed RAM is nice and straightforward.
As we'll need access to this area of the machine again I would suggest refitting the lower cover with just a few screws for now. Alternatively you could leave this stage until last if you prefer.
A typical Crucial upgrade kit in place.
Step 3 - Preparing the New Hard Drive
This stage really is a key part of the whole upgrade process and should be approached carefully. You'll need an application like SuperDuper (£18, $28 USD) or Carbon Copy Cloner (Free) if you wish to clone your system drive.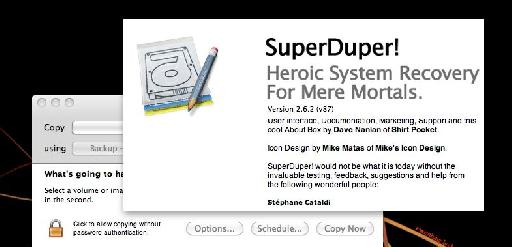 SuperDuper! Is installed.
You'll need a cloning app as we are about to clone our existing hard drive, making the new hybrid drive a carbon copy of of our currently installed system drive. You will also need a 2.5 inch, USB drive enclosure to attach your new drive to your MBP. These are cheap and easily found.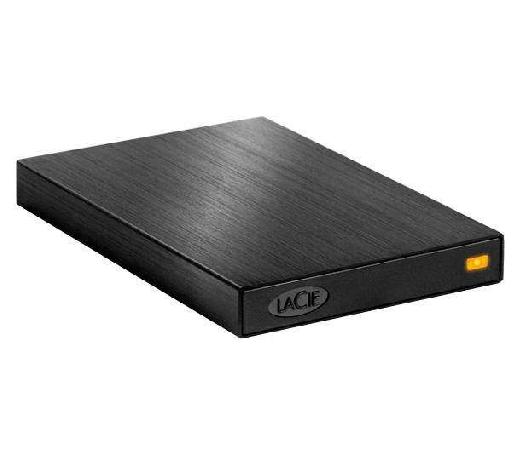 Lots of companies make 2.5 inch USB drive enclosures.
With your new drive attached, permissions repaired and as many non essential files deleted from your current drive, you can run SuperDuper! In Smart Update mode. With your main drive selected as the source and your new drive as the destination, SuperDuper! will go ahead and make a bootable version of your drive. Clever stuff and also surprisingly straightforward.
Be warned this will take time, a lot of time! We are talking hours here, my duplication took around 4 hours for around 300Gb of data. This is not a simple copy but an exact duplication. Also try not to use the computer for anything while this is taking place, I have seen crashes occur here. My advice is to let SuperDuper! do its thing in peace.
Step 4 - Fitting the New Drive
With the cloning process complete we are ready to fit the new hybrid drive, this is pretty much as straightforward as fitting the RAM and your case should be almost ready to dismantle again.
With the MacBook shut down and the case open, the hard drive should be clearly visible in the lower left-hand side of the casing. You will need to remove the small restraining bar and then the whole drive. Unplug the SATA connections and unscrew the four anchor screws that are attached to the drive. Now simply reverse the process to install the new drive.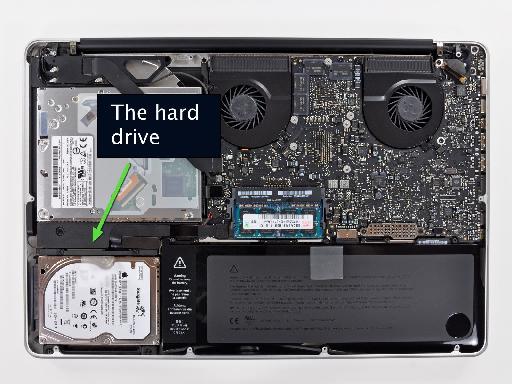 The hard drive is easy to find and simple to remove.
Check everything is secure, replace the cover and power up your machine!
Step 5 - Final Tweaks and Checks
Your laptop should now start up perfectly, it may take a minute or so to find the OS and display the familiar Apple logo but don't worry, it will come up. Once you get to your desktop everything should be identical to when you left it.
You may not notice a huge speed increase on your first run and opening in fact it may take a few restarts, this is due to the fact the new drive uses something called '˜adaptive memory'. Essentially this will learn the regularly executed commands and store them for later use.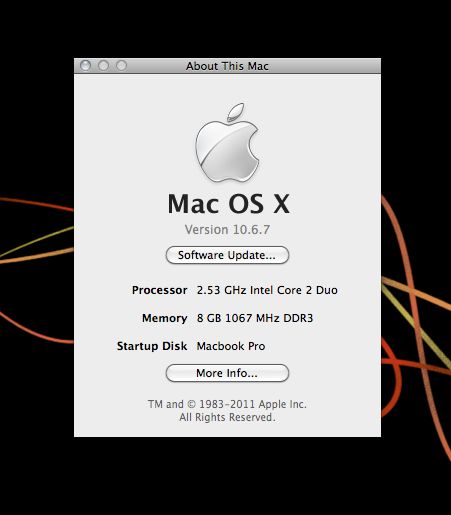 The new RAM now shows up...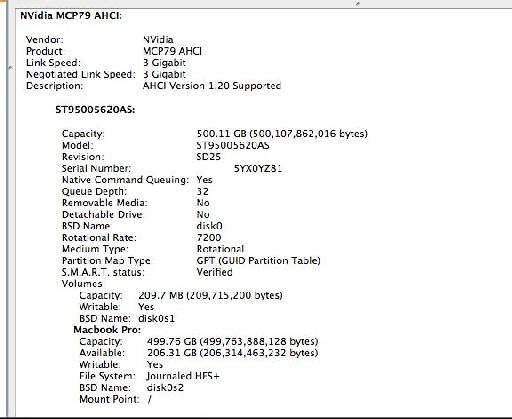 ...as does the hard drive.
You should find that as you go, the tasks you perform a lot will become lighting quick. I found that after I had done something once it was extremely quick from there on out. My email app, video playback, browsing, folders and startup time are now snappier than they have ever been.
You can check your new hardware configuration in the System Profiler (click on the More Info... button in the About This Mac window to get to it). You should see your new RAM and hard drive displayed in all their glory. Hopefully this small upgrade will help some of you put off buying a new machine for a while. Enjoy your new, quicker Mac and let me know if you have any questions.
Want to learn more about the software on your Mac? Check out the Mac OS tutorials here and all the tutorial videos by macProVideo.com here.