With a little bit of know-how you can transform your iOS device or Mac into a projector for your widescreen TV. Great for business, pleasure or creative purposes. Mike Hjorleifsson shows you how.
One of the most understated products in Apple's lineup is the AppleTV. While it receives little press attention and public love from Apple, some of the features that have been added in the last 2 revisions provide amazingly useful features for businesses.
Benefits
With the currently shipping version of AppleTV you are able to mirror your iPhone or iPad screen directly to the AppleTV and its connected display device wirelessly, removing the need for you to tether your mobile devices to a television or even a projector. Additionally this reduces the amount of cables a road warrior will have to carry with them if they are going to a meeting in an AppleTV enabled conference room. Simply pull out your iPad, double click the Home button, swipe your recently used apps from left to right, tap the AirPlay button and pick the AppleTV as the output. Seconds later, you'll see a full screen version of your iPad through the projector, sound and all.
Now this may seem to have limited usefulness if you have more complex media or documents that aren't currently supported on an iOS device. Well, there is a solution for that too. The upcoming version of OS X 10.8 (codename Mountain Lion) brings AirPlay Mirroring to the desktop, but if you can't wait there is a third party application already available for Snow Leopard and Lion called AirParrot. So now you can have a projector with a single HDMI connected to the AppleTV and anyone provided with credentials can Mirror their desktop, or iOS device right to your projector.
Setting it Up
Setup on the iPad is automatic, just make sure the iPad and the AppleTV are on the same wireless network (preferably 802.11n) and quickly double press the Home button on the iPad and swipe to the right to bring up the playing controls, then click the AirPlay button and select the AppleTV.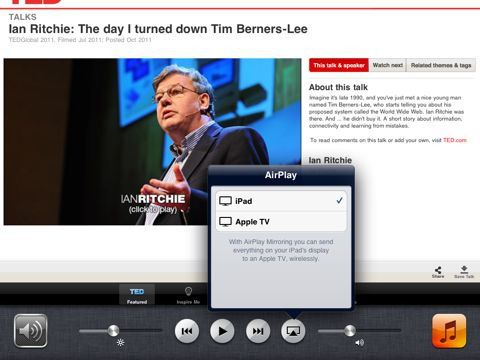 If you want to mirror from your Lion (OS X 10.7) or Snow Leopard (OS X 10.6) laptop or other Apple Mac you will have to install AirParrot on your device by purchasing it or downloading the trial, opening the DMG file that you downloaded and drag the application to your Applications folder. Launching the app will place a little parrot icon in your menubar. Clicking on that icon will present you with several options for AppleTV to send your signal to as well as which display to send if you have multiple displays setup to your Mac. Simply pick the AppleTV to send your screen to and which screen you would like to send.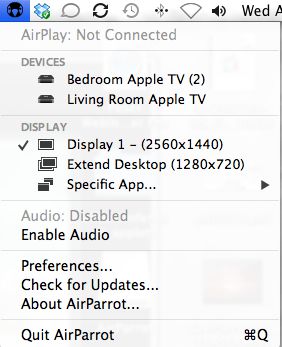 Setting up the AppleTV
Setup on the AppleTV is very simple, just select AirPlay from the General Menu as seen below.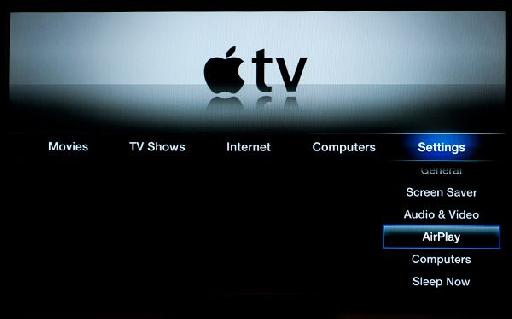 This will make your AppleTV available to iOS and AirParrot devices on the same wireless network. It is really that simple. Connect the AppleTV to any HD television or monitor (preferably with HDMI capable sound), or even to a projector in your conference room and you are off to the races. No more messy wires all over the place, remembering to bring cables with you, etc. Now you can literally send any video, presentation or just the screen for tutorials and training right from your iPad, iPhone or Mac to your conference room TV or Projector.
Conclusion
While this is a brief introduction to using the AppleTV in your conference room, the technology is extremely expandable. Larger organizations for instance can record training and post to iTunes xml file and have AppleTV devices around the globe subscribe to those podcasts and you can now deliver training from a central office to as many locations as you wish by simply publishing the content, the AppleTV will read the new content and make it available for presentation. Pretty amazing stuff for a device that costs less than $100 at your local Apple Store.