With Mac OS X Mountain Lion launching today for only $19.99 from the Mac App Store, we've got some useful tips to share. Mike Hjorleifsson explores how to setup mirroring in the OS X.
In a previous article we explored using the AirPlay feature of the iPad to send video or the iPad screen itself to an AppleTV device in a conference room. Well the new version of OS X has brought several iOS features to OS X 10.8 including AirPlay Mirroring.
What AirPlay Mirroring Does in OS X 10.8
AirPlay Mirroring in OS X 10.8 allows you to send your screen to any AirPlay enabled device such as an AppleTV. While you have been able to send videos from iTunes to an AirPlay enabled device, this feature didn't help if you were say watching a tutorial in an app or in Safari. Now you can send your entire screen in desktop or full screen mode to any AirPlay enabled device.
Sounds complicated doesn't it, but consistent with Apple's user first design principles, it's actually extremely simple. If an AirPlay enabled device is detected during the default Mountain Lion install, the operating system will put the mirroring controls into your menu bar automatically, simply click on the icon and select the device to send your screen to. It sort of reminds of the television show 24 with its infamous 'Send me your screen' shot that tech folks used to laugh at. In the screen shot below you can see we have two AirPlay enabled devices ready to receive the screen.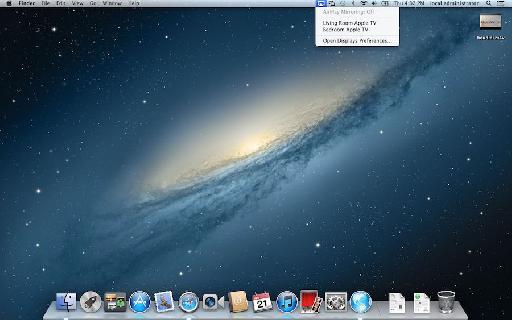 Setup
You can also open the Display Preferences to further customize the experience or terminate the session by selecting AirPlay Mirroring Off (it will say On during a session.)
The Display Preference System Preference Pane, seen below, allows you to modify the resolution, correct for televisions that perform Overscan and adjust the brightness or let the sensors in your Mac figure it out for you.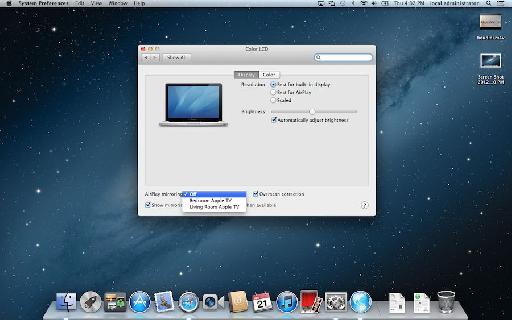 So what is this feature useful for? I had previously setup my conference room with an AppleTV hooked to an HD projector so anyone in the office could stream a video from their iPad to the projector for everyone to see. Now, anyone, provided they are running OS X Mountain Lion, can send their entire screen to the projector without a cable. It is extremely useful in collaborative meetings and even for onsite training as you dont have to run cables all over the place.
On the personal side this means you don't have to dedicate a Mac Mini as your entertainment system, any Mac in your house becomes capable of sending videos, pictures and the desktop to any AirPlay enabled device like the AppleTV.
While it may not be the most technical feature in Mountain Lion, it certainly real life usability combined with a bit of Apple 'wow' factor.