While Mac OS X is easily accessible for beginners it contains many little tricks that advanced users can take advantage of. Mike Watkinson shares his Mac OS X snapshot shortcuts and Terminal tips.
OK, so there's no 'print screen' button on a Mac keyboard, but taking screenshots is easy and flexible (if you know your key commands), and by default this will create a .png file on your desktop. You can always change the file format after the event in your graphics editor of choice, but did you know that you can change the screenshot file format (and destination) before you take any snaps?

Shortcuts - a Reminder
Press Shift-Command-3 for a full screen snap.

Press Shift-Command-4 for to capture a selection (drag around the area you want to snap with the crosshair symbol that replaces the pointer).

Add the Control key to either of the above (by adopting the Vulcan mind meld left hand shape) to copy the snaps to the clipboard.

Press Shift-Command-4 then the Spacebar to get a camera icon that lets you snap a window.

Press Escape to cancel and start over.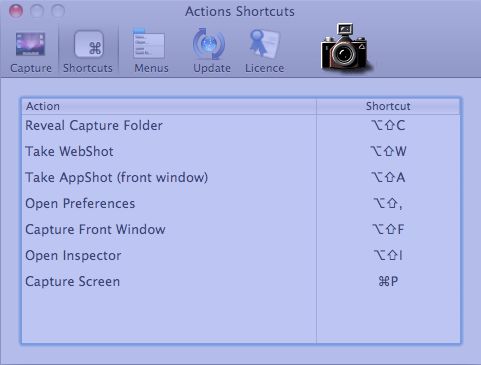 Press Shift-Command-4 then the Spacebar to capture a window.
Changing the File Format, Method 1: Code!
Open Terminal (located in your Utilities folder) and enter the following lines of text:
defaults write com.apple.screencapture type value
[Return]
killall SystemUIServer
[Return]
In the first line, replace the word value with any of the following:
The second line sounds severe, but it's a quick way to perform the same function as logging out and then logging back in again, which is necessary for changes to take effect.

Changing the screenshot file format to pdf in Terminal.
Changing The File Format, Method 2: No Code!
If writing lines of code in the Terminal is not GUI enough for you, an option is to download and install TinkerTool by Marcus Bresink. There are several utilities out there that perform similar functions but this one is regularly updated and free.
In the general pane of TinkerTool you will see that you can change the screenshot file format to one of eleven types, add a shadow when capturing a window, and choose the destination folder for the file.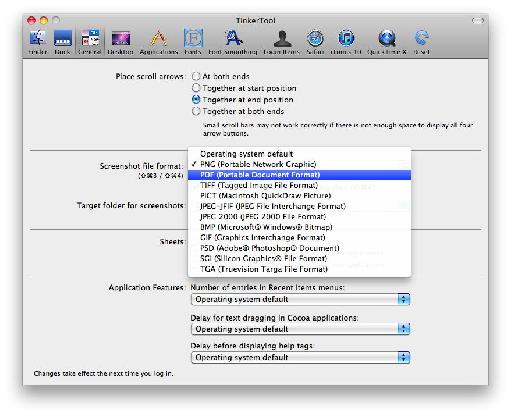 Changing screenshot file format in TinkerTool.
You will need to log out and back in again for the change to take effect. You can use the killall command described in the terminal section above, which works for the five image types listed there, and then change the destination folder. For one of the additional seven formats, manual logout/login is still required.
TinkerTool also has other useful features such as restoring the horizontal window control buttons if the change to vertical buttons in iTunes offends you, as well as revealing hidden files and folders in the Finder. It's an application well worth keeping in your Utilities folder!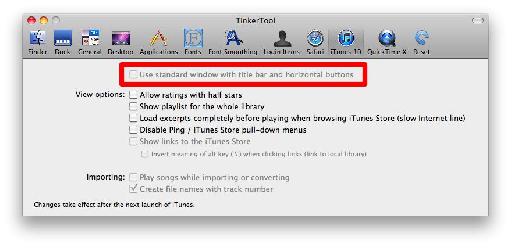 iTunes options in TinkerTool : note that the option to Revert to horizontal buttons is greyed out in this image, as iTunes 10.4.1 restores horizontal layout as the default.