7 Was A Big Year!
On the occasion of our birthday, I always like to look back and examine the year that's been. In many ways, our 7th year in operation was a breakout year for macProVideo.com. There were several important things that happened in the year that passed ...
From a personal perspective, the biggest thing that happened for me was the publication of our new magazine, MPVHub Audio. I've been working towards this goal for well over 15 years now, and having our first print issue in my hands is an incredible dream come true. It's a beautiful publication filled with amazing education & software tips ... if you have not already subscribed, there's still time to do so and get the premier issue. Visit MPVHub.com for details.
The 7th year also saw us become Avid's Online Learning Partner. Our Pro Tools 10 tutorials let our members study in the comfort of their own homes, and then write the Avid Certification test in an accredited facility to become Certified Pro Tools 10 users ... how cool is that?
Under the stewardship of Steve H, our noble Publisher, our Tutorial-Video library has grown tremendously over the last year. We are publishing several tutorials every week, and there's now something for everyone, whenever you come back to visit us at macProVideo.com.
Our Tutorial-Videos went into the retail channel with our attractive and 100% recyclable software box. You can now buy an Online Tutorial Library Pass (either for yourself or as a present for someone you know) at stores around the world, including all Guitar Center locations.
Our team has expanded tremendously to support this growth. We started our 7th year with 8 employees, and ended the year with 22 full time staff. The team here at the office is incredible ... I've truly never been involved with such an amazing team of talented people. I feel blessed ever time I walk into the office, to be surrounded by this incredible MPV team.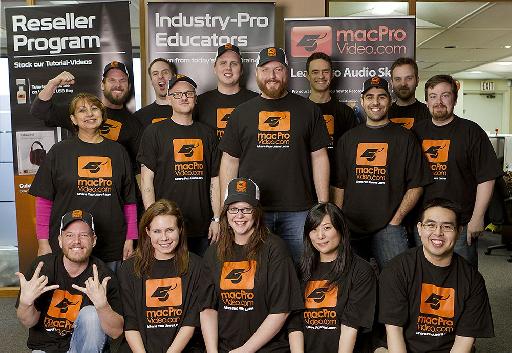 The MPV Softball Team ...
Of course, we couldn't do it without YOU! Thank you so much for continuing to support our educational community. I started macProVideo.com to change lives by giving people better computer skills, and through your support you've changed my life by giving me a reason to go on doing what I love to do.
So on the occasion of our 7th birthday, please join me in saluting everyone involved in the macProVideo.com family, from our incredible staff, to our amazing partners like Avid & Guitar Center, to our devoted user community - the people like you that keep the whole machine in motion.
Here's to the next 7 years!
Martin Sitter
CEO
macProVideo.com