Learn all about how to use edit markers in Apple's Motion 5 and why you'll never want to be without them again when creating text intensive titles for your video projects.
Imagine this if you can. You just created a wild, wicked, outrageous text title in Motion, for use in FCP X. It looks awesome for some extreme sports or reality show use. But there's one tiny problem. The text is in several text boxes, they criss cross a lot, twist, spin, curl, flip, rotate, just all over the frame. Which means you can't really get to that one or two frames where the text is clear and you can easily edit it all in the FCP X Viewer. Motion 5.0.5 gives us a tool that makes this situation a non-issue.
Step 1 - Project Set Up
Launch Motion 5.0.5 (or later) and start a new Final Cut Pro X Title Template. I'll make mine 1080p30 and 7 seconds long. Shift-Z will fit the video frame to the Canvas screen size. Using Command-D I will make 3 duplicates of my default text layer. With my playhead at the start of my Timeline, I'll move my title layers to each of the Canvas' 4 corners. I'll add the numbers 1-4 after the word 'Text' in each to keep them organized.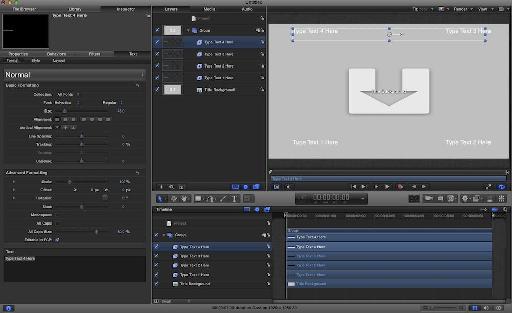 Step 2 - Wild Animations
With my playhead still at the start of the Timeline, I'll F1 to the Properties tab inside the Inspector tab, I'll highlight all four text layers together at once, then click the keyframe diamonds to manually create keyframes for both Position and Rotation. Then move the playhead to the end of the Timeline, and move each text layer to its opposite corner. This gets keyframed automatically. Add a manual keyframe to the Rotation parameter. Next move the playhead to just past the mid point in the Timeline, where all the text layers are just separated out around the center and easy to get to individually. In the Properties tab, click the keyframe button to add a keyframe here to Position. Set the Rotation parameter to 360 degrees, a keyframe is automatically set.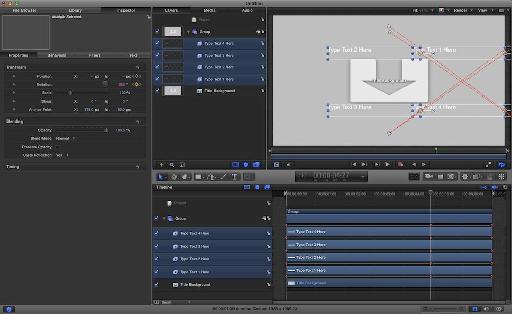 Step 3 - Set The Magic Edit Marker
Now by using the arrows to the left and right of the Rotation keyframe button in the Transform block, find that keyframe in the middle of the Timeline. In fact you should be on it now. Only highlight one of our text layers for now. Press the letter M on your keyboard to create a Marker. Double-click that Marker to open the Edit Marker window. Change the 'Type' parameter to 'Text Edit' and click OK. That's it. Text Edit markers are automatically published. And only the first one you create is valid! Do not create more than one per template!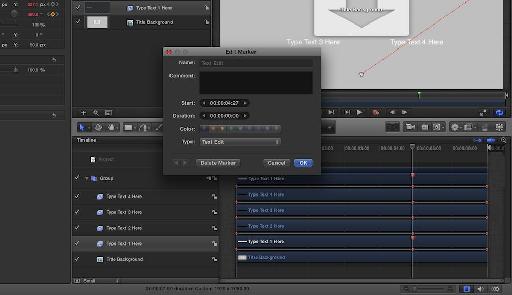 Step 4 - Using Edit Markers In FCP X
Now just save your template with a name, category and theme of your choosing. Quit Motion and launch Final Cut Pro X. Apply this new title template to a Timeline. Now if you play through this template, you'll see that our text fields rotate and move, some out of the frame, then suddenly rotate the opposite direction. It can be confusing, but we're just making a point here with this overly exaggerated and non-sense movement. Double-clicking on some of the text can be difficult, some text fields can be impossible to access via the Viewer. But here's where the Text Edit marker from Motion helps out. To hit that same spot we marked in Motion with our Text Edit marker, simply double-click the title template in the Timeline. Poof, the playhead snaps to the frame that marker was on! If planned properly, we should have easy access to all of our text fields now inside of the Viewer.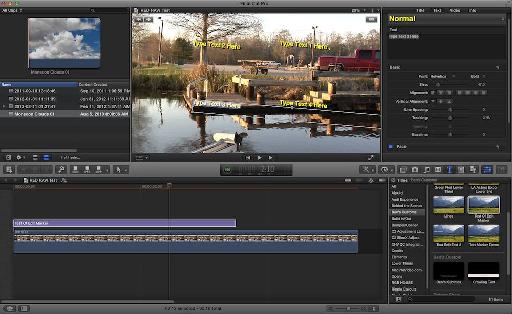 Conclusion
This one very simple type of marker can make the practical use of action packed title templates much easier for editors. It is a simple but very efficient use of the capabilities of Motion and Final Cut Pro. I hope this clarifies how Text Edit markers are used and that it helps you to not only create, but more easily use custom title templates inside of FCP X from now on.