3D titles are here in Final Cut Pro X (10.2) and Motion 5.2. But how can you get to grips with them? Iain Anderson reveals their inner workings in this excellent FCP X tutorial article.
As the flagship feature of the recent FCP X 10.2 update, 3D titles are worth a closer look. In this article, we'll look at all the nitty gritty details of the new third dimension of text. Alternatively, if you'd prefer this in video form, check out our new updated courses for FCP X 10.2 and Motion 5.3 (coming soon).
Just turn it on!
3D Text Controls
When you add any title in the new FCP X, you can extrude it into the third dimension by pressing the small blue checkbox next to 3D Text. The most important controls here include how deeply you want the text to be extruded, and what kind of bevel (including none) you'd like to use. Some of the bevel shapes here allow for hollow letters, so you don't need to use dedicated outline fonts.

Many, many bevel shapes.
It's also possible to use the Weight slider here, to make the text thinner or thicker. However, anything more than a slight adjustment is probably going to show you exactly why font designers prefer to create multiple weights themselves. Pushing the weight too far up or down is very likely to cause irregularities, but a small nudge one way or the other is OK if you don't have the real equivalent to hand.
The lighting controls.
Lighting and Shadows
The built-in Lighting controls allow you to change how your text'"and only the text, not the video behind'"is lit. While it remains a step away from a true 3D lighting solution, it's certainly quite powerful. (If you want more, there's always Motion's full 3D lighting solution anyway.)

Several lighting presets.
Several presets here allow you to pick from different lighting setups, and though their movement can't be animated, the lights can be turned up or down with a standard, keyframeable slider. It's also possible to allow the text to cast shadows on itself, which will take slightly more power to compute but look more realistic.
Environments
Just as important as the lighting is the environment, because the text will often reflect what's around it, or more correctly, what you're pretending is around it. Several presets can be used, as can a custom gradient, and the controls below let you rotate and scale these false surroundings any way you like. Personally I'm a big fan of the explicit lighting setups here: Light Box, Squares and Spot Lights, but Colorful is a winner if you want a more exotic result. The default Field option looks good on most titles, though.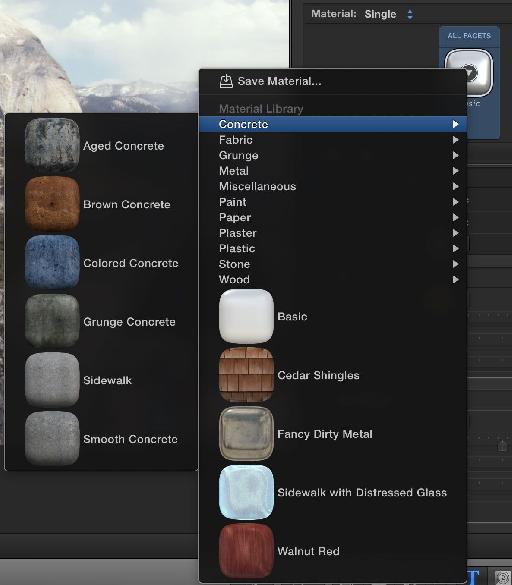 Just a few of the Materials presets'"and you can make your own too.
Materials
Lots of flexibility for how you light the text, then. Well, there's far more flexibility for what the text is made of. The Preset menu is truly expansive, offering several examples within each of several categories. But dig a little deeper, and you'll find even more.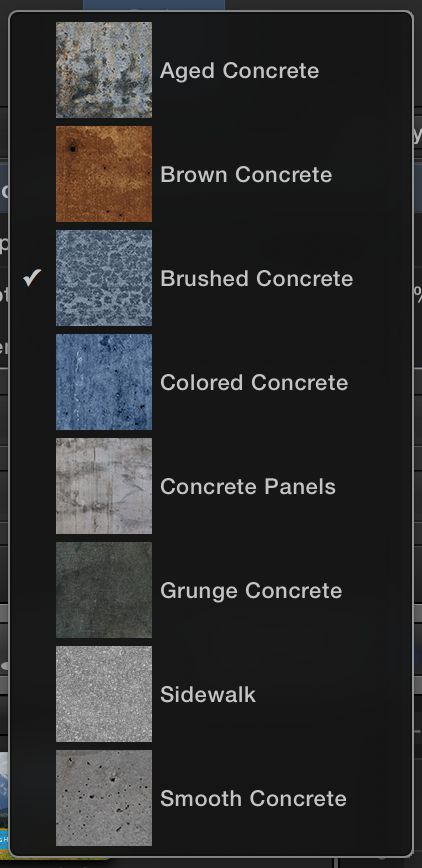 These are just the Concrete options'"all the different categories offer extra options here.
Below the presets you'll find a Substance drop-down menu that mostly matches the categories of presets. Still, within each one, you'll see even more than the presets offered. Brushed concrete, pink granite and wooden shingles are just a few of the hidden options here. While you can't use your own images for substances (you'll need Motion for that) you can change the position, scale and rotation of the substance you've chosen, even down to changing the way the image tiles around the sides.

Reflective paint on top of blue knitted fabric? Sure!
Advanced Materials
If that's not enough, you can add additional layers on top of each substance: a partly transparent extra substance, matte or shiny paint, a glossy finish, distress in the form of cracks, bumps or waves. You can even turn the letters into a source of light with an Emit layer.
There's a lot to take in here, so take a tour through the preset material library. Several presets go beyond simple substances, applying additional paint layers and distress. Examining just what tricks have been employed is a great way to learn what you can do. Finally, when you've created a brand new perfect material, save a new preset with the Save Material option at the top of the preset pop-up menu.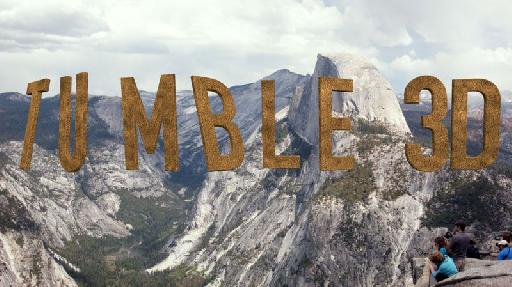 Tumbling rough brown text? Sure!
3D Title presets
While the controls over materials and lighting are comprehensive, there are also several new title templates which take advantage of 3D text. The 3D category includes Basic 3D, which doesn't simply appear, but defaults to zooming in. The Title pane in the Inspector reveals that it can perform several tricks, including tumbling, dropping, scaling and more, but there is a handy 'None' option if you just want something simple.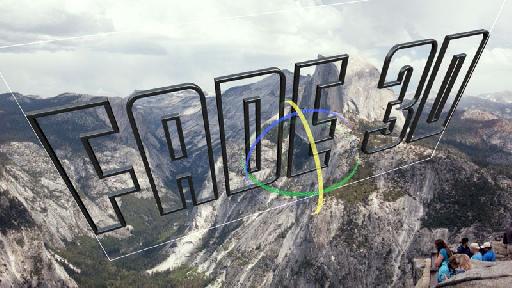 How about text that fades in, with some manual rotation, and only the edges?
Other than Basic 3D, a Fade 3D option does keep it simple, while Rotate 3D, Scale 3D and Tumble 3D push the complexity up a little. Custom 3D seems simple, but has an initially daunting collection of sliders in its Title pane, allowing many simultaneous animations. But what about the existing titles?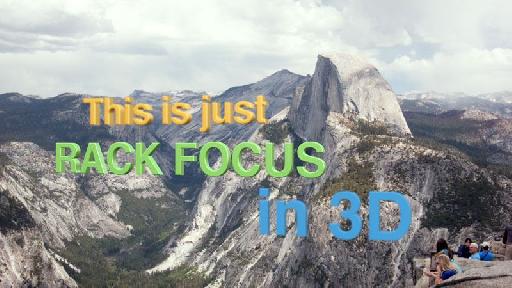 Here's the Rack Focus title converted to 3D, with plastic materials.
Converting existing 2D titles
As luck would have it, all your existing titles are now effectively 3D titles. The 3D Text checkbox can be enabled for every existing title, giving even third-party titles a new dimension to play with. Importantly, you can also rotate or move a 3D title in three dimensions, using the red, green and blue rotation circles or arrows that Motion also uses. One limitation: if you want to animate 3D, you'll have to expose those properties with Motion.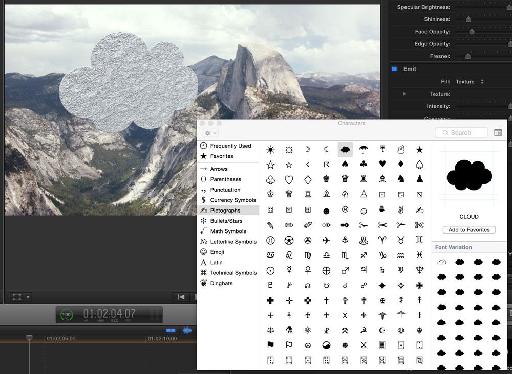 Here's a cloud symbol from the Character Palette, looking snowy and slightly rotated.
Symbols and logos
While only text can be extruded, you can turn almost any single-color object into a character in a font. Dingbat fonts are a great place to get started, but a quick web search will reveal services that turn SVG files into font characters. If your clients would like their logo rotating and metallic, you can do it all in FCP X.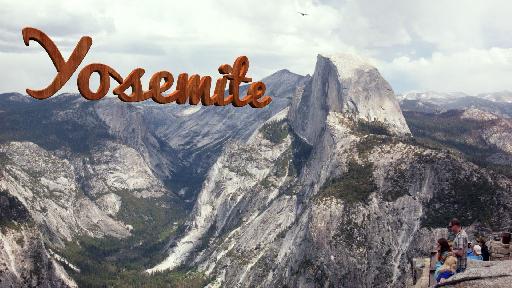 Finally, something appropriate: Yosemite, in Yosemite, in Redwood.
Conclusion
The 3D text feature opens up whole new worlds of exploration. While we're seeing a whole lot of flat design on the web and in modern user interfaces, 3D has never really gone away'"especially on TV. Tastefully used, 3D text (and the 3D symbols which carefully chosen fonts enable) can be effective in a wide variety of projects. You might not use 3D on every title, but it's a powerful tool in the arsenal, and it's never been easier for an editor to work with 3D text than it is here and now. Enjoy!