So you've got the latest Mac and powerful creative apps, but what if you're struggling with your mouse or trackpad? Peter Schwartz shares his tips on making the most of your input device! [w/ Poem].
I've tried trackballs, I've tried mice,

I've tried touchpads once or twice,
I decided that my shtick
Would be a mouse,
To point and click.
And with that bit of Wordsworthian poetry [ahem] you now know what type of input device I use to operate my computer, and in particular, Logic Pro. Apparently, the way I use my mouse with Logic seems to dazzle onlookers who watch me work. Inevitably they ask, 'how are you doing things so fast?!!'
The things they're referring to are how I open and close editor windows and perform other operations in Logic without even so much as moving the mouse itself. Honestly, I don't think I'm doing anything special. I'm not using any cutting edge mouse technologies or nuffin'. But since my mouse usage seems to intrigue people, I thought I'd share with you my techniques for running Logic and other programs with extreme speed and a minimum of movement.

The Logitech MX310 Mouse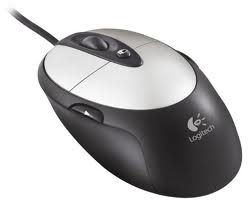 Though discontinued, it's my mouse of choice.
Hyper Mouse
My mouse of choice is a multi-button scrollwheel mouse, all of which play a key role in my workflow. I use a now discontinued Logitech MX310 mouse of which I have many spares (I tend to wear them out). It features the usual left- and right-click buttons, a button on each side of the housing, one at top-center, and one that's integrated with the scroll wheel (pushing down the wheel activates the button). Nothing unusual there. But things become evolutionary for workflow when a little $10 shareware program called USB Overdrive comes into play (www.usboverdrive).

This and similar USB device drivers such as Speed Mouse and QuicKeys allow you to custom program the function of each button and wheel on your mouse, or other USB input device. For example, mouse buttons can be programmed to generate various single, double, or triple clicks by pressing a button just once; keystrokes (with or without modifiers), F-keys, entire URLs, and other functions are easily assigned (see Figure 1). Quickeys offers much more extensive programming capabilities, but USB Overdrive is fine for my needs.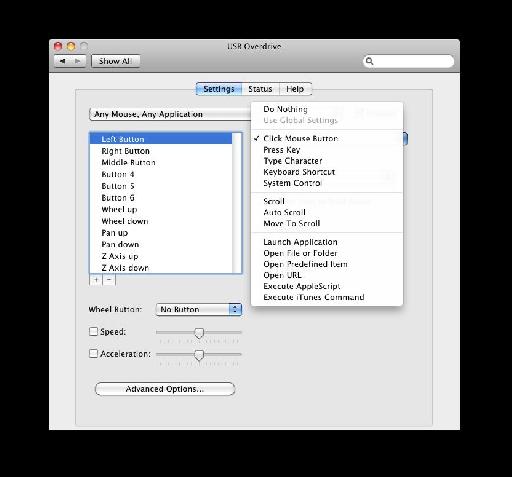 Figure 1: USB Overdrive's programming pane.
Now that you know that mouse buttons can be programmed to output more than just clicks, I'll bet the wheels are turning in your head as to the possibilities these applications offer. And indeed, they can transform your mouse into an extremely powerful tool that will accelerate the way you work and eliminate some of the drudgery associated with mousing, including my least favourite mouse move, the double-click.
Double-Clicking? GAH!
Yes, I have a big problem with double-clicking. Think about it'¦ this action has the distinction of taking twice the physical effort to tell the computer to perform a single action: launch a program, open a window or document, select an entire word in a text editor, and so on. But my objection to double-clicking isn't based on principle, and it's not like my fingers are weak (I've been a piano player for more years than I care to see published in print). Two rapid clicks in a row on a hard plastic button is just not a natural thing to do hundreds or thousands of times a day. And it was that very action that led to my developing a lovely case of tendonitis in my right arm, hence the title of this article. (Sorry, I couldn't resist!)
My solution to avoid double-clicking entirely was to use USB Overdrive to take a single click of a mouse button and output a double-click in return (See Figure 2). Woohoo! My button of choice: the one normally used for right clicking. With this arrangement I reduced my pounding on the right button by 50%. Most importantly, the reduction in repetitive movement during long periods at the computer was instrumental towards curing my bout with tendonitis.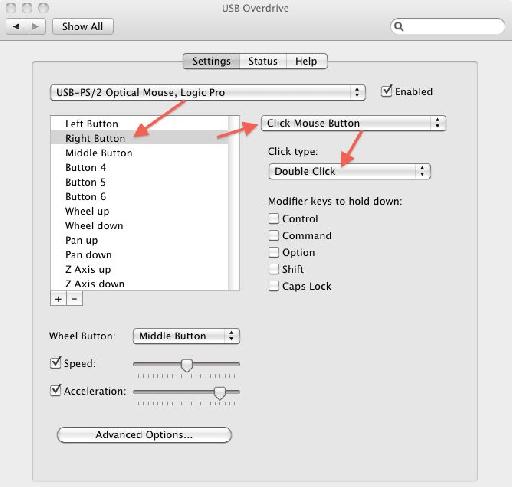 Figure 2: Programming pane for USB Overdrive, showing Mouse button programming specific to Logic.
Oh, and what happened to my right-click functionality? I've moved it to the little button on the left side of the mouse which I operate with my thumb.
App-Specific Mousing at the Speed of Light
One of the great things about USB Overdrive and similar apps is that they can be set up to make your mouse buttons act differently for every application. For example, on Logic I have the top-center button programmed to output the keystroke for 'D'. In Logic, this corresponds to my key command for toggling the MIDI output function in the various editors on and off. Thus, when I'm editing notes, I can choose to have Logic play the selected notes or not by hitting that button right on the mouse. But when I'm using Safari, I have that button programmed to create a new tabbed browser (Command-T). And in ProTools I have that button set up to call up the Mixer window (Command-=).
Closing Windows
When I work on someone else's computer that doesn't have my mouse/software setup, it is painful beyond words for me to have to push the mouse cursor up to the little red dot on a window to close it. Of course, I could use Command-W, but that's not my first instinct because I've gotten used to a different method'¦ I press the button connected to the scrollwheel, which is programmed to output the key combination of Command-W. In fact, I have this programming set up globally in USB Overdrive so that it works this way for all applications. All it takes to close a window, then, is to give it focus (if necessary) and hit the button. Window gone! Works on plugin windows too.
The Mouse Trap
As I mentioned previously, avoiding double-clicking to alleviate my mouse-induced tendonitis was a primary motivation for getting into this setup in the first place. It worked like a charm, and from there I added functions to other mouse buttons. But several years later, during a month-long, 14 hour-a-day project, I ended up developing another repetitive stress injury: carpal tunnel syndrome in my right hand. Trust me, you do not want to experience this if you can help it. And you can! I'll tell you how in just a moment'¦
As it turns out, the onset of this problem began as a result of two things; first, I started using a new mouse with multiple thumb controls (which I enthusiastically programmed with cool functions). But my body just didn't respond well to what amounted to constant thumb-wrestling manoeuvres. Yes, I felt a strain at first, but being young and invincible (aren't we all?) I just ignored the warning signs until I couldn't ignore them any longer.
Second, it was pointed out to me that when I used the mouse my hand was positioned lower than my elbow, thus bending my wrist. Yee-ouch!
Problem? What Problem?
Fixing the problem proved easy: first, I went back to using my old familiar mouse with the 6 buttons. Then I re-jigged my setup so that my elbow and hand were on the same plane and my wrist wasn't bent. Amazingly, the symptoms cleared up in a few days.
To date, I'm free of symptoms of both maladies and I continue to use my mouse in the way I've described. In fact, I can't imagine running my computer any other way. If nothing else, I highly recommend that you explore the idea of eliminating double-clicking from your life; I think you'll find it to be a real blessing. From there, the temptation to extend the functionality of your mouse buttons will come quite naturally. But please keep in mind that goals here are speed and convenience, not pain or strain.