Spend too much time typing everyday? Think of your hands! Your poor hands need rest to avoid RSI, etc. So, why not harness the power of your voice to dictate and control your Mac with Dragon Dictate 3
Some might say I went above and beyond the call of duty when preparing to review Dragon Dictate 3 for Mac. Within a half hour of finishing installing and trialling the boxed version, which comes with a neat headset, I fractured my left elbow. To be clear the two events weren't connected (though please do exercise care when opening any boxed product). After falling heavily on some rogue black ice, I had the perfect opportunity to really put Dragon Dictate 3 through its paces.
As someone who relies heavily upon the use of both arms to email and type for over 8 hours a day, I've often dreamed of a less finger-tiring way to stay on top of my workload. Dragon Dictate enables the user to dictate letters, emails, poems - whatever you like - and issue commands to control your Mac, too. Like many others, I've used Siri on my iPhone with varying success, and have been frustrated by the limitations of Apple's OS X 10.8 dictation feature. So, it was with a degree of low expectation that I begun testing out Dragon Dictate 3.0 for Mac.
Was it useful? Yes, very! Was it perfect? Read on to find out.
In the Box or Out?
Nuance offer Dragon Dictate 3 for Mac in two varieties, digital and boxed. Both weigh in at the same price: £129.99 GBP / $199.99 aprox. despite printed documentation and a wired headset coming with the boxed version. The review unit I received was the boxed version.
Installation is easy enough. You'll need about 4 GB of space, but there's more to do once you've finished loading up the app and donning your new headset. Upon launch, you're presented with a voice training setup. In total this took me over 15 minutes to complete, but I'd highly recommend you go through the entire process. Unlike Siri which tries to learn your voice and expression on the go and references servers (presumably somewhere in Apple land), Dragon Dictate relies on learning your voice, intonation and tone through these voice training exercises.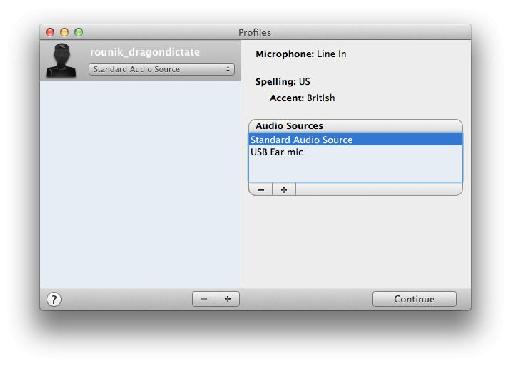 Setup is painless enough and interestingly the training process becomes a two-way experience. Like all good communication, how well the program understands you is deeply connected with how well you can make yourself more easily understood. In that respect, as with speaking with someone who doesn't share your own native language, you may need to think about how to alter your tone, pace and remove those colloquialisms, in order to be best understood.
Mind Your Ps and Qs
For optimal results, Nuance suggest speaking as clearly as possible, like a newsreader. I'd go further still to suggest speaking uniformly and deliberately as this will provide you with the most accurate results. Overall, I've been extremely impressed with the accuracy. Words and phrases which have Apple's Siri struggling were quickly and effortlessly turned into text correctly by Dragon Dictate.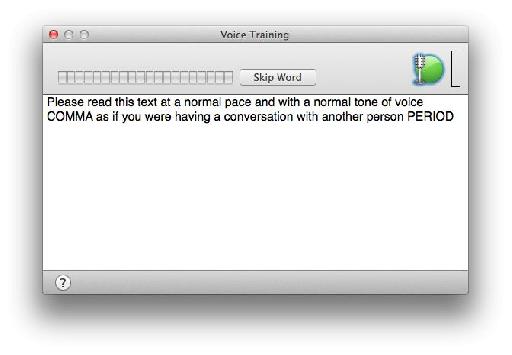 I did need to make the odd alteration to a word or a sentence, which can be done by using the relevant voice commands. However, when I tested using the internal microphone on my MacBook Pro the accuracy levels dropped significantly. The provided headset is highly recommended!
In the Flow
If you're like me, you'll discover the way in which you speak and type are quite different. I'm a writer who enjoys tactile feel, i.e. I enjoy being able to feel the keys/touch surface with my hands while I type out articles or compose emails. I also think faster than I can speak, so for me it took time to adjust to dictating my thoughts aloud. I noticed that emails and articles I dictated had a more stop/start feel, lacking flow, as I was also concerned about the process and accuracy of the dictation itself. Now, while this has no bearing on Dragon Dictate, or any specific dictation software, it's something to bear in mind if you're also a non-vocal writer like myself. Take nothing away from Dragon Dictate 3 though. Overall, I found only marginally more mistakes in the resulting text as I would have through typing errors.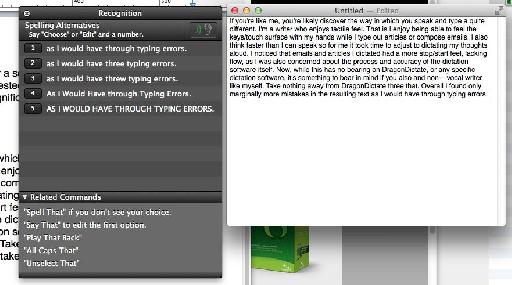 Offline Transcription
I was most excited to test out the transcribe audio files to text feature. This is designed to work with your pre-trained voice. Simply record your voice to an audio file: MP3, WAV, etc. or via the Dragon Recorder app for iOS or Android, and then import the audio file into Dragon Dictate 3. Dragon then transcribes the file offline, and once done you can edit the text for any errors you might find.
As with the dictation feature, this works best if your voice is recorded speaking clearly and the recording itself is fairly clean. I, rather optimistically, first put this feature to the test using an interview I had conducted over Skype. The audio connection had been less than optimum, and rather unfairly, the levels were all over the place, and the interviewee had been speaking so quickly it was hard enough for me to discern the individual words... So, how did Dragon Dictate do? It did its best but, unsurprisingly, the resulting transcription wasn't usable. When recording my own voice and importing the file into Dragon Dictate I was, however, more pleased with the results. There were some errors that popped up and, even with the use of only one arm, I found this to be more convenient and quicker than transcribing an audio recording manually!
Round Up
There's a lot more to Dragon Dictate 3 for Mac than first meets the eye. Once I'd gone through the training exercises the accuracy was fairly impressive, not perfect, but it is leaps and bounds ahead of Apple's Siri or Mountain Lion's dictation feature. I found it useful to be able to dictate outside of the built-in note pad, directly into email, Pages and Safari. And there are some useful commands to help you dispense with using a mouse or keyboard altogether. For example, you can write a new mail message, send email, launch an application, swipe left or right, and more using just your voice - perfect for those who have RSI, carpal tunnel syndrome or a fractured elbow!
Dragon Dictate 3.0 is the best solution for dictation on Mac I've tried to date. While it's not overly expensive, it's not cheap either, and does require more effort to setup than Apple's built-in OS dictation system. However, if you're after superior voice recognition, voice dictation, or an advanced accessibility solution, then you should seriously consider Dragon Dictate 3.
Discover more about Dragon Dictate 3 for Mac here.