Do you want to hide unwanted Events and Projects and simply speed up your Final Cut Pro X experience? Enter Event Manager X, a small but perfectly formed application at a bargain price!
UPDATE: Due to changes to the library structure in the new 10.1 version of FCP X, Event Manager X development has been discontinued and is now free for users of older versions of FCP X. However, if you're using FCP X 10.1 or later, you can now use Final Cut Library Manager to track your offline libraries, and we've reviewed it here.
Event Manager X is one of those small programs that makes life a little easier. It's not essential, but it's very convenient indeed. In a nutshell, it hides unwanted Events or Projects to speed up Final Cut Pro X, but it can also become a very handy part of your archival strategy. Let's dig in and find out more.
FCP X File Structure
FCP X uses a very simple strategy for managing media '" load everything it finds in specific folders, on all connected drives. And where are your video files? If you're using your system drive, then you'll see two folders, Final Cut Events and Final Cut Projects, in your Movies folder in your home directory. If you're using any other drive, such as an external drive, then you'll see those two folders at the top level of the drive.
Events is usually the big one, as that's your source media. Projects, being your finished edits, is normally much smaller, but render files can take quite a bit of space. Each event or project consists of a folder, containing several subfolders and a few files too.
Event Manager X's major trick is simply to move the folders which represent Events or Projects into two folders with the '- Hidden' suffix. FCP X won't see them or load these hidden events and projects, making launching (and sometimes general operations) much faster. (My inner typography nazi laments the use of a hyphen instead of an em-dash, but I'll live.)
Move those Events and Projects

When you launch Event Manager X for the first time, you'll see a simple window with a list of your Events at the top, and your Projects at the bottom. Basic usage is simple: ticking the checkboxes next to any Events or Projects that you want to hide, then press 'Move Events and Projects' at the bottom of the window. If the checkbox 'Re-open Final Cut Pro X' is also ticked, then it will launch and show the new arrangement.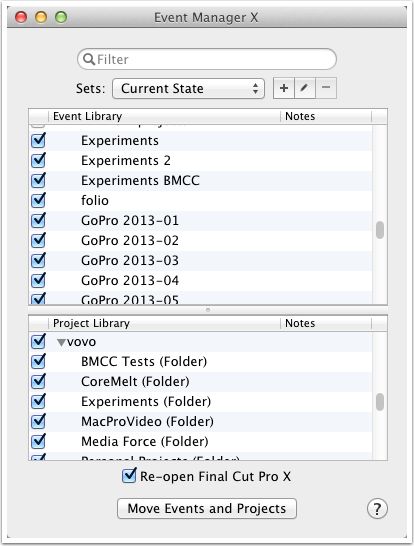 Check to show or hide any event or project, on any connected drive.
Making sets
The Sets functionality at the top of the window lets you activate a specific set of Events or Projects all at once. For example, I have a lot of older home video footage which I don't need to load all the time, so I've created a set to show it all. Similarly, I could create sets specifically for regular clients.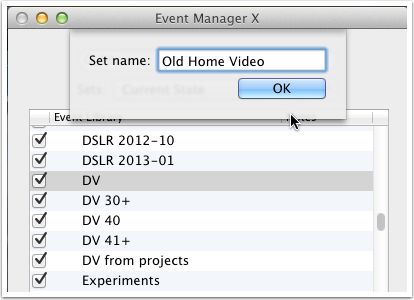 Here's a set for Old Home Video.
An issue with Projects
There's a minor issue in that Event Manager X only looks one level deep into the folder structure, and so Projects placed in subfolders can't be managed. You can still show or hide entire folders, however.
Track offline events and projects
While the hiding and showing of Events and Projects is something you could do by hand '" and it can sometimes be handy if you are stuck with a corrupt project '" it's not the star feature of Event Manager X for me. If you connect an external drive containing FCP X Events or Projects, then launch Event Manager X, you can manage media on that drive, as you'd expect to.
However, when you launch Event Manager X when that drive is no longer mounted, it will show you the Events and Projects that were on that drive. The drive is shown in red, and of course you can't activate or deactivate media, but this is a great way to keep track of Events or Projects that you've offloaded.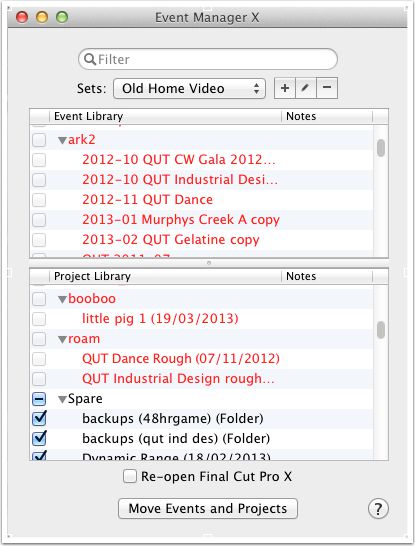 A few events and projects on offline drives are shown in red.
Conclusion
As much I'd like to keep it simple, I record and edit way too much footage to keep it all online. Luckily, because FCP X makes moving or duplicating projects and their associated events quite simple, I can use a bank of older hard drives for archiving. Event Manager X has become a key helper app for my archiving strategy, and also for hiding my ever-growing home video library until I have a chance to edit it. Event Manager X is simple, but it's definitely worth a free download if you're migrating to 10.1 from an older version. Grab it here:
http://assistedediting.intelligentassistance.com/EventManagerX