The noises coming from Cupertino suggest Apple is no longer willing to accept FCPX being labeled iMovie Pro! Ben Balser explores the new features in Final Cut Pro 10.0.8 and reports on the changes.
I've been working with the new Final Cut Pro 10.0.8, Motion 5.0.7 and Compressor 4.0.7 updates for the past few days and I'm very happy with what the Apple development team has pulled off once again. We have seen so many updates so quickly, it amazes me those programmers can get so much code written so quickly. So let me cover the updates of FCP X 10.0.8 briefly.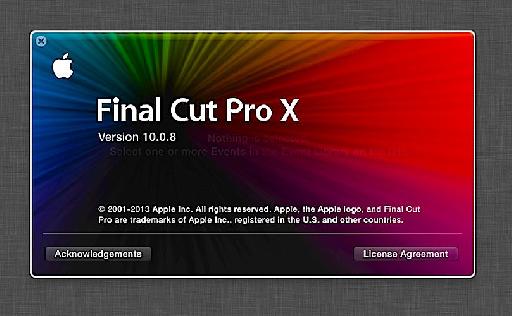 New Features
There aren't lots of new features, but my favorite is the new Clip View keyboard shortcuts. The simplest to remember is the new Control-Option-Up/Down Arrow keyboard shortcut. This will toggle through the 5 stages of how much audio waveform vs video filmstrip shows in the Timeline clips.
Using the Control-Option-(1 through 6) keyboard shortcuts will target any of those stages directly, plus the 'bullet' size that shows Clip Labels only. This configuration is super easy to remember quickly. I have been using them all day, as if I'd been using them my whole life.

FCP X now has two new camera supports. One is the new Sony XAVC codec on their F5 and F55 cameras which are fully supported natively up to 4K resolution. This requires the Sony XAVD plugin as specified on Apple's FCP X "Technical Specifications" page." Sony XAVC import up to 4K supported with additional Sony software." This refers to a free plugin that is simple to download and install. It can be found at this URL:
http://www.sonycreativesoftware.com/pdzk-lt2?keycode=9500-9500

ARRI editors have more support now, also. The ARRI ALEXA can record ProRes with Log C video levels. FCP X 10.0.8 now has a non-distructive display for those specific clips that can switch between the Log C and Rec 709 color gamut, without rendering. FCPXML exported files to DaVinci Resolve and Autodesk Smoke are fully supported and will bring the Log C files over with it.
More good news is that when we use the Retiming function to reverse clips they now render in the background. Reel number metadata embedded in a clip's timecode track is now viewable, too.

Bug Fixes
Performance issues when using certain titles and effects, or when selecting multiple ranges on a single clip have been fixed. Mono audio files now export with the correct levels in surround sound files. Drop Zones do not force a clip to start on the first frame when relaunching. And the Play Around function works fine when viewing some clips on certain external video devices.
Update Warning
Never update in the middle of projects. Finish them before updating your system. This is true for any heavy working app such as NLEs. Have a daily backup of your drives. And follow Apple's recommended update process. If you do this for a living, these steps are vital to not losing your rear to your clients.
http://support.apple.com/kb/ht5550
FCP X In Action
According to Harry Miller of the ACE, with Avid on the financial ropes many of their members are giving FCP X a second look. LA Times reporter Chris O'Brian states Apple is on an FCP X public relations campaign in the run up to NAB Show 2013, with updates to their Final Cut 'In Action' page. My favorite new showcase is Chinese director Tsui Hark, whose new film 'Young Detective Dee: Rise of the Sea Dragon' is a state-of-the-art 3D feature edited on Final Cut Pro X. Mexican television conglomerate TV Azteca is said to be featured soon, also.
http://www.apple.com/finalcutpro/in-action/
Motion, Compressor, QuickTime
Here's the main updates for Motion, Compressor and QuickTime:
Motion 5.0.7:
Resolves an issue where some third-party effects generated green frames during render

Resolves performance issues that could occur with certain titles and effects

Fixes a stability issue when splitting layers in the timeline

Fixes an issue where launching a plug-in with a check box could require multiple clicks

Fixes a stability issue with CoreMelt plug-ins

Compressor 4.0.7:
Removes 1 GB file size limit for uploads to Vimeo

Fixes a stability issue when playing back certain MPEG-2 files

Fixes a stability issue in Qmaster when processing multiple jobs

QuickTime Codecs v.1.0.2:
Apple Intermediate Codec

Apple ProRes

AVC-Intra

DVCPRO HD

HDV
XDCAM HD / EX / HD422

MPEG IMX

Uncompressed 4:2:2

Conclusion
Even though this is not a huge upgrade, what we get is very significant, as all the past updates have been. Apple has been pushing out updates to these three Pro Apps faster than all of the competition combined. If you know anything about software development, how much time and work it takes to go from concepts to mapping to actually writing code, testing, fixing, and finalizing, it is a massive, painstaking endeavor. My admiration to the Final Cut development team. It will be interesting to see how these apps evolve even further in the future.