With an almost overwhelming number of new features in the latest update for Final Cut Pro X (10.1.2), Ben Balser gives each major one a thorough examination and comes up smiling.
It has been the longest stretch of time between updates, but it was worth the wait. The recent FCPX 10.1.2 free update has some new features and qualities that are amazing. I can't cover everything in detail here, so I'll cover the important points. Look for other features and functions to be covered in detail in future MPV Hub articles.

Stability And Performance
The first thing I noticed was the stability and very noticeably faster performance on my late 2013 Mac Pro 8-core. I selected 17 Libraries in the Finder all at once. I used Command-O to open them all into FCPX at one time. It launched and updated the databases in under a minute, no crashes, no freezing, no glitches. At every turn I find overall system performance to be snappier and a pleasure. I've yet to duplicate any of the numerous bugs that existed in 10.1.1.
Library Settings
A new feature are the Library Settings. You can determined the location of three elements: Media, Cache, & Backups. Media are your vital, priceless original, optimized, and proxy files. Cache are files FCPX can recreate at anytime from scratch: analysis, render, waveform, and thumbnail files. Backups are the Library backup files FCPX will make every 15 minutes while you are actively working within a Library.
Each can be stored inside the Library itself, or in any external location you wish. Select a Library, go to the Inspector, and by Storage Locations, click the Modify Settings button. Be aware, when you CHANGE existing settings, nothing is moved or copied. This will only effect NEW files you import after that change.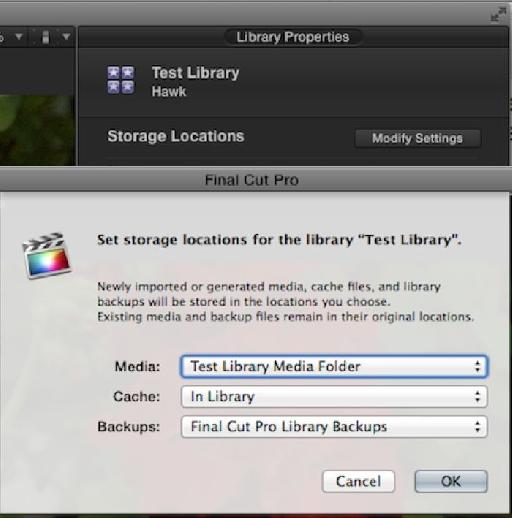 The new consolidate command will copy these files to the new locations specified above, AFTER a change in settings has been made. It is that simple. The Inspector now gives you all the information you need about your Libraries. Where everything is stored, where the Library itself is, etc. This adds much more flexibility and ease to media management in FCPX.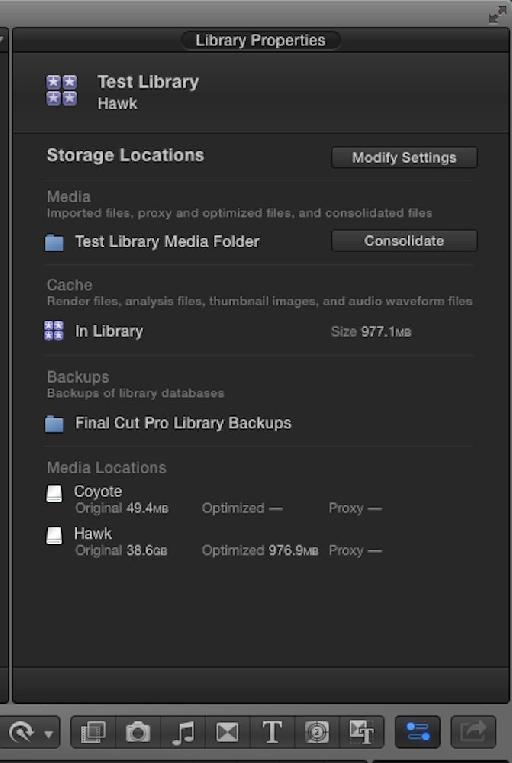 I can also now delete optimized, proxy, and render files inside of FCPX for any given Library, Event, or Project. Simply select either of these items in the Libraries pane or Browser, then go to the File menu. There you'll find an option titled 'Delete Generated [Library/Event/Project] Files'¦' Choosing it brings up a window that lets you select which combination of these files you want to delete. You can NOT undo this command, so be careful.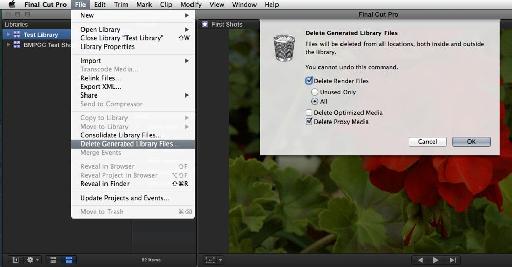 Used vs Unused Media
There is a new option in the Browser filter menu (top left of Browser pane). It is 'Unused', and will show only the ranges of media that have NOT been used in the current active timeline. For example, if I have three ranges of Clip A used in the active Project timeline, setting the filter to Unused splits Clip A into 4 independent clips, all acting like unused sub-clips. Thus, I can edit away all day long and NEVER see anything in my Browser that has already been used in my Timeline.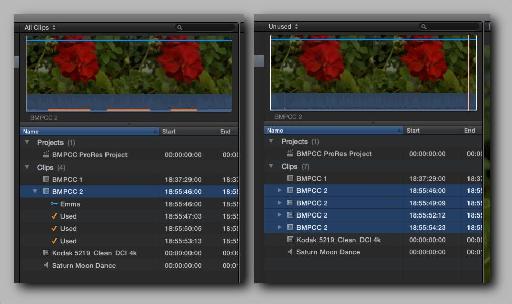 Along with the orange Used Media tags, knowing what has and has not been used already is a cinch. Not to mention you can create Smart Collections using Used or Unused media as a filter criteria. Imagine combining this with Favorite/Rejected ratings, and other criteria, and very complex projects suddenly become much easier to manage.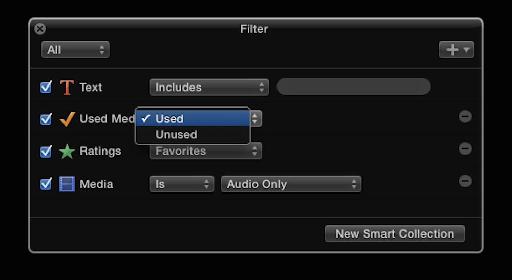 Finder Tags Keyword Collections
Yes, in Mavericks we gained the ability to Tag files. Basically the ability to assign searchable keywords and colors to a file. Right-click any file in the finder, and select Tags from the pop-up menu. For example, I assigned a file a tag keyword of 'coolio' and the tag color of "Gray".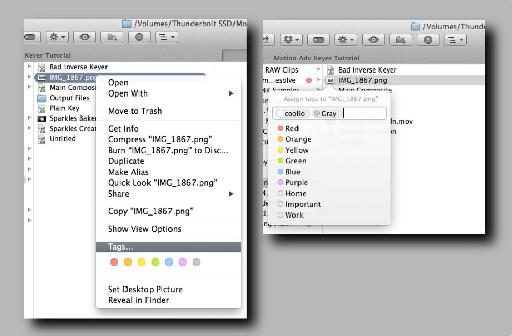 In the FCPX import window, there is now the option to create keywords 'from Finder tags'. When I imported my Finder tagged file into FCPX using this feature, I get two keyword collections; 'coolio' and 'Gray', with this file in both. Imagine using this in conjunction with the existing function of assigning keywords based on folder hierarchy. An assistant on-set can now do complex media organization in the Finder on a laptop, and when imported into FCPX, it is all intact. No repetitive organizational work.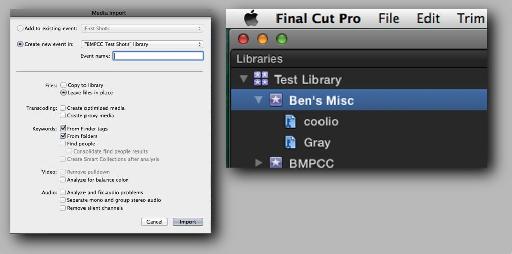 ProRes For High-Dynamic-Range
A new flavor of ProRes was introduced, called ProRes 4444 XQ. I guess XQ stands for 'Xtra-Quality'? It is just like ProRes 4444, supporting 12 bits per channel, with a 16 bit 4:4:4 alpha channel. But this one supports a higher bit rate to maintain fidelity when ''¦tone-scale blacks or highlights are stretched significantly', and supports a dynamic range several times greater than broadcast Rec 709. It has a target bit rate of around 500 Mbps with 4:4:4, 1920x1080, 29.97 fps source media. High-end effects artists are going to love this.
Log Media For Broadcast
In the Inspector, in the Info section, there is a new setting called 'Colorspace Override'. This drop-down menu allows me to apply a broadcast Rec 709 profile look to media shot with high dynamic range, wide color gamut video. This would be media shot with ARRI, Blackmagic Design, Canon, and Sony cameras. I found it really fun to apply Sony and ARRI and other profiles to my Blackmagic 4K Project Camera media. It helped me come up with some very interesting, unusual looks.

Audio Recording Improvements
This is something I personally am really excited about, since I do a lot of voice over and singing work. Now, when you stop recording, the playhead slides back to its original starting point in the timeline, ready to start at the same spot again. The audio recoding window has totally been reworked and is much nicer. I can name my clips BEFORE recording now, which is a huge time saver.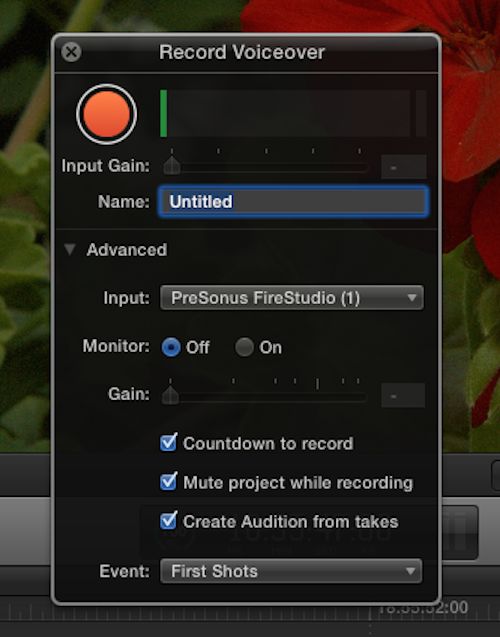 I can also turn on and off three great new features. 'Countdown to record' shows a visual cue in the Viewer, and an auditory 3 second countdown before recording punches-in. The punch-in point is where the playhead was when the Record button was pressed.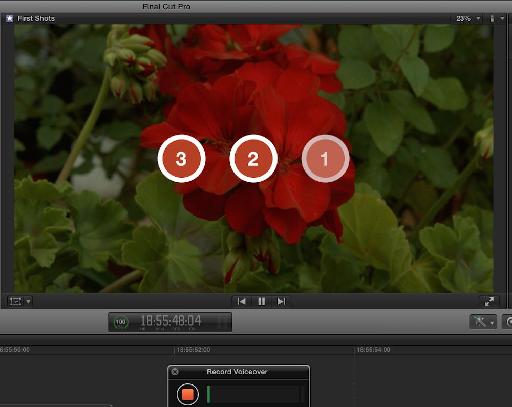 'Mute project while recording' simply mutes all existing audio in the Timeline during the recording process. 'Create Audition from takes' is a multi-take function. I do my original recording, then stop. With this option turned on, the playhead will record over the previous recording on the second and subsequent takes. All of these takes are placed inside an Audition Clip. Thus you can audition and select which take you like best.
To take this a step further, if you want to use sections of different takes together, Audition Clips can now be broken apart. I simply select my new VO Audition in the Clip menu, select Break Apart Clip Items, and all the auditions are separated, stacked on top of each other, with their In points synced.


Other FCP X 10.1.2 Features
Other features I don't have the space to detail here are:

Used media indicators for Compound, Multicam, and Synced clips

Automatically apply an ARRI embedded 3D LUT from the new AMIRA camera

Improved speed and accuracy when synchronizing clips

Fast export of cuts-only projects containing XDCAM media

Export entire library as a single XML file

Adjust relative and absolute volume of a clip or range selection

Option to sort events by date or name in the Libraries list

Import a clip by dragging directly into the Browser

Share 4K video to Vimeo

Linear and smooth motion interpolation between keyframes applies to both time and distance

5K formats

Motion 5.1.1 Improvements:
Support for Apple ProRes 4444 XQ

Improved Sequence Text behavior for animating characters, words, lines

Enhanced Contrast filter parameters for refined adjustments

Compressor 4.1.2 Improvements:
Support for Apple ProRes 4444 XQ

Status display and improved responsiveness when using "Send To Compressor" from Final Cut Pro X and Motion

Improved performance and color accuracy when encoding H.264 source files from GoPro cameras

Fixes issues transcoding alpha channels to image sequences

+ includes general stability improvements
Conclusion
I feel this long awaited, free update was very worth the wait. It shows the dedication Apple has for these pro apps to continue not only improving, but innovating what is possible for an NLE to do. This update will go a long way towards making turnaround times even shorter, making post-production more fun and exciting, and showing us what is possible when you ask, 'how can we make it better?'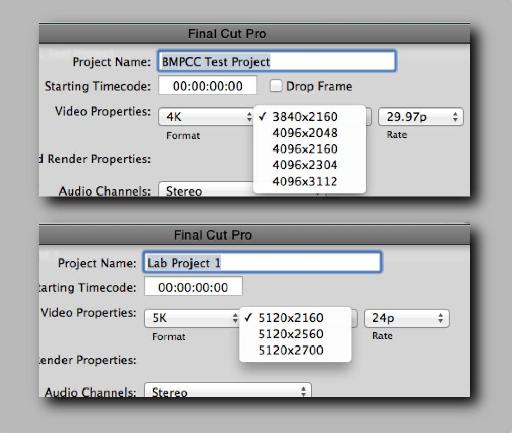 Learn more about Final Cut Pro X here: