If you're a video editor and you're interested in top-quality color and finishing tools for your footage, then Red Giant's Magic Bullet Suite 12 (including Colorista III) should be on your radar.
It's not every day that a major color correction suite lands on a new NLE, but it just happened. Red Giant have (finally? I can say finally, can't I?) ported most of their Magic Bullet Suite 12 to FCP X, and we can now take advantage of the serious controls they offer. They'd better be serious '" when the entire package costs more than double what the host package costs, it's fair to have pretty high expectations. Let's dig in and find out how they've done.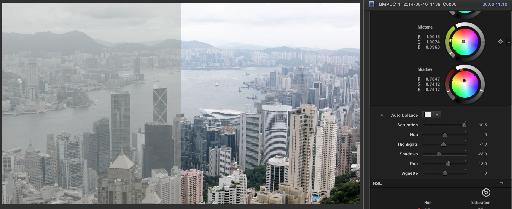 Before on the left, after on the right, with Colorista in the Inspector.
Colorista on FCP X'"finally!
While some editors love color correction (myself included) it's not everyone's cup of tea. And while I quite like the color board, not everybody does. It's certainly no replacement for photographic controls like Curves, shadow/highlight adjustments, or more advanced selective correction techniques, and that's where Colorista III steps in.
Entirely within the Inspector, Colorista III presents a custom interface that offers everything at once'"Curves, advanced 3-way correction, auto white balance, advanced sharpening, shadow/highlight controls and much more. It's a smorgasbord of finishing goodness.

Here's the full UI in all its glory (click to enlarge).
In order, there's a basic exposure slider, then highlight/midtone/shadow color wheels with custom saturation and luminosity sliders around them, then a selection of global controls that tick a lot of boxes. Auto-balance lets you use the system eyedropper to find a white or grey area in your image for a very quick white balance fix, and it's much appreciated. There's also Saturation, Hue, Highlight and Shadow recovery controls to rescue data on the edge of clipping, a Pop slider which adds (or subtracts) micro-contrast to sharpen (or soften) your image, and finally a Vignette that can darken or lighten the corners.
Below these are two wheels which selectively adjust the Hue, Saturation and/or Lightness for eight specific color areas'"so you could make the blues more saturated, while brightening skintones. These are complex controls, so spend a bit of time with them and get to know them.
The last correction is Curves, which is good, but sadly not great. The draggable numbers below the curve itself let you add S-curve contrast, and adjust only the shadows, midtones or highlights '" and it all works well. The curve itself, though, has five pre-positioned points that can be moved up or down, rather than allowing you to put your own points where you want them. For simpler adjustments, you can use the controls below, but you can't just add a single point and move that alone. If you're a Curves fanatic, you'll find that the most subtle adjustments just aren't possible, and you can't move the very ends of the curve either.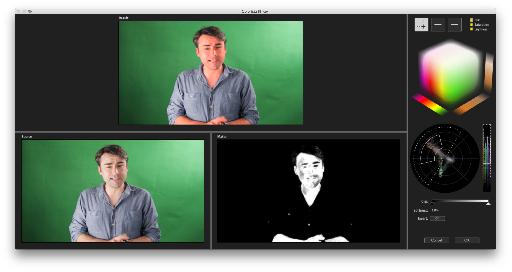 Selecting just the skintones with the Key.
Finally there's a Key section, giving access to a window which lets you limit all the above corrections to just some of the colors in the image. While we won't go through this here, suffice it to say that secondary correction controls like this can separate a good shot from a great one, and it's great to see these advanced controls incorporated into Colorista III.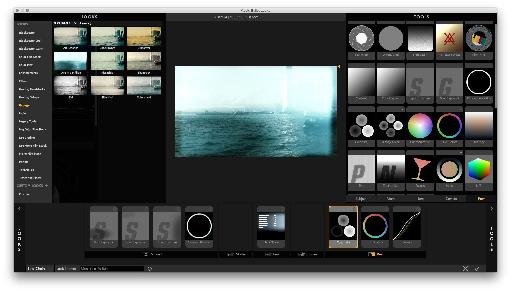 Looks is a giant beast.
Magic Bullet Looks 3
While Colorista is more of a traditional effect, in that you apply it and see the results directly in FCP X, Looks is an entirely different beast. There's one button, Edit, which launches a huge, comprehensive, separate interface.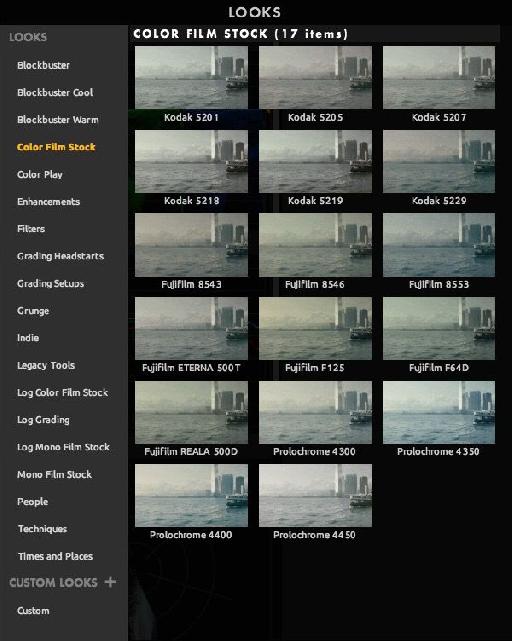 So many presets, so many options.
Start by picking a Look from the left pane. It populates the Tool Chain at the bottom of the screen with Tools from the right pane, in a range of categories'"Subject, Matte, Lens, Camera, and Post. Each of these can be adjusted, but you'll have to hide the Tools pane to replace it with the Controls pane. Colorista is in there as an option, with several of its controls (such as Pop) broken out for separate use. These preset Looks are a great place to start, and there are nearly 200 useful starting points, some of which are aggressive, and others which make no visible change, but present a selection of tools to make manual corrections easier.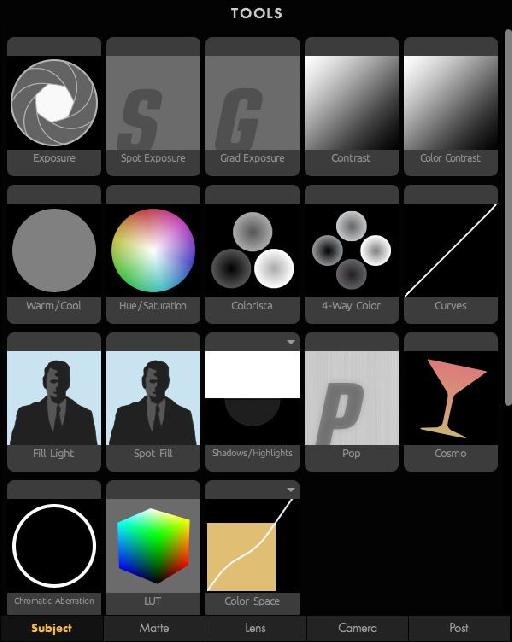 Tools combine to extend the built-in Looks, or make up your own.
The tools that combine to make up the presets can also be added manually to the Tool Chain by dragging them from the right pane to the lower pane. While each tool is designed to work in a particular part of the process'"for example, Mojo is a tool for the Post section'"you can force a tool to land anywhere if you hold Option. Some of these tools replicate Colorista's offerings, while others come from elsewhere in the Magic Bullet Suite and some are unique to Looks. If you want Film Grain, Telecine Net, or a 4-Way Color Corrector, look here.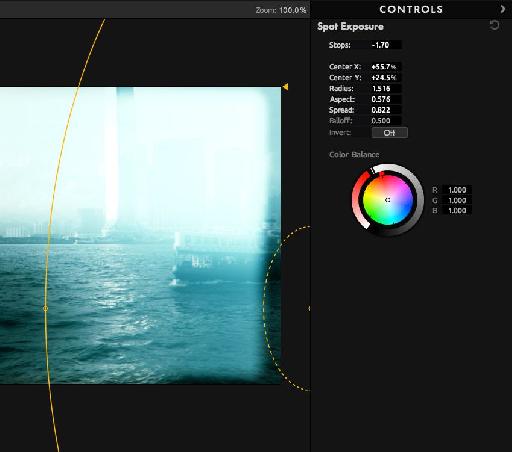 Hide the Tools to see the Controls, some of which offer on-screen displays too.
While it's not immediately obvious, if you hide the Tools pane by clicking on its name, the Controls for the selected Tool appear, like they'd appear in the FCP X Inspector. They've got more screen real estate here, though, and some tools will spill out horizontally. Similarly, hiding the Looks pane reveals a series of Scopes'"which you'll need, since you can't see the FCP X scopes while the Looks interface is open.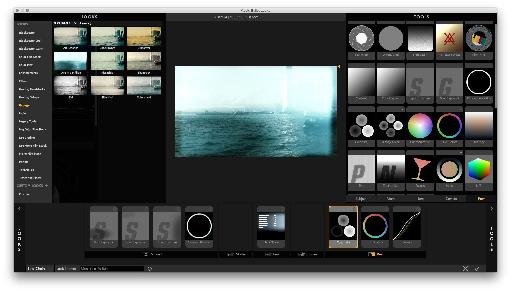 Here are the scopes and the controls at the same time.
Unfortunately, the custom nature of the interface has one major flaw: it's not Retina-ready. On my Retina iMac, everything in the custom window is simply soft. It doesn't help that the preview image isn't full resolution even on a non-Retina screen, and while there is built-in support for an external video monitor, it's not possible to judge the sharpness of a final shot if I can't see it directly in the interface. While the custom controls in Colorista III aren't Retina-sharp either, the video image is, and you can make proper grading decisions much more easily. If you haven't gone Retina yet yourself, this may not be such an issue, but it'll bug you when you upgrade.
As it stands, Looks is an excellent way to correct scenes or timelines in one hit, but you should probably use it on an Adjustment Layer '" it's probably too heavy to use as a shot-to-shot corrector. If you want to use Looks, you'll have to commit to it, but the breadth of tools is deep enough to justify that.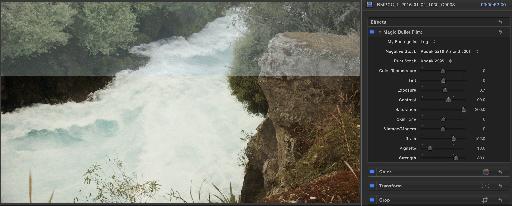 Magic Bullet Film delivers a pretty, and pretty accurate film look with many controls '" before on top, after below.
Magic Bullet Film
No fancy interface this time, just a standard set of menus and sliders. Choose your footage type (Video, Flat, Log), then pick from a wide range of Negative Stocks and Print Stocks to get a basic look. Dial in Color Temperature, Exposure and many other controls. Some of the sliders are a little overpowered, so hold Option while dragging on the numbers to get finer control.
The results here are very effective, and can certainly deliver the 'film look' quickly. If that's what your clients want, this is an ideal way to get started.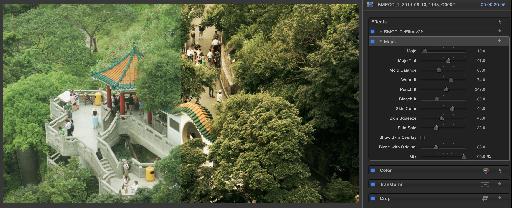 Who needs subtlety when you have Mojo?
Mojo
This is a little like Magic Bullet Film, except that there's no grain in sight. This is an all-in-one tool to add a 'modern, grungy film look' to your edit. Even the sliders have 'modern' names: Mojo Tint, Mojo Balance, Warm It, Punch It, Bleach It. Thankfully, you can return skin tones to relative normality with the last few controls.
There's nothing subtle about this plug-in, but again, it's all about what the client wants. If you want to hit the grade with a blunt, heavy, cool-looking instrument, go for it.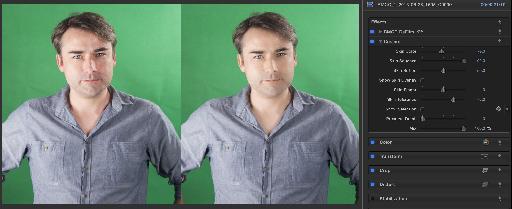 If your subjects want to pretend they don't have any wrinkles, you can help them.
Cosmo
A relatively simple skin smoothing plug-in, Cosmo has does a fine job in my testing so far. You can dial in the Skin Color, then squeeze the range of colors to downplay shadows, as well as controlling the amount of softening. There are other controls to adjust exactly which parts of the image are affected, but it's a relatively simple tool that does its job well. Great if smooth skin is the look your client wants, but if you need finer control, you may have to go for something else.
The others
This review is long enough already, but there are additional packages in the suite'"Denoiser II and LUT Buddy'"that work only in FCP 7 and Premiere Pro, and not in FCP X. It's a shame, but at least you can load LUTs through Magic Bullet Looks.
Conclusion
There are some excellent tools here, though I suspect not every tool will be useful for every editor. If you have a need for a collection of color and finishing tools, and you're not afraid of commitment, then picking up the whole package would be a good move. If you would rather stay in the FCP X Inspector and adjust clips one-by-one, perhaps pick up one or two of the component packages and skip the more serious (yet powerful) Looks. Either way, it's definitely worth a look, so check out the Magic Bullet Suite 12 trial today.
Pricing:
Magic Bullet Suite 12 (Complete) US$799
Looks US$399
Film US$199
Colorista US$199
Mojo US$99
Cosmo US$99
Denoiser II US$99