mObject is a plug-in for Motion and Final Cut Pro X that makes 3D animation and manipulation of virtually any imported objected a breeze. Iain Anderson puts it through its paces in this review.
Some would say that you'd be mad to spend more on a single plug-in than its host application. Others have work to do instead of arguing on forums, and would be well advised to spend the $149 on the basic mObject package or more on one of the many bundles available. What makes it so special? The standard Motion application is great, but only renders 2D objects in 3D space. To produce something as simple as a cube requires you to create and manage the positions of every face individually, as we did in this article. With mObject, you simply import a 3D object and manipulate it in 3D. That's very, very useful.

Motion or FCP X?
Well, if you're going to be doing serious animation, you should be in Motion. The keyframe controls in FCP X are weak in comparison, and you'll probably want finer controls over animation graphs too. Still, if you want something extremely simple'"like a quick rotation of 3D extruded text'"you can do that easily enough in FCP X.
How? Head to the Generators, then find the mObject category and the mObject generator. Dump it in a timeline, edit in the Inspector, then press the green Edit button to change your text. Once you're done editing in the mObject window, you can use the standard FCP X Inspector controls for position and rotation.

Enough settings for you?
The standard rule applies, though: just because you can doesn't mean you should. We'll stay in Motion.
The basics
It's not possible to create and manipulate 3D objects completely within the bounds of Motion, so mObject introduces a separate window that provides the controls that Motion lacks. You use this window to set up your objects, then you use the regular keyframing controls back in the normal Motion interface to manipulate them. It works well, and while the process of setting up the 3D objects is necessarily modal, it's logical enough.
Into'¦ the third dimension!
So, the basic workflow you can follow:
Create a new mObject generator

In the mObject window, create or import 3D object(s)

Change materials and lighting

Move parts of the object(s) into different layers if needed

Return to Motion

Animate camera and/or object(s)

Objects you create with mObject exist in Motion's 3D space alongside other objects. If you're already used to positioning your regular objects in 3D space, you'll be right at home here. If you want to bring in a collection of different 3D objects, that's just fine'"just import them into a single instance of mObject and put them on different layers.
Extruding text
One of the most common things you'll probably want to produce is 3D text, and you can easily extrude text into 3D, with a variety of bevel and depth options to choose from. As in Motion and FCP X, any underlined parameter values can be dragged on to change them, and you'll see the model change live in the main window.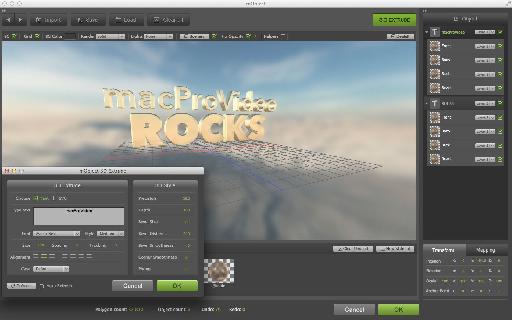 macProVideo rocks!
As ever, you'll probably want to keep the bevelling settings low, unless you're looking for that 'It's the 1990s and Kai's Power Tools just came out' look. If you're a vector fan, you can also extrude an SVG file.
Pre-built models
Should text not be what you're looking for, you can import one of several provided models'"some of them quite complicated. As well, motionVFX sell additional packs of models in a variety of different areas: military, music, sport, and city.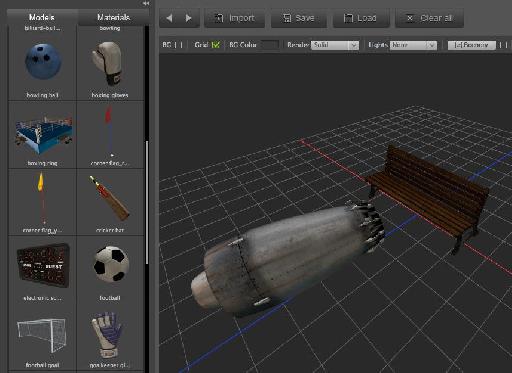 Yes, that's a bench with a jet engine.
If you work in one of those areas then that's an easy decision, but you can also buy a mega-pack with everything included. Freelancers who cross many disciplines may find that useful, but you can also use'¦
Your own models
Indeed, if you have the skills to make your own 3D models, or if you find some online, then you can import your own models too. For free, Blender can export the Wavefront .OBJ files that mObject prefers.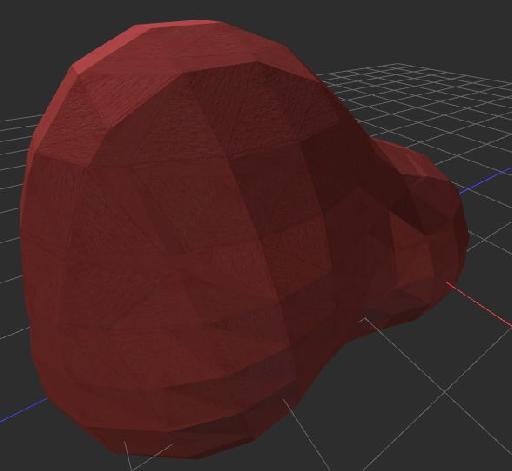 It might be a chunky, random metaball, but it's mine.
If you've never dealt with 3D modelling, you'll discover there's a whole new world out there to explore'"and while Blender isn't the easiest thing to learn, extruding your text in Photoshop will let you paint directly on the 3D model, a huge leg up and unthinkable just a few years ago.
Materials
Once you've found the right model, you'll want to make sure its surfaces look right too. mObject allows you to change the material properties for every part of your model, so you can make a car windscreen more transparent and reflective than its tires, for example.

Some of the materials you can buy.
You can import your own images (or videos) to play on surfaces, but the extra materials you can buy specifically for mObject also include texture information like depth maps for added realism.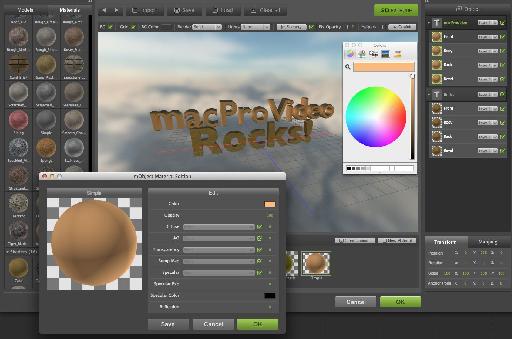 Making your own materials is good too.
Animation
Because the animation doesn't happen until you're back in Motion, you really don't need to worry too much about how the objects are positioned in the mObject interface. Within that modal dialog, you do need to set up the look of your models, and also use layers to separate each part you'd like to animate independently.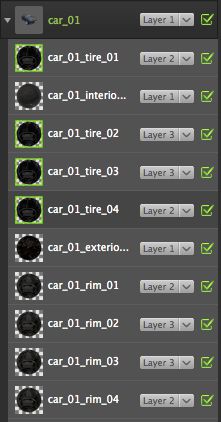 Here, the front tires and rims are in Layer 2, while the back tires and rims are in Layer 3.
Each layer's properties can then be animated back in Motion. To make a wheel spin, pop it (or a pair of matched tires) in a separate layer, then animate rotation along one or more axes. You can animate a camera to move around the 3D scene, and move, scale, or spin any of the 3D objects independently. It's not Toy Story, but it still allows a great deal of flexibility for motion graphics work.
Coming soon
The mObject web page currently lists a number of features to be added in free updates, including 3D shatter, shadows, refraction, fog and more. If you were waiting for one of those, you might as well jump on board and use the other features now. There are a few small bugs, but I'm sure they'll be squashed soon, and if you get stuck, there's help in video form.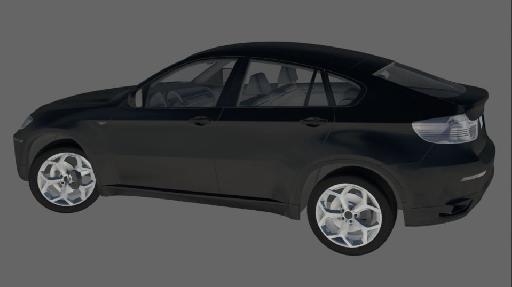 Here's a car with separately controllable wheels.
Conclusion
This is a big, complex plug-in that extends the capability of Motion and FCP X in a significant, useful way. There's no longer any need to dip into a dedicated 3D package to incorporate a piece of 3D animation, and by bringing all those 3D controls directly into Motion, mObject lets you produce better results more quickly.
If you or your clients have ever wanted to use true 3D text, 3D models or anything else in your animation work, then this should be an easy decision: buy it now.