Creatives have long embraced the iPad as a touch-screen remote control. So how does Pixel Film Studio's ProCutX stack up against existing apps with similar functionality? Ben Balser test it out.
Over the past couple of years I've tried every remote screen control app on the iPad that has been released for FCP 7 and Logic Pro. Now Pixel Film Studio has just released a new iPad app to control Final Cut Pro X with. I downloaded it, installed it, and gave it a good test run.

Installation
Like most Wi-Fi screen control apps, you have to install the server application on your Mac. This allows your Mac, FCP X, and the iPad app to talk exclusively to each other. Thus once you purchase and install ProCutX, then launch it, you are initially prompted for your email address so that the server app can be sent to you. That download includes installation instructions. Otherwise there is no user manual.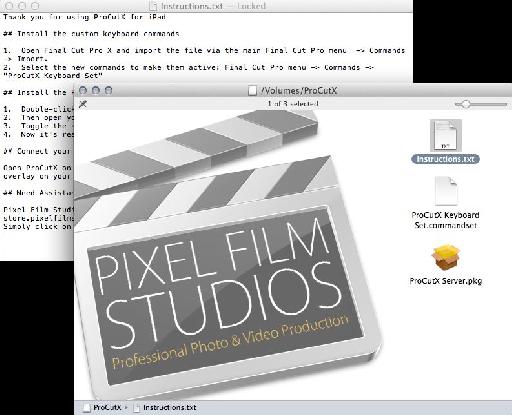 Functions
Pixel Film Studio says that ProCutX is supposed to be an iPad version of hardware control surfaces such as the Avid MC Transport I use. I'll cover some of the features.
There is a jog wheel in the center for moving the timeline playhead back and forth. This works nice if you're zoomed in, but when zoomed out enough it becomes very slow. There are buttons for the keyword shortcuts and to open/close the keyword editor.
The top left and right have buttons for opening and closing various panes and common functions. For example there is a button to create a compound clip, but you still need to manually select clips in the timeline with your mouse. There is no 'X' shortcut for selecting the clip the playhead is over. The Import, Export Project and Send To Compressor buttons are nice to have to get the process started.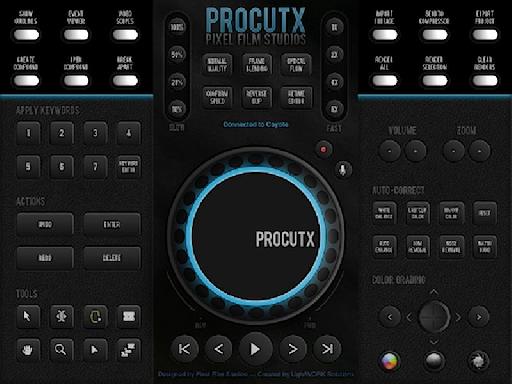 The undo, enter, redo and delete keys are easy to see and get to. The delete key when used for an edit is a ripple delete, with no option for a lift delete. The edit tool buttons all simply activate the various edit tools. The single blade does a cut in the Primary Storyline. The multiple blade button cuts all clips the playhead is on.
There is a set of Auto-Correct buttons. The first one is labeled 'White Balance' accesses Auto-Balance, which is not an honest, straight white balance tool. There is a 'Last Clip Color' button that copies the color correction settings from the immediate previous timeline clip. The On/Off Color button toggles the color correction section on and off is handy. Loudness is missing from this section, though.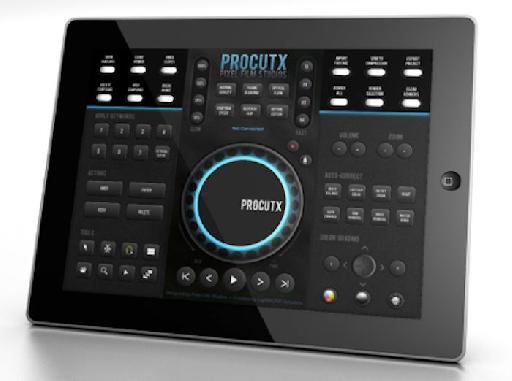 Below that are the color grading buttons. You can open any of the three color panes, move amongst the control pucks in each, and with a virtual joy stick move them around.
Transport controls include play/stop, 1 frame left/right, 1 edit point left/right.
Draw Backs
It is far from a complete solution, adding one more device to keep looking at, but is the best I've seen so far of this type. Text is thin and small requiring me to wear my glasses, which is rare for me on my iPad. I will echo what others have said, many functions are faster using keyboard shortcuts. You rarely have to look at your keyboard, as it is tactile. Every time you turn away from editing to view the iPad, you've lost time where a keyboard shortcut would be faster. As with any version 1.0 release this has its share of minor bugs, some buttons don't work for some users, which I'm told will be corrected soon. There is no way to set In/Out points, nor access anything but the timeline and inspector panes.
Conclusion
This is a version 1.0 product, and if you are comfortable with that, this could be a fun app to play with. Fortunately Pixel Film Studios tells me they have updates planned, adding more screens and functions. They are encouraging feedback to help improve it. The $24.99 intro price ($39.99 regular price) is good for its present state. With improvements and creative enhancements this may become a practical app. In the meantime, I'm sticking with MC Transport. For more information visit the ProCutX app web page or download it on iTunes.
First Update Comes Quickly
February 21, 2013 saw version 1.1 released for ProCut X, based on user requests which included: setting In/Out ponits, Append and Connect edit operations, highighting a specific clip in the timeline, and setting the edit mode between video only, audio only, or both. Bugs for networking and iPad sleep modes were fixed, also. Again, they are looking for user feedback, so drop them a line if you use ProCut X.