In an attempt to keep your Mac as secure, safe and snug as can be, Apple's latest OS: Mountain Lion includes a new feature called Gatekeeper. Read on to discover what it is and it works.
One of the new but less sexy, and hence less talked about features of Mountain Lion is the new Gatekeeper security system that protects users from inadvertently installing malicious malware (often referred to as viruses or trojans) from the Internet, email or other method. While this sounds a little technical, the basic idea is simple. Many users have, in recent years, fallen victim to web and email advertisements that have them click on an item which brings up a website telling them this or that about not being protected from viruses. The user, by habit, often clicks OK to unexpectedly installing some nasty piece of code on his machine.
The other issue, a more dark and sinister one, is when hackers figure out a vulnerability to a piece of software like Flash and exploit it to send private or other information to them covertly.
So how does it work?
Without being too technical, Apple has provided some requirements for developers to digitally sign their applications with a unique Developer ID. This is to ensure that the application isn't tampered with from the moment it's signed till your installer runs it on your Mac.
Secondly, developers now submit a list of actions their application may take, like communicating across the internet, so the operating system is aware of the proper behavior of the application and can detect unintended or exploited attempts at communication. Last but not least, Apple provides you the option to block installation of any application that doesn't come from its App Store.
This has caused a slight uproar in the developer community due to the additional requirements and documentation and the ability of a user to block installation of applications not provided by the App Store (i.e. Adobe Creative Suite.) Fortunately, Apple has provided you a way to allow (temporarily or permanently) installation of non-App Store applications
Adjusting Security and Privacy settings
The default setting in Mountain Lion is to allow applications from the App Store and identified developers (developers who have registered with and acquired a signing certificate from Apple and have properly signed their application). This setting can be changed in the System Preferences > Security & Privacy pane as seen below.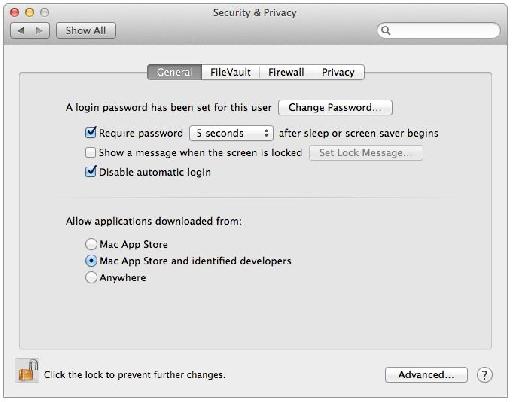 You will have to click the lock at the bottom left and authenticate as an administrator of the Mac to change the settings in the lower half of the preference pane.
If you change the default setting to 'Anywhere', you will be prompted by a message such as the one seen below when attempting to install an application that has not met Apple's criteria for a 'safe' app or identified developer.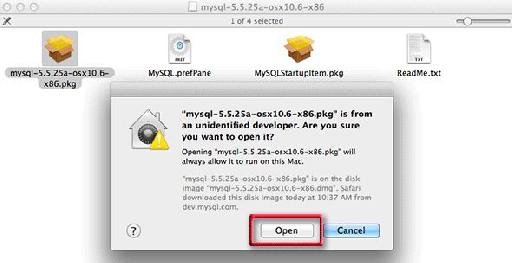 If you have left the default setting, you will be prompted with a slightly different message (like the one below) and you will be prevented from installing the application at that time. This doesn't mean you can never install the application. You can disable Gatekeeper momentarily while you install this application, then re-enable it when you are done with the installation. Or is a faster way to override Gatekeeper : right-click or Control-click on the installer icon in the Finder and choose Open in the contextual menu. Select "Open" in the dialog box and the installer will run normally.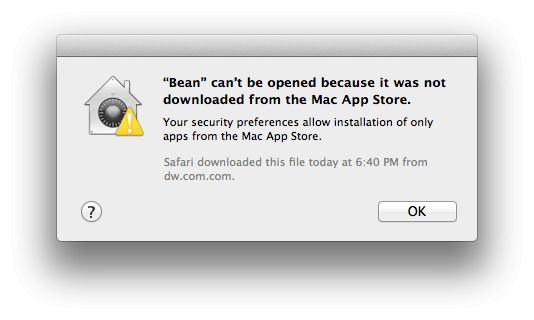 In an effort to further protect its users and its reputation for a secure operating system, the folks at Apple developed this neat, but unsung, feature to help you administer your own or your organizations Mac's securely.