In a muddle with FCPX? Want to understand it better? You've come to the right place! Ben Balser explains with precision the possibilities in Final Cut Pro X's Project Properties.
In FCP X we work with timelines. Each asset, Compound, Multicam, Sync clip is a unique type of timeline. Projects are also a specific type of timeline. Each Project timeline in FCP X has set base properties. You can drop any media of any frame size, rate, format into any timeline, but its properties determine how it will be processed and exported.
Initial Settings
Navigate to the Project Library (Command-0). Highlight the hard drive you want to create a new Project timeline on. Use Command-N to create a new Project. You are presented with the initial Project settings window.

By default it uses the Automatic settings. This means if the first asset you edit into that timeline is a video clip, FCP X will adjust that timeline's frame size and rate to the properties of that clip. If this is desirable, then all you have to do is click the OK button. If the first asset is not a video clip, you will be prompted to specify the timeline settings.
If you need to specify settings, not use the Auto function, click the 'Use Custom Settings' button. For example, if you have shots that need to be in-camera slow motion. In which case you shot at 60 fps and need a timeline that is 24 fps. When you select the 'Custom' options for the video and/or audio properties, you are presented with more choices.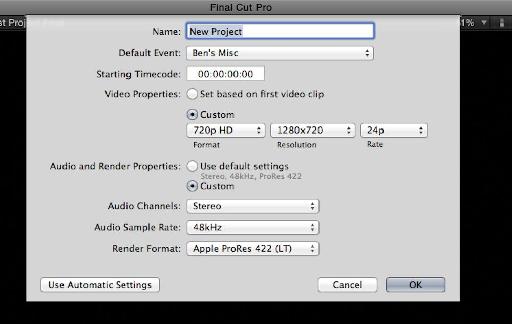 Video Settings
The Format menu allows for standard distribution formats ranging from standard definition to 5K. Think of this as how many pixels each individual frame of video is composed of. HD editors will select either the 720p, 1080i, or 1080p setting. The Resolution menu offers the various standard distribution frame sizes. This is the actual frame size and will change depending on what Format is selected. If 'Other' is set as the Format type, Resolution offers the 640x480 and 960x540 web frame sizes. Although many web video delivery methods now allow for 720p easily these days. I'll also mention here that if you set Format to 720, one option is for the DVCPRO-HD specific setting of 960x720. That DVCPRO-HD (tape or P2) setting still displays as 1280x720. The Frame Rate menu also changes depending on the Format and Resolution settings. These are standard delivery playback frame rates.
Audio Settings
There are three audio settings. Audio Channels sets how many individual channels of audio the exported video clip will have embedded. It also determines how the timeline will be able to output audio for monitoring. The two choices are stereo (2 channels) and surround sound (6+ channels). Audio Sample Rate can be thought of as how many 'audio frames per second' you need. This is measured in kHz (kilohertz), or thousandths of a second. Standard video is 48 kHz (48 thousand samples per second), CDs are 44.1kHz, some music recording studios use 96 kHz. It is best to be sure your camera is recording at 48 kHz and set your Project timeline to the same. The most common cause of audio drifting out of sync with video is a mismatch between the sample rate of the recorded video clip, and the sample rate of the timeline it is edited in.
Render Settings
Finally you can set the Render Format. The default is ProRes 422 which works in most cases. If you record HDV or H.264 and need to conserve drive space, ProRes (LT) will help out. For resolutions such as 2K, 4K and 5K, use ProRes (HQ). If you need an alpha channel for export to a compositing application, use ProRes 4444 (pronounced four-by-four).
Verifying Settings
After your initial settings are complete and you have done some editing, you may need to change or confirm these settings. With your Project highlighted in the Project Library, use Command-4 to open the Inspector. At the top in the Properties section, we see the basic formatting information.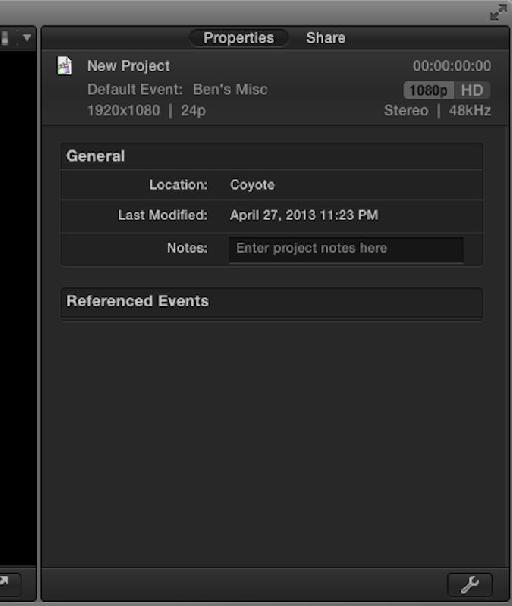 Changing Settings
If you look to the very bottom right, you will see the Properties menu button. It has the icon of a wrench. For example, I've edited a 1080 production and need a standard definition version. I would duplicate the project in the Project Library with Command-D. Then go into the new Project's settings via that wrench button.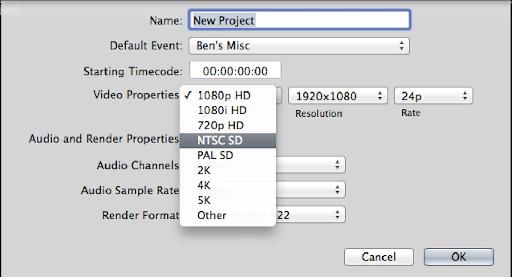 This opens the Project Setting window again. I would go through my new SD timeline and adjust titles, clip positioning, graphic sizes and positions, etc.
Conclusion
You can always use a custom Destination based on a Compressor preset to change these Project settings when you export, but these settings I've covered are what the timeline will export as by default. Being aware of what settings you need when you initially create a Project timeline, and how to change them afterwards can go a long way to keeping your workflow simple and trouble free.