Though not designed primarily as a standalone device, the Apple Watch could be a useful controller, recording tool and metering analyser for musicians and DJs. Can you think of any more uses?
The release of Apple Watch yesterday captured the imagination of many of us. Apple pushed the contacts, maps, dictation and sports and fitness features strongly. But what about musicians? Can this beautifully designed computer on a wrist be useful in the studio or when performing live?
The 38mm & 42mm screen sizes might be unable to accommodate a full mixer page, or allow you to spin 2 decks (or even 1 in case you're thinking about using two Apple Watches together!), let alone program a complex synth. So what could such a small, but intimately placed touch-screen device do for your music making workflow?
Fortunately, there's a bunch of forward-thinking designers out there who find a challenge like this exciting. These same people are responsible for making iPhone a viable music making platform (yes, I'm looking at you Liine, Native Instruments' Traktor team, and many others).
Clever devs are probably already conjuring up ways we'll use the Apple Watch in conjunction with music apps on iPhone, iPad and Mac'¦
But before then, here's 12 ways the Apple Watch could be used to help you record, mix, master and perform. We start with some of the standard built-in features before moving into the world of imagined concepts...
1 - Control iTunes During Your DJ Set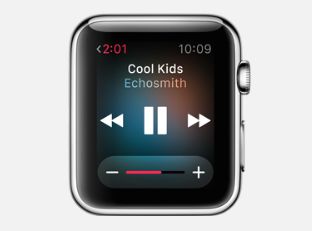 Let's start with an obvious one. Controlling iTunes on Apple Watch will allow you to play a background track or trigger sound effects when performing live. Basic, but useful to simply touch your wrist while playing another instrument.
2 - Sketch Your Next Song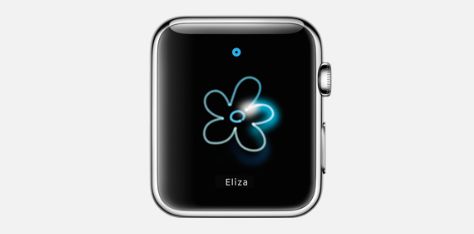 Sketch a doodle, idea or sign to indicate which song is next...
So, you're mid performance, and rather than trying to yell above the sound of the adoring crowd of fans to tell your guitarist/singer/synth player/drummer it's time to play an unexpected track, a quick sketch could let them know your intention without so much as a side ways glance. It may make your performance look and feel more seamless. Now just got to remember how to play the track!
3 - Find the Studio!
No more excuses to turn up late to your next session.
No need to go into much depth here. With built-in Siri, calendar and turn-by-turn maps, Apple Watch will not only ensure you won't forget when you're next due in the studio/on stage, but also make sure you arrive by the best route possible.
4 - Record Song Ideas on the Go and Share
While your iPhone is a convenient recording device, when a melody line arrives or rhythmic inspiration strikes, it can feel slightly clumsy rummaging for your iPhone in your pocket or bag, unlocking it, finding your audio recording app and then recording it.
The Apple Watch looks set to make this process much simpler. Record your song ideas to audio and then share these with your musical collaborators and/or your email to be worked on later. Perhaps the Walkie-Talkie feature built-in to the watch will allow us to do this? If not a third-party app is bound to deal with this easily too.

5 - Accelerometer Control Using Arm Movement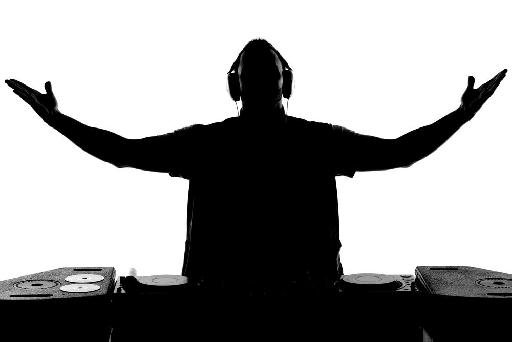 Apple Watch has an accelerometer motion sensor that can detect when, and by how much, your watch arm moves. In theory, we could be using the watch to control our DAWs or DJ software using motion-based gestures. Perhaps the relative height of the wrist could act as a cross fader when DJing, or level fader when mixing in the studio. The possibilities are endless'¦ though it does sound like a potentially tiring control method.
6 - Film your Gig using Remote Camera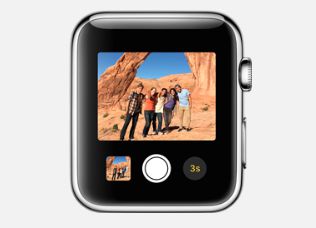 Another built-in feature, Remote Camera, turns your Apple Watch into a screen showing you a preview of what your iPhone's video camera is recording. This would be great for recording a solo music video or live performance while making sure you're always in shot.
7 - Transmit Tap Tempo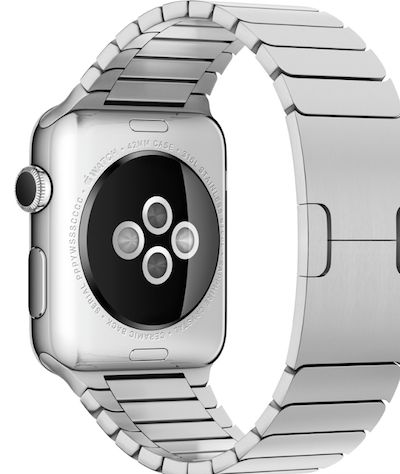 Imagine being able to tap the Watch screen 4 times to set the tempo in your DAW. Sounds like a simple idea? But useful all the same. Perhaps not a feature you'd rely upon frequently, after all how often do we need to change the tempo of a song?
So, let's consider another scenario this time using Apple Watch's Taptic engine. You might wish to let your drummer know that the rhythm section is too fast. Send him a notification and a pre-programmed haptic feedback alert (in this case the desired beat's tempo) is literally tapped on his wrist!
8 - Remote Recording and Level Meter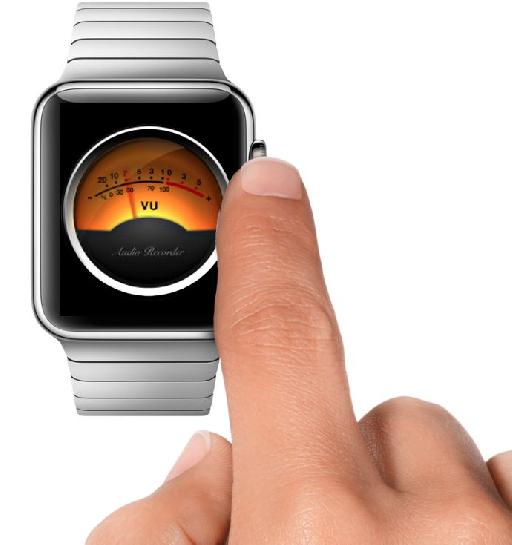 One of my favorite images in GarageBand for iPad is the recording level meter. This analog style meter does more than just look pretty. It shows you how hot the audio input signal on your iOS device is running. So, if you've got your iPad setup to record in a Focusrite iTrack Dock, for example, the Apple Watch could act as a convenient recording input level meter and the input level could be controlled by rotating the Digital Crown, which could be pressed to start or stop recording.

9 - Pad: X/Y Pad for Automating Effects and Audio Editing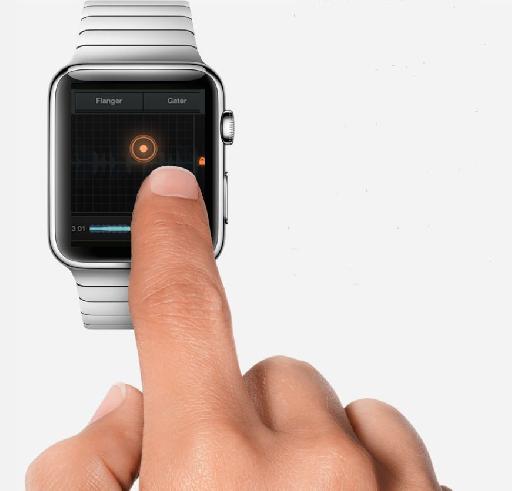 This concept is inspired by Traktor for iPhone's Effects XY pad. (See screenshot mock up above). This could be used to control effects like Gater, Chorus, Flanger, Distortion, and many more as well.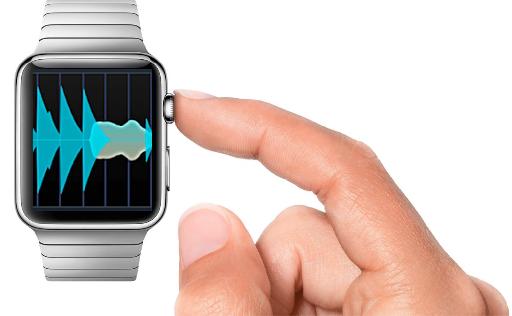 Scrubbing through audio could also be a possibility by using an XY pad or a simple left/right swipe. You could add markers by a firm touch and this could be synced back to whatever music app you're running on iOS or Mac. There could also be a way to use markers to help edit audio directly on the Apple Watch.
10 - Remote Mixing Volume and Panning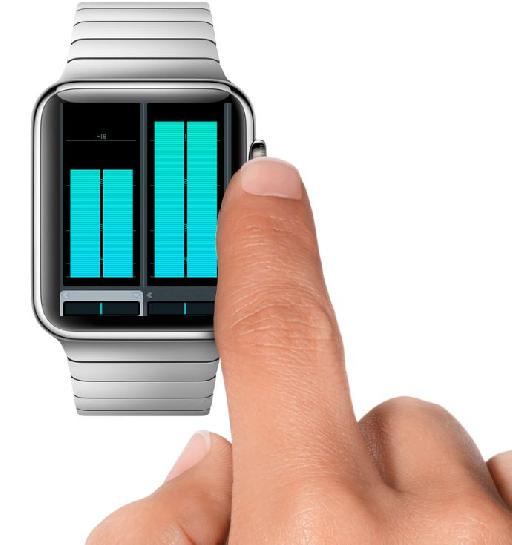 Now, I mentioned above Apple Watch's screen size (even the 42mm model) is too small to allow for a comprehensive mixer to be displayed for an entire project. However, with an emphasis on minimal design, there's no reason we couldn't view the levels and controls for one track at a time. The mock-up above shows Cubase's mixer, but Ableton Live, Logic Pro and all DAWs could be supported too.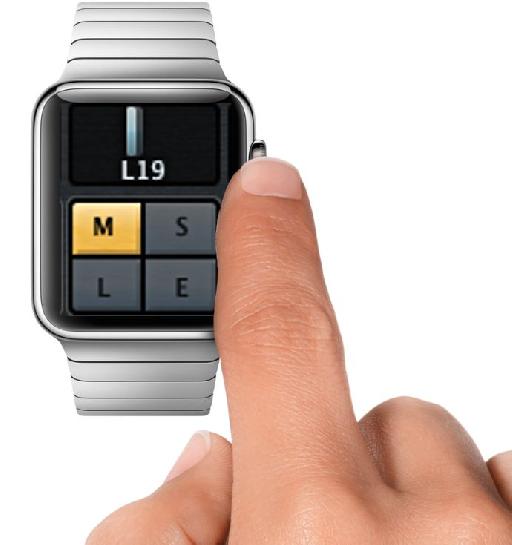 Mute, solo, panning and more controls could be made available for music apps on Apple Watch.
The Digital Crown could provide the perfect control to alter the volume levels, panning, and even solo, mute, record enable the selected track, or even scroll through the different tracks. So, while your desktop or laptop is providing the grunt to power your latest composition, your watch could be a convenient remote mixing controller.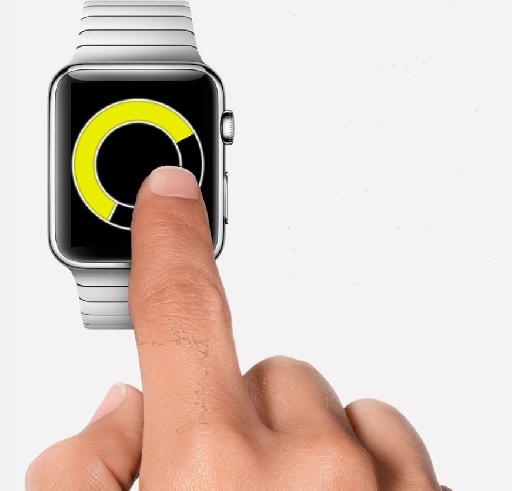 Imagine designing your own Lemur controller interface for Apple Watch!
11 - Analysis: Signal Scope, Limiting, EQ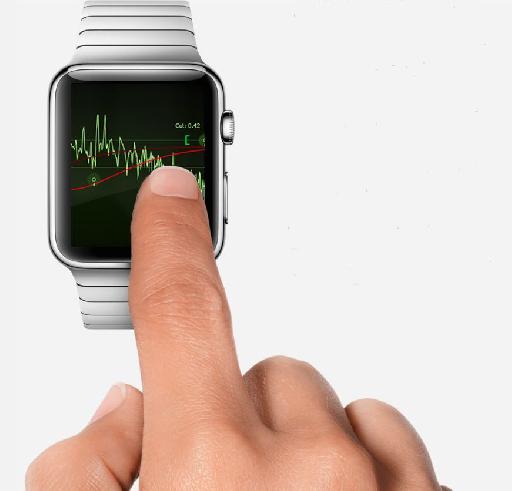 Hmmm... iZotope Ozone for Apple Watch!
Analysis tools are essential when listening back to a mix. This is where I think the Apple Watch could really shine. It's beautiful screen could display EQ and signal scopes. The Digital Crown or touch screen could provide a way to make minor alterations too. iZotope Ozone controller for Apple Watch? Probably not any time soon'¦ but we can dream ;-)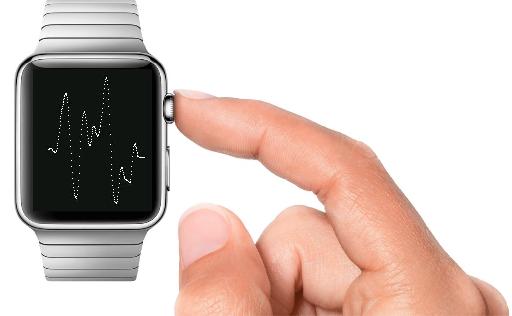 12 - Heart Rate Sensor to Customize Sets by Tempo and Mood?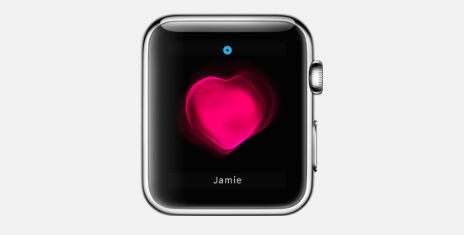 This is the most intriguing feature in Apple Watch for me personally. Though I don't pretend to know how the Heart Rate sensor (from which pulse rate can be calculated) could provide a useful function for musicians or DJs. One thought could be to use the Heart Rate Sensor (either your own, or that sent to you by a band or audience member) to change playlist/song based on tempo. Perhaps a low Heart Rate might encourage you to play a slower tempo or more relaxed mood set?
Many of the above are ideas and concepts for how Apple Watch can be a useful tool for musicians, DJs and engineers. If you have any further ideas tell us in the comments below'¦ or go and design the next big app for Apple Watch!