Looking to rock out when recording or mixing? You may well want to check out Universal Audio's ENGL Amp plug-ins. In this article Rich Tozzoli shares 5 essential tips for these awesome effects.
Universal Audio's new ENGL Amplifier plug-ins are screamers. The E765 is aimed at getting great clean, crunch and rock tones, while the E646 VS is for the heavier, meaner sounds. Both deliver a lot of thick tone and are a lot of fun to play through. Here's 5 quick tips to help you get them rocking on a tracking and mixing session.

1 - Apollo Launch
These plug-ins are designed to work with the UAD-2 DSP cards, but they perform exceptionally well when using an Apollo. That's because you can play with near-zero latency while tracking. By inserting it into one of the four Insert channel slots on your Console software you can dial up a sound in no time. '¨'¨Just plug your guitar into Channel 1's DI on the front of your Apollo, and insert an ENGL head into one of the insert slots on that same channels' Console Insert. Call up the ENGL, dial in a tone, and you're underway.
2 - Monitor or record
On the right side of the Console software, there's a switch labeled INSERT EFFECTS. By selecting the MON (monitor) side, your ENGL amp inserted on Channel 1 will only monitor itself through your recording DAW. Essentially, you'll have a clean guitar recorded (we'll get to that shortly), with no software amp sound. But if you select REC with the INSERT EFFECTS, you'll actually be recording the sound of the amp head to your DAW.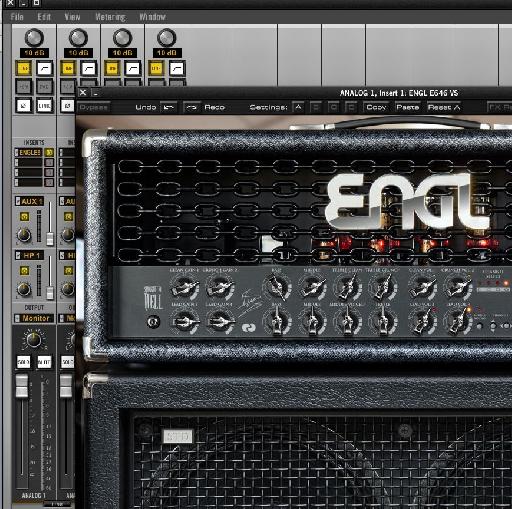 While this can be a good idea, you'll have more flexibility in the mix stage to simply monitor the amp instead of recording it. So I suggest tracking in MON mode. Then you can make as many changes to the sound as you want later on in your DAW.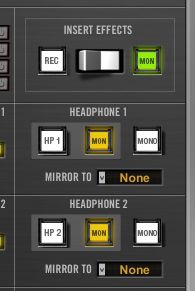 3 - Verbage
Since it's nice to track with a bit of reverb, try assigning one to one of the Aux Inserts. For example, place something like the Lexicon 224 reverb in the first of four Aux Inserts, then turn up the AUX 1 fader on your Channel 1. This will let you hear some reverb on your guitar track, instead of it being dry. Pushing the AUX 1 fader up higher will give you more send and therefore more reverb. Pulling it down will give you less send, and less reverb. It's all to taste.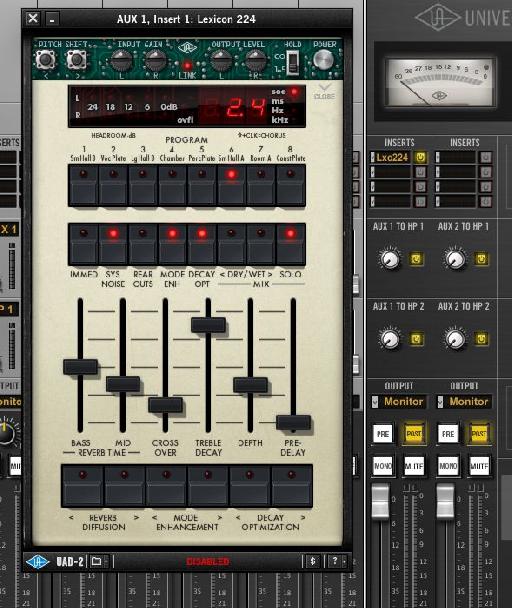 4 - Delay
Also, by clicking on the FX Rack button on the ENGL plug-in, a whole new set of controls opens up. On the top right, there's a nice delay available. Simply click ON with the switch, tap the tempo of your song with the TAP button, turn up the MIX and FEEDBACK controls a bit, and you've now got both delay (from the amp) and reverb (from the AUX).

5 - Playback with your Daw
Remember, if your recording the ENGL to your DAW (such as Pro Tools) with the Insert Effects set to MON (monitor), you're not recording the sound of the ENGL '" just monitoring it through the Console. Choose Save Preset from the dropdown menu at the bottom left side of the plug in, and save your amp settings.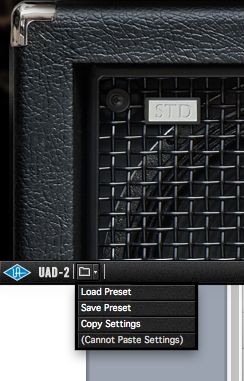 Then, in your DAW, insert the same ENGL amp onto the guitar channel you just recorded to. Use Load Preset from the drop-down menu to select the amp you saved. Now, what you recorded with in the Console will play back the same way in your DAW. Better yet, it can be modified to fit the song '" since you used the MON Insert Effect setting. Smart!
Find out more: UA ENGL Amps