Rich Tozzoli returns with some practical tips on recording electric guitars using a room mic. Applying the principles behind these tips will help you capture the guitar sound you're looking for.
When you think of miking up an electric guitar amp, placing one or two microphones directly on the cabinet first comes to mind. But what if you wanted to add a little depth and distance to that sound? Trying using a room mic. Here are some essential tips on using room mics when recording electric guitar.
Tip 1 - Use Your Ears
Place you amp in the room and play a bit. If you have a long enough cable, or wireless (which is what I use), you can walk around the room while playing and just listen. Listen for a good sonic spot '" where the amp sounds clear and not too reflective. Or sometimes you may even find that magic corner where the bass builds up, and want to use it to your advantage. Whatever sounds best to your ears. That's where you will then place the mic.
Tip 2 - Space
The objective of a room mic is to capture the amp in a nice space, and use it in the context of your mix. The close mic(s) will do just that '" deliver you an in your face close sound. The room mic will add some dimension. It's like adding reverb, but different '" because the real sonic space you put the put the amp in will have its own unique sound.
Tip 3 - The Microphone
Different kinds of mics will deliver various results in your room. The type of mic you place on a cabinet, such as the classic Shure SM57 or Sennheiser 421, may not make the best room mics. They have a certain tonality that to me, sounds best directly on a speaker cabinet. Instead, I would reach for something like a large diaphragm mic, such as a Neumann U87, Audio Technica AT2020, Miktek CV4 or Blue Microphones Blubird. These large diaphragm condenser mics will pick up the full spectrum of your amps sound.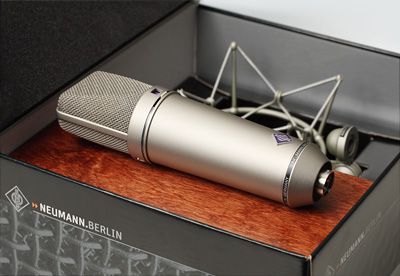 The Neumann U87.
Tip 4 - Picking Patterns
Many large diaphragm mics have the ability to choose different polar patterns. That will certainly have an impact on your room sound. Your typical cardioid pattern will pickup more amp sound directly in front of the mic. Whereas other patterns will tend to capture more of the room. I like to select omnidirectional polar patterns, or even fixed omnidirectional mics such as Earthworks QTC-1s (which I own and use). These record in a 360-degree pattern and deliver a clean, clear sound all around the mic.
Yet another choice that I turn to are figure 8 patterns. Like the omni pattern, it records in front and behind the mic, but figure-8 rejects the sides. A fixed figure-8 mic such as the Royer 121 ribbon when used in a room will capture both the front and back image from the mic posiiton. That means you'll get the direct signal of the amp at the source of the mic, as well as the reflections in the room behind the mic. Plus, ribbon mics are warm and meaty, helping deliver a thick tone.
Tip 5 - Distance
How far you place the mic from your amp will depend on both your room, and what you're going for. Obviously, the farther you place it from the source, the more distance you'll get in the mix. I tend to set it back at least 5 feet. Often I will turn the amp up louder when using a room mic, to let the sound resonate in the room more. Plus, it just feels better!
Tip 6 - Panning in the Mix
There are many variables involved when talking about panning a room mic. In busier, denser mixes, room mics can be lost in the blend. So they are sometimes not needed at all. But if you have the space, I like to pan them to the opposite side of the close mics. For example, if I had a 57 on the amp, I might pan that at 10 o'clock. Then I'll pan the room mic hard right to say 5 o'clock. That will open up the soundstage of your guitar, and make for a nice wide sound. Also, try compressing the room mic, to make it even bigger. Bigger is often better in guitar land '" especially with room mics.
Learn more in this video course on Producing & Mixing Guitars: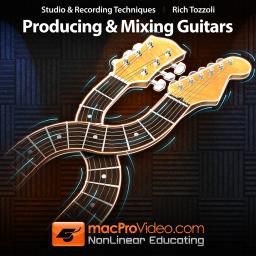 Producing & Mixing Guitars by Rich Tozzoli