There's times when tapping your thighs or slapping your knees just feels right. When you've got a groove and you just need to let it out, but you want it sounding good, then put on your DrumPants 2.0.
We've come across all sorts of unusual MIDI controllers. There's keyboards, pads, theremin sensor-style ones, bodysuits and more. Well, how do you like this one Arduino-powered bluetooth controller (
DrumPants 2.0
) which allows you to wear it practically anywhere under or above your clothing.
Yes, it could be in your shoes, up your sleeve, on your thigh and, well anywhere depending on how private or intimate you really want to get with this thing. Twerking and making music simultaneously, anyone?

Being a MIDI controller you can of course trigger a limitless number of sounds from any DAW or iOS app, plus DrumPants 2 comes with over 150 sounds built-in, which makes it truly portable. Plus, this technology is super useful for those musicians who may be disabled or unable to play traditional instruments for whatever reason.

Thanks to IndieGoGo, DrumPants 2.0 has already met its funding goals. You can still take advantage and order one before the funding finishes.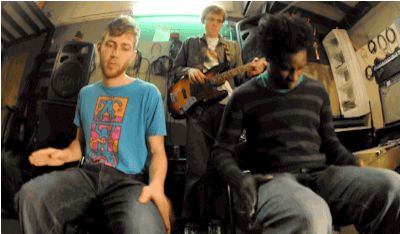 DrumPants 2.0 in use.
So, if what's been missing from your life has been the ability to make music (and even play MIDI supported games) with a wearable drum machine'¦ it's a happy day for you.