It's not a fair contest by any stretch of the imagination, so file this under "fun". One guy rocks out a beat on a ProdiKeys and Jeremy Ellis shows how it's done on Maschine.
OK. So, while not on par with Jeremy Ellis - the Godfather of Finger Drumming - I was impressed and disturbed in equal measure by this video of a man tapping out a rock n roll beat on the Creative Labs ProdiKeys MIDI Keyboard (originally released in 2002 we believe).

A MIDI Keyboard, so what, right? Did I not mention that it's a hybrid MIDI keyboard and QWERTY PC keyboard all-in-one?

Before you wonder how you'd type documents on this thing without triggering a cowbell have no fear, ProdiKeys comes equipped with a hard cover to prevent such misfortune. I'm still holding on to my Maschine and Novation LaunchKey thank you very much! But joking aside, there's some useful, if not pretty basic, tips on finger drumming a 4/4 rock beat using a MIDI keyboard.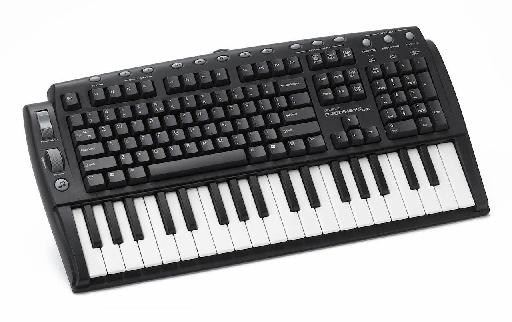 The Creative Labs Prodikeys hasn't quite caught on in the pro music studio yet... to be fair it's not been designed to!
Now, it almost goes without saying that if you want to become incredible at finger drumming, you'l want to learn from the most incredible finger drummer on the planet'¦ Jeremy Ellis! And yes, you guessed it, AskVideo are up to their old tricks and have this covered in immense detail. Jeremy has created two absolutely awesome (and I do NOT use this word lightly) in-depth video courses on finger drumming that you simply must check out.
Here's the Welcome video from Jeremy Ellis' Maschine Virtuosity course:
I know which finger drumming videos I'd rather watch... there's no contest really... and if, like me, you're also leaning towards Jeremy's chops, then watch the full video courses below at AskVideo.com.

Jeremy teaches you techniques at AskVideo to help you become a better finger drummer using Maschine or any MIDI pad controller (or even a cardboard box!):
https://www.askvideo.com/course/maschine-virtuosity
Become a NI Maschine Studio maestro as Jeremy shows you his own personal workflow at AskVideo:
https://www.askvideo.com/course/maschine-studio-jeremy-ellis-produce-and-perform
Source (ProdiKeys video): Digg