Combining serious synths, dreamy vocals, evocative melodies and playful musical toys, Giorgia Angiuli adds her authentic feminine touch to electronic musical styles dominated by men with flair and fun
Composer, multi-instrumentalist, and performer, Giorgia Angiuli incorporates musical toys and unusual MIDI controllers into her music to great effect. Weaving experimental electronic sounds with strong, distinct melodies and hooks with dreamy vocals, it's no wonder Angiuli's live music videos are massive hits and critically well-received.
We caught up with Giorgia to talk about the machines she makes, how they differ from regular boxed MIDI controllers, her passion for Ableton Live and Arturia gear, and how she needs to be strong in the industry to allow her feminine touch to permeate her music.
Here's Giorgia's most recent video shot in collaboration with Arturia:
AskAudio: Hi Giorgia. Could you tell us a little about your musical background and what inspired you to get into music.
Giorgia Angiuli: I come from a very musical family and everyone plays an instrument. I started with the classical guitar, playing classical and Spanish music. Then after a few years I bought an electric guitar because I was a big fan of Jimi Hendrix and rock music. So for a while I did both: rock music in a band, and classical too. I was in a band that made nu-metal and hardcore rock. Then when I was about 18 I bought some CDs by electronic acts like Autechre followed by a laptop and a sound card, and I started to experiment with new sounds, leaving real instruments behind in favour of software. So my method of composition changed completely.
Eventually I decided that dealing with software felt a bit cold, so I got a Dave Smith Mopho synthesizer. Then later a Moog and some other synths. My dream was to create arrangements for orchestras and music for films but in Italy there's not much of an industry. So between my love for classical, techno and indie rock there's a sort of confusion that helps me to have my own style.
In ten years people will be very bored of watching someone "play" a laptop. My dream for the future is to see more electronic and real instruments on stage.
You mentioned that you drifted towards technology as time went on. What software did you start using?
Fruityloops! But then after a while I moved over to Ableton Live which was at version 4 at that time. I've never had a very good relationship with plugins because I'm not really a computer girl. I always used to record synths without quantization because I like the human touch, although now I'm starting to change a bit because I know it looks more professional.
I used Waves plugins for mixing and two years ago I got a DSP card from Universal Audio which works really well for me. I like analog gear but it's really expensive so I used to rent studios for mixing to use their gear but two years ago I started with the UAD plugins and I think they work really well. I also love the Pultec EQs and the Thermionic Cultire Vulture. My dream one day is to buy a real one! But I'm not really a technical girl, the thing I like the most is to make music and create arrangements.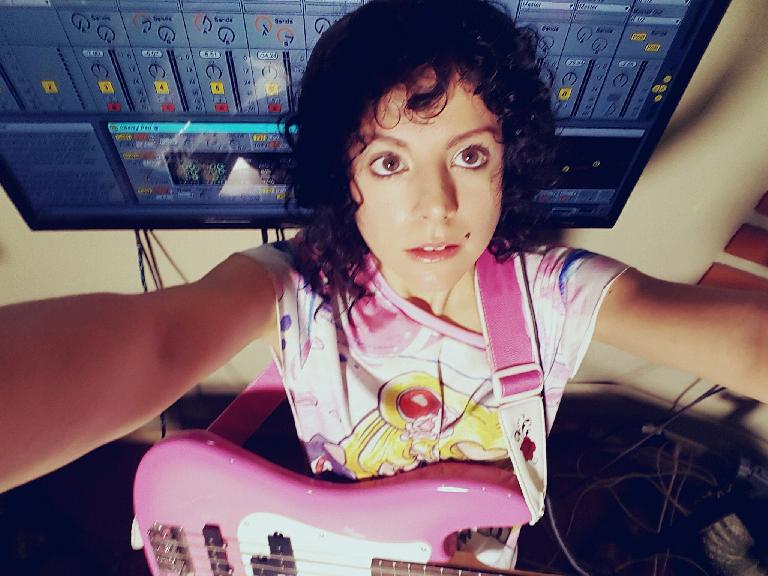 From watching your videos, like Embrace Me Now and Inner Line, you are obviously very fluent with Ableton Live. Is that still your main DAW?
Yes, I used to mix with Logic but I feel more comfortable in Live. I like the colours – I know that sounds crazy! But I think it's easy to use for playing live and for recording. When I do final mixes I do it in another studio where they use Pro Tools hardware.
My dream is to make a more fantastical MIDI controller. I'm currently making a sort of special xylophone MIDI instrument where the different notes light up.
In terms of your controllers, you seem to use quite a few MIDI devices. Tell us about what you enjoy using?
My favourite brand is Livid Instruments because I used to travel a lot and I've used AKAI devices but they weren't as sturdy for all the travelling. And I just bought an Arturia Minilab MKII which is really nice because I'd found it hard to find a small keyboard with good keys. The pads are good for drums too. I do like it when the devices I play also look beautiful but all the MIDI controllers around seem to be black or grey and the shapes are very regular. My dream one day is to make something a bit more fantastical. I'm making a sort of special xylophone MIDI instrument where the different notes light up.
That sounds cool! Are you planning on mapping it to any kind of software instrument in Live, or something similar?
At the moment my idea is to record some professional classical musicians playing the xylophone, vibraphone or glockenspiel, to record the notes and create my libraries from that. Then I'll play them with the hardware. After that I'll see how it goes! I notice that a lot of kids use iPads and iPhones and I thought it could be a good way for them to learn music, seeing the connections between colours and notes.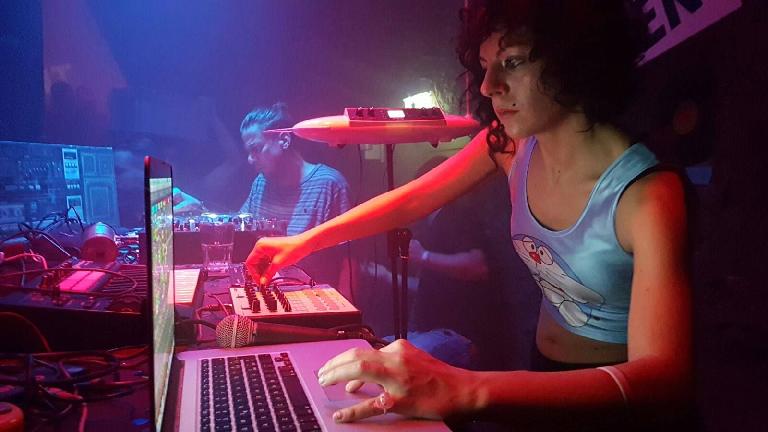 This isn't your first DIY MIDI controller. How did you go about starting building one?
The electronic parts aren't very complicated thanks to Arduino who make some of the parts. Probably some of the most expensive parts are involved with actually cutting the shape of the instrument itself. Some of my friends help me with the software side: I couldn't tell you anything about the programming side of it! It's still a work in progress. My friend Giosuè Russo helped me with the software side and the 3D printing. The MIDI controller will be finished in the end of April or soon after.
So you have the ray gun and the cat, and you're going to have the xylophone. What else do you have in development?
I'm doing a project with solenoids – the idea is to have a solenoid orchestra with some small robots, and have the solenoids connected to Ableton. So I will play a MIDI sequence in Ableton and the solenoids will replicate the pattern.
Do you have a favourite controller to use when you play live?
I take the Alias 8 from Livid Instruments with the faders and knobs. Of my own DIY equipment, I tried circuit bending but I'm not really a big fan of that, but I really like vintage toys and keeping their original sounds rather than modifying them. I just play them through a microphone. I like mechanical toys but it's very hard to amplify them live.
I really like vintage toys and keeping their original sounds rather than modifying them. I just play them through a microphone.
I don't plan to build my own synthesizer, it seems too complicated and expensive. But if I did it, it would be to make something new, not something that sounds like something that already exists. But my favourite synth is the Moog Sub 37. At first I was unsure because it's modern, but I love it - it's paraphonic. I also have a Roland SH2 which is perfect for bass lines. My latest synth is the Dave Smith OB6 and to be honest I was a bit disappointed with it. It's cool, but a bit expensive for what it does. I paid 3000 Euros for it. I love the Korg MS2000 though. If I could have any synth, it would be a Jupiter. One day I will have one!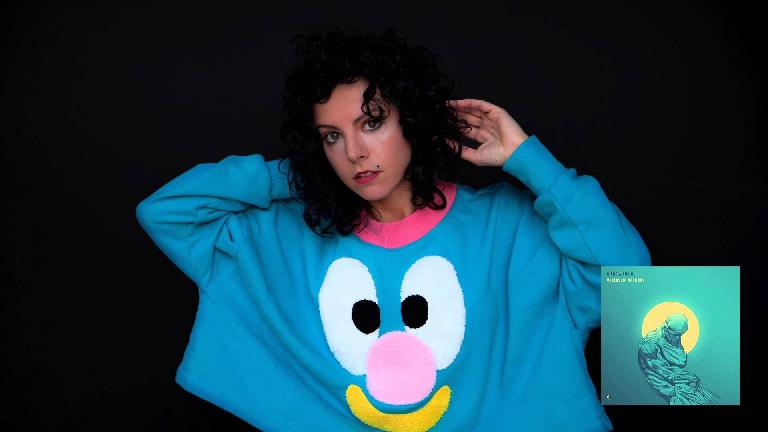 Are you working on an album at the moment?
I keep changing my ideas about it. Last year I made a 10 track solo album but I'm not totally satisfied with it and now I want to work around the concept of mixing classical and electronic music so I'd like to record new music with classical or jazz musicians. It will be a good way to make something bigger and more diverse than what I can do by myself.
People sometimes tell me my music is too 'girly' and I should make it more aggressive but that doesn't make any sense to me.
Will you be playing live outside Italy?
I'm trying to plan a tour in South America because I get a lot of requests to play there. I also have a lot of fans in Taiwan, even though I've never played there! I have gigs in Germany, italy, the Netherlands, France… people can always check my Facebook to find out about shows. I feel really excited to go to South America, I think the people have a very special energy.
How do you feel your gender affects the way you are perceived in the music industry and how people treat you? Do you feel there's still a barrier?
It's a very interesting question. I feel like I always need to protect myself, when you're female there is always more prejudice. There aren't many girls in the industry but I hope in future that will change and people's attitudes will change. I don't like sometimes seeing some very arrogant comments on Facebook, which make me sad and frustrated. I think women should keep their feminine touch in music. People sometimes tell me my music is too 'girly' and I should make it more aggressive but that doesn't make any sense to me. I just want to be myself.
So your advice to other female musicians would be to not listen to the trend of making music more aggressive but to be true to yourself?
Yes absolutely. I also don't like it when women use their bodies as a form of promotion, but I suppose that is more common in the commercial music area.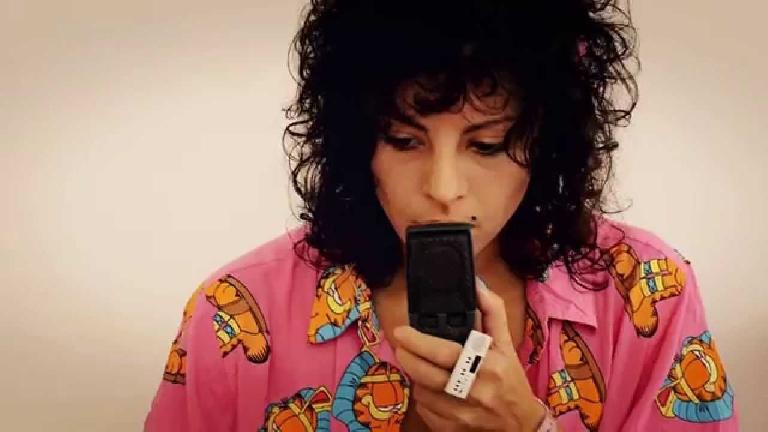 You've said that you don't consider yourself a DJ but you are a live performer. Do you not think there's some crossover between those areas?
For me a DJ is a person that mixes music from other artists and I've never done that. A live performer is a person that plays live instruments. I'm not a fan of people that just "play" with a laptop. I think the next generation are very impatient for success and use a lot of loops but to play an instrument can help you a lot. In ten years people will be very bored of watching someone "play" a laptop. My dream for the future is to see more electronic and real instruments on stage.
Where do you find your inspiration for making music?
Ideas for me always come from daily life. I used to start to play in front of a painting – I like impressionist art so paintings would help me start to create soundscapes. I try to make a connection between an image and music. But I don't always follow rules. I can start with a melody or a groove but I like the idea of being obsessed by melodies – I can't imagine a track without a melody. So I often start there and create arrangements from there. I suppose you could say I have a very romantic approach!
LINKS: