So you've got your MIDI sequencer that fits neatly in your backpack? Here is GRIDI, that won't fit in your bag or a small room. This sequencer by Yuval Gerstein is big and has its own benefits.
Physical MIDI Sequencers have really captured the imagination of the masses in recent years. Novation's Launchpad and now Launchpad Pro, Arturia's Beatstep (and now Beatstep Pro), Maschine, Ableton Push, and Squarp's Pyramid are a few that have got our sequencing hands a twitchin'.
There's been a drive to make these sequencers more portable and compact, with obvious benefits. But what if we expanded the sequencer? What if it was bigger than your average dining table or desk? How would we interact with it… would it be more accessible? Would it be encourage collaboration, or perhaps competition?
Inspired by a large-scale Damian Hurst Spot painting at Israel Museum, Yuval Gerstein decided to create something similar, but with the capability to create music as well. And GRIDI was born (Grid + MIDI = GRIDI).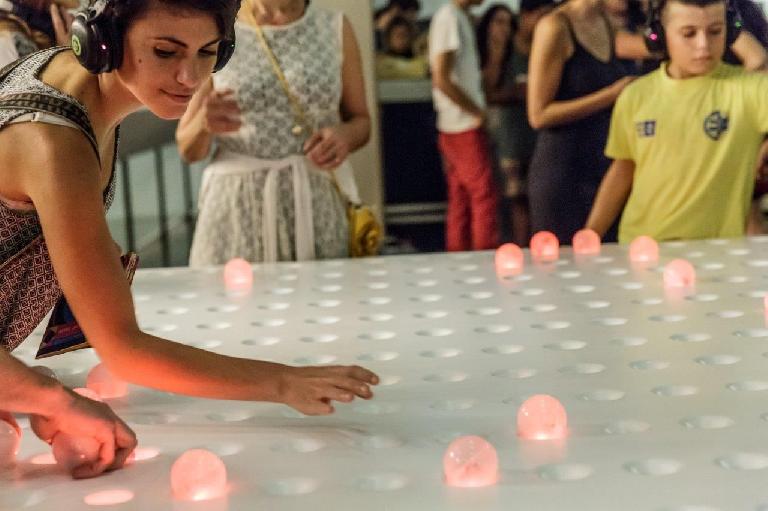 Gridi is a large scale physical midi sequencer (2.80 X 1.65 Meters) with embedded LEDs. GRIDI translates the methodology of composing electronic music inside Ableton Live, into an interactive physical installation. It could easily act as a permanent stand alone installation, as well as part of an art exhibition or event. GRIDI could also have a role in music education, as a tool for learning musical concepts in a non threatening, intriguing way.
GRIDI is made out of four cutout wooden plates, carefully cut by a CNC machine. Inside the plates there is a total of 256 holes, which represent a 16X16 grid. Inside each hole there is a led light and a button.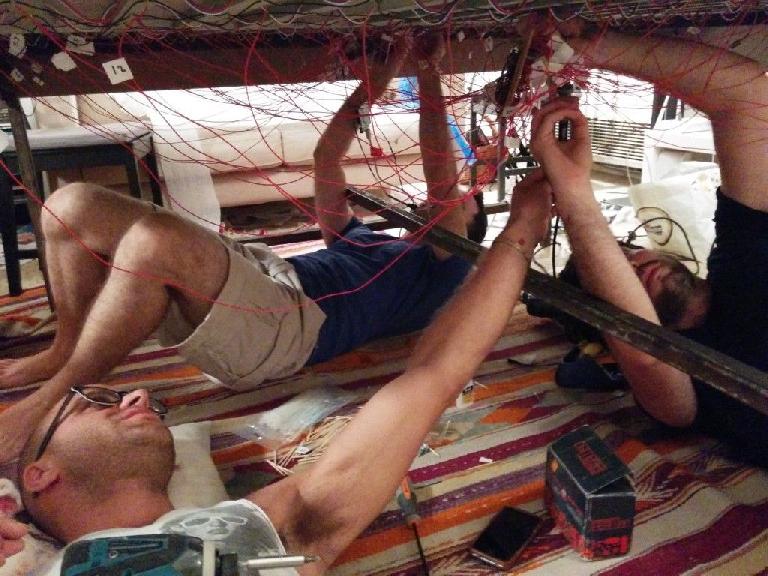 [ad_unit]
Arduino Inside
GRIDI works using a couple of Arduino micro controllers, going into a Macbook Pro running Arduino software and Ableton live 9, with a custom Max for Live patch to receive the input form the grid and control the LEDs. There is also an iPad running (the awesome) touchAble 3 app, used to change the sounds of the drum kits, instruments and add effects as well. Yuval controls touchAble while visitors compose the music using GRIDI.
Max for Live
In a feature on the Cycling74 website, Yurav explains how Max for Live was used in this project. In his own words:
"The project was programmed in Max to communicate with the arduino (which was programmed by Michael Zeron in Sketch) and receive the transport information from Ableton live, meaning the beat, the bar etc. It also sends the BPM information as well as a midi write command for each of the touch points on the sequencer. Programmed by Ronen Peri, it is now developed into a stand alone program which can run using max runtime."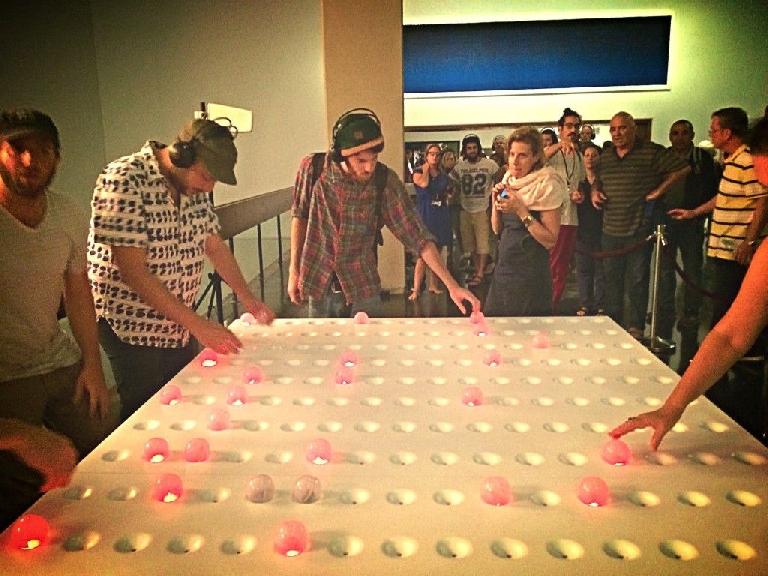 [courses_slider]
Watch GRIDI In Action:
[ad_unit]