A MIDI control surface with a modular display? That's basically what the Platform M and Platform D from Icon Pro Audio bring to your mixing desk.
Platform M and Platform D (a modular display for the former) from Icon Pro Audio are now shipping. Expect a review coming soon from AskAudio... in the meantime, here's what Icon Pro Audio tell us about this control surface.
LOS ANGELES (August 26, 2016) - Icon Pro Audio is proud to announce the Platform M control surface. The all-new Platform M is a MIDI control surface designed for producers, engineers and musicians who want the hands on control of a mixing console and the flexibility of modern "in the box" digital music production within a smaller physical workspace.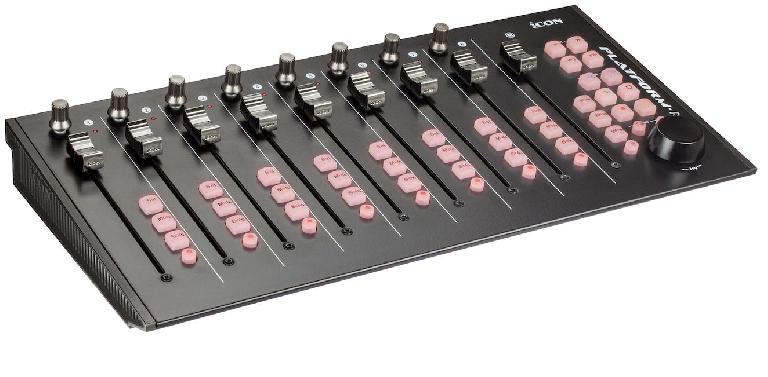 Featuring nine (9) touch-sensitive motorized faders with 10-bit resolution and 8 dual-functions encoder knobs, the Platform M integrates with most popular Digital Audio Workstations. It operates as a plug and play control surface for Pro Tools, Cubase, Nuendo, Samplitude, Logic Pro, Ableton Live, Reason, Reaper, Studio One, and Bitwig via USB2.0. Tactile hands on control of your VST, RTAS, Direct X and AU Plugins are easily within reach. Dial in EQ frequencies, Q or gain with the rotary encoders.
The compact size (40cm x 20cm x 4.5cm) of this DAW controller means it fits comfortably into any studio setup. The Platform M is also designed to be the nerve center of your very own scalable, customizable, modular audio production system. MAP $349.99.
Platform D
Platform D is the modular display unit for the Platform M control surface. The large backlit LCD display helps you keep track of each parameter, track, and control value in your mix. Housed in a robust metal casing, the Platform D is extremely easy to install and features an adjustable tilt angle to easily change viewing positions. MAP $159.99.