Intellijel are a well-loved name behind many crazy synthesizer modules those in Eurorack synth circles know. We caught up with Danjel van Tijn to find out more the company and the synth landscape.
When I first met Danjel van Tijn, at the very beginning of the current millennium, he was already using the moniker "intellijel". I got the feeling even then it was a loose idea that was going to become something big later. He was then using it as a moniker for the creation of brilliant techno tracks that combined tribal energy and minimalism, with frantic and glitchy edits. We hung out quite a bit for a couple years, and he taught me loads about Reason, version uno. I had just made a record for Soiree in Detroit, and was pretty set on my path into the underground. A decade overseas went by, and the next time I saw Danjel, he told me about a synthesizer company he was plotting. I had no idea really what he was talking about, modular synthesis has been the farthest thing from my personal production methods, until just recently, like many other music makers apparently. I needed to reconnect with Danjel and find out some of what is behind some of the current modular madness, and try to draw a line from the talented techno fiend I knew, to the esteemed instrument designer he is now.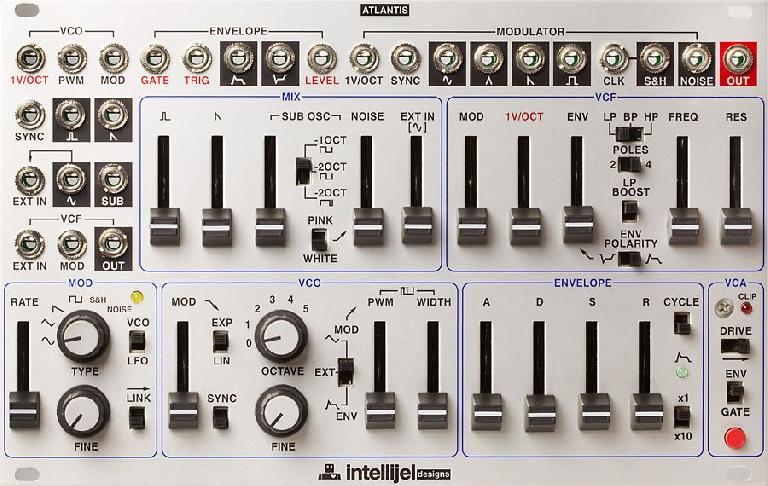 AskAudio: Danjel, how do you see your company in relation to, specifically, underground techno music? What sort of artists influenced the creation of intellijel?
Danjel van Tijn: Everyone who works at intellijel is either a producer or involved in the underground dance music community in some key way. We love electronic music in all shapes and forms, but underground techno definitely dominates the airwaves in our space, and we have a particular love for the sounds of Detroit, Chicago and Berlin. On a personal level, I have been listening to techno since high school and used to be actively producing, DJing and playing live before intellijel came to be. Back in the early 2000s I was really interested in harder minimal techno from Sweden, Italy, UK and Detroit. Artists like Cari Lekebusch, Thomas Krome, Surgeon, Jeff Mills and Robert Hood were all big influences. This progressed into a love for what was going on in Berlin at this time with some amazing music coming from labels like Perlon, Force Inc. and local artists like Mathew Jonson. Techno in all shapes and forms welcomed experimentation, unusual use of gear and a mix of old and new technologies. It was a style of music that was perfectly suited for modern modular synthesizers. My DJ days are long gone now, but it has been very thrilling to correspond with some of my favourite artists who are now users of our designs. We have been creating tools with these types of people in mind so it is very gratifying to know that they have noticed this.
The names of the modules are unique and interesting, where do these come from?
If we make a module that is a utility, then it is usually given a pretty utilitarian name but when the module is more complex and has a special character I really like to come up with names reflect this. Several of our modules have had names that are nod to Detroit techno and electro artists like Jeff Mills and Drexciya. Metropolis, Atlantis, Springray and Shapeshifter are all examples of this.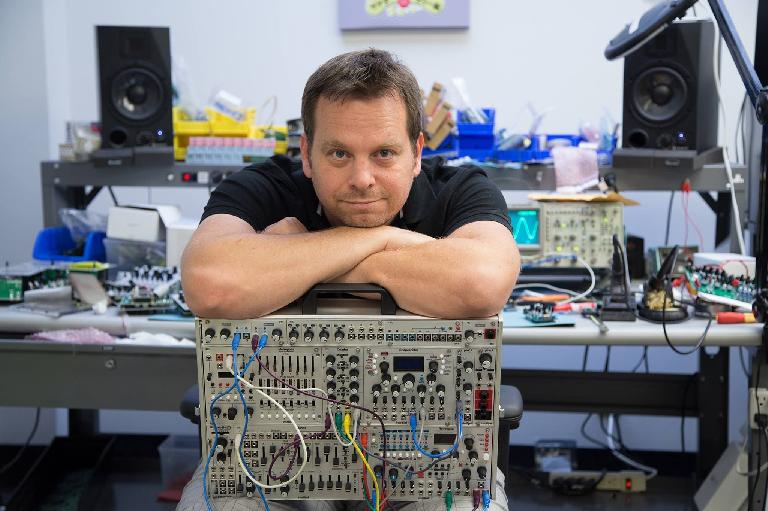 Are there non-musical influences that inform the intellijel brand?
I am a sucker for great design in all shapes and forms. I love the idea of minimalism and modernism and I like to see these concepts incorporated into every day life. I have a special fondness for Swiss Design and especially how it was explored by groups like The Designers Republic in a really fun and playful way. At my workbench I have a poster of Dieter Rams "10 Principles of Good Design" and I try to observe these as much as possible.
What purpose does intellijel serve in your personal musical life?
I used to be a pretty obsessive producer and worked on tracks daily. Now that things are so busy with the business coupled with the responsibilities of being a dad with two young kids I no longer have the free time to work on music. Fortunately for me a lot of the R&D process at intellijel involves testing the musical qualities of the devices we are creating so I am constantly trying out things in a similar way to how a producer would experiment with their equipment. I think it helps to be in that mindset as much as possible so that you can keep focus on making gear that is ultimately a useful tool for musicians.
What factors are behind the current rise in popularity of euro-rack, modular instruments, and what are users looking for from companies like intellijel?
Eurorack's popularity was born out of a number of factors, but I think some of the key ones that contributed to it are as follows:
Vintage analog gear became increasingly expensive and difficult to find. A lot of the best bits could be recreated and in many cases improved upon (more reliable, more stable, lower noise, cheaper, etc.) in the form of a discrete module.

Big companies were not listening to their customers and making any cool new analog gear, so small companies decided to do it themselves. The internet has allowed small companies to connect with all sorts of manufacturing services globally that have facilitated the creation of these modules.

The boutique companies producing modular synth gear were not worried about selling thousands of units. Most often they are exploring their own weird and unique ideas, and it was considered a bonus if it ends up making a small profit in the process. This has resulted in a ton of really creative devices that bigger companies never would have considered making yet they have become essential tools for a huge variety of musicians from underground to mega pop stars.

Working on a laptop and staring at a screen started to get boring for many producers.

The tactile feel of a synth with knobs, switches, sliders, buttons and blinking lights is a much more engaging experience and often leads to exciting discoveries and happy accidents; perhaps more so than on a computer.

Computers also paralyzed some people with too many choices and the possibility to never finish tracks. Modular synths force you to finish what you are working on in the moment or else you will lose it forever once the power is off and the patch is unplugged. This is also equipment that is designed for a specific musical purpose, not for spreadsheets, e-mail and all sorts of other non-musical distractions.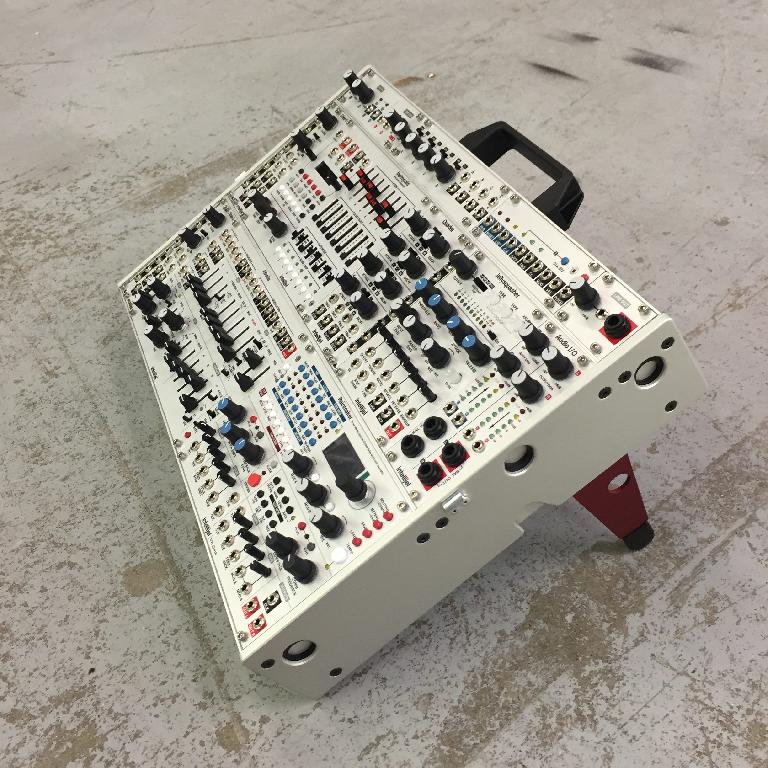 [courses_slider]
At first, a lot of the focus was on classic analog subtractive synthesis sounds, vintage clones and Westcoast synthesis, but now quite a few of the top companies are producing sophisticated DSP hardware and coming novel synthesis methods; especially with hybrids of digital and analog technology. I think a lot of the music industry is starting to looking to Eurorack as a nest of innovation with agile companies rapidly developing products in a way that the large companies cannot.
Many people don't know that AskAudio and intellijel are both Vancouver-based companies, with much of their customer base outside of the city. How do you see intellijel in terms of the local business landscape?
We have been fortunate to build a really close relationship with our manufacturer, Dena Technologies and we share the same warehouse space with them. This means that under one roof we are designing, manufacturing, testing, calibrating, assembling and shipping our products.
Other than buying some parts overseas almost everything is done local.
It is unfortunate that Vancouver's real estate situation is so wildly out of control since that has inhabited our physical expansion and ability to bring in new talent from outside of Vancouver or Canada.
Big electronic instrument companies like Roland and Waldorf are now releasing euro-rack lines, how does this effect smaller, niche brands, like intellijel?
At first, there was a fear that these bigger companies with much more resources at their disposal were going to take over the Eurorack market. So far this has not been the case, and in fact it has helped elevate intellijel and others brands like us by association. I think Eurorack exploded because it was very clearly about people making synths "for us by us". All of these small Eurorack companies are die-hard synth nerds who live and breathe this stuff. We have direct connections to our customers and we embrace and encourage their feedback. I am not sure these bigger companies could ever have the same connection to their customer which continues gives us smaller companies an advantage.
What about the future for you personally, as both the owner of intellijel, and as an electronic artist?
As a music producer I will keep fantasizing about the day I have time to make music again.
In the meantime, we have an endless stream of ideas that will likely keep us busy for years. Our lead software engineer, Kamil and I have spent a lot of time and energy into developing a platform that would allow us to create more sophisticated DSP devices. Up until now, we have primarily been making purely analog modules or using relatively simple 8-bit micro-controllers. This is with the exception to the products developed with Jim Clark of Cylonix in which we used very powerful FPGA boards. With this new DSP power at our fingertips, there is a whole slew of interesting things we are developing that range from exotic effects to complex synthesis models.
It has always been a dream to create some really cool standalone electronic instruments that would find their ways into the hands of the electronics musicians I most admire. I am hoping to make this dream come true in the not too distant future.
Learn synthesis in the AskAudio Academy
here
.