Joe Trupiano takes us behind the scenes to uncover the concepts, techniques & tech that go into creating Sample Logic's innovative Kontakt instruments used in film, TV, game and music production.
Founded in 2006 by Joe Trupiano and Keith Robinson, Sample Logic is an award-winning sample library company with Kontakt instruments and libraries used by musicians, DJ, producers and film, TV and game audio composers worldwide. You've probably come across Arpology, Cinematic Guitars Infinity, Gamelan, Bohemian, Xosphere and others...
Joe and Keith have a unique way of recording and creating their instruments, so we were thrilled to get the chance to talk to Joe Trupiano to discover more about what happens behind the scenes, and how they go about creating their popular instruments that continue to stand out from the crowd.
Ask: How did Sample Logic come about and what made you want to get into the world of creating sound libraries?
Joe Trupiano: It all started out at college. Keith and I went to New York University and both received our masters in composition and music technology. For my thesis project, I decided to write about and do a project on starting my own company. So we created Sample Logic as my thesis to graduate and it worked out! Our first product was AIR. There weren't a lot of sample libraries out there 10 years ago. It was a big success and showed us there was a future in this.
Ask: Was AIR a Kontakt library?
Joe: Yes. Actually it was the first Kontakt player product ever from someone outside Native Instruments. We worked with NI on a partnership basis. AIR stands for Ambience, Impacts and Rhythms and was a set of score tool instruments geared for film, TV and game composers.
Ask: Being the first time you and NI had worked on a Kontakt Player product together, what was the dynamic like creating AIR?
Joe: It was great because we felt we were ahead of the curve and the fish bowl was empty, there wasn't anybody else in it. It gave us an opportunity to open our wings and make a big impact on what we do. It gave us a lot of incentive to move forward for future products.
AIR was great because we felt we were ahead of the curve and the fish bowl was empty, there wasn't anybody else in it.
Ask: For those who don't know a lot about the Kontakt platform, what's the benefit you've found creating a library or instrument using Kontakt rather than just giving people samples or creating your own plug-in's?
Joe: Honestly, the engine that NI has developed is just amazing. The things you can do in it are what we're after. Given the creative sandbox they've provided us, it's given us the ability to go above and beyond and stay innovative and do things that haven't been done as instruments.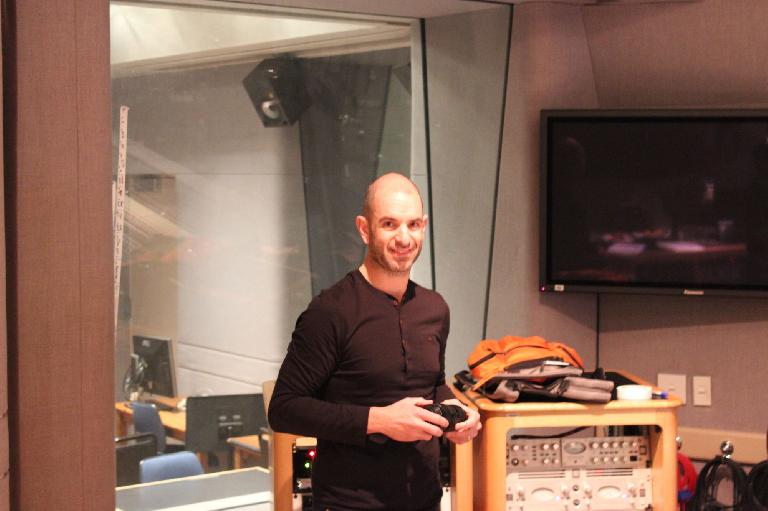 Ask: You've released a lot of new instruments recently: Cinematic Guitar Infinity, Bohemian, Xosphere, Arpology, Cinematic Keys… and in instruments like Arpology you've created new functions and systems in Kontakt that have never been made before!
Joe: Yes! Using the scripting language we were able to create a vision of what we wanted to achieve. In Arpology that was an arpeggiator that wasn't tied to just one duration for every step. Standard arpeggiators have all steps set to 8th notes or whatever. With Arpology we created a flexible way to manipulate every step of an arpeggiation pattern. Then we added stutter and glitch to make it much cooler.
Ask: So you have a new instrument out now, Gamelan. Tell us more about this.
Joe: We went to Skywalker Sound and recorded the Gamelan Sekar Jaya ensemble. We essentially have taken the Cinematic Guitars Infinity interface and added its manipulation and morphing abilities to the Gamelan instrument.
We did these extended techniques for microphone recording. While there is some great traditional Gamelan instruments inside with round robins, our intention was to morph and manipulate it a lot. So we used some novel microphone recording techniques that helped us achieve something different.
Ask: Is it fair to say initially your instruments were initially aimed at the sound for film and games, but maybe that's now expanded into electronic music?
Joe: Yes and no. Primarily our audience is still somewhat niche with film, TV and game composers. Still to this day I think that rings true. Obviously we have lot of novice musicians and producers and electronic musicians and DJs. But primarily it's aspiring film, TV and game composers.
[ad_unit]
Ask: Well, I haven't heard any Sample Logic instruments in any recent Country Music hits…
Joe: Actually, Teddy Riley who worked on Arpology told us he was putting down a Country track using it!
Ask: OK! I stand corrected. I'm interested to know more about your team at Sample Logic.
Joe: It's Keith and I mostly and we have employees and freelancers, scripters, GUI designers, web designers. You name it. We have a lot of freelancers that pretty much work around the clock for us helping us develop these products.
Ask: So that allows you and Keith to get hands on with the meat and bones of recording and sound design.
Joe: Oh yeah. We wear all the hats for the company. We do recording, production, chopping, scripting. We're part of every single elements for every product.
Ask: Some of the sounds you create are other-worldly. Sometimes like you've discovered a disused factory and dismantled it in order to capture the sounds you want…
Joe: Well, our company motto is "to blur the line between music and sound design." So for example with Cinematic Keys we recorded traditional pianos and keyboards, but then we decided to destroy and dismantle, set a piano on fire and record the sounds in the process! Then we manipulated and morphed the sounds further.
We recorded traditional pianos and keyboards, but then we decided to destroy and dismantle, set a piano on fire and record the sounds in the process!
Ask: How long does a typical Sample Logic instrument take to create?
Joe: The traditional side is the hardest part, because you have to sit there hear every single note played, every single dynamic, meticulously. It's time consuming and yields some good instruments. What I enjoy doing is destroying instruments. We didn't unfortunately get the opportunity to do that with Gamelan, although we did get to bang them around a little… but that jam session type recording session is where we get a lot of material, just destroying things and trying to create new sounds that have never been made with the instrument. That goes pretty quickly and is therapeutic too!
Ask: What would you like to destroy and sample next?
Joe: We would consider taking a car into Skywalker and destroy it there. That would be kind of cool!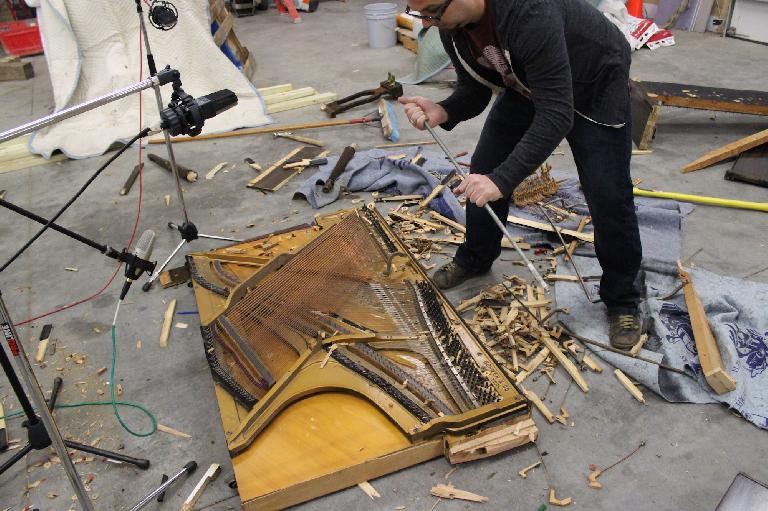 Ask: I hear you're no longer based in New York?
Joe: I live in North Carolina now. Keith is still in New York so we communicate remotely and it works really well. With the industry we're in, location has no bearing as it's all done via the web.
Ask: Do you find it harder to get things done working remotely?
Joe: Not really. It's actually more productive. The majority of the people we work with are in Europe, so us being in New York together doesn't really matter as much.
Ask: As a developer and one of the first to create third-party Kontakt player instruments, what would you like to see change in Kontakt in the coming years?
Joe: Well obviously we're under NDA with Native Instruments for Kontakt. I don't know. I feel like they're on a good path. There are some minuscule changes I'd like to see. All in all with the scripting language I feel like we have enough there to see our vision through, especially with he future version of Kontakt whenever it is released.
[courses_slider]
Ask: There's a lot of musicians and producers using iPad and iPhone in the studio and live. Do you see the iOS / Android mobile platforms as being viable to develop for?
Joe: I can't really go into depth. We are working on something for iPad, but from our experience when we go into studios we very rarely see people using iPad beyond being a controller device.
But with Arpology we created an iPad app that allows you to control the interface through MIDI CCs and manipulate the arpeggiations and real-time processing using the XY pad on iPad as an extension. I think iPad works well in that application. As of right now I don't think it's realistic that iPad can replace a Mac or PC. There's a lot of polyphony limitations, buffer size and latency for existing iPad Air.
Ask: I wonder if iOS 9 and the soon to be released iPad Pro will change things here.
Joe: I hope so. I'm excited!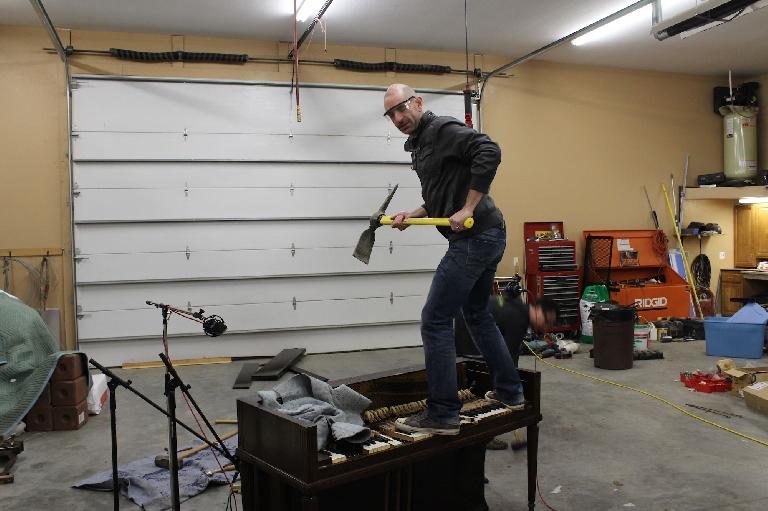 Ask: What tools do you and Keith use in the studio when processing?
Joe: Well, I don't want to give away too many of our trade secrets, but we can talk about the process. Phase one we record the sounds, mix them in Pro Tools, think about how they will be performed and how we can take these rudimental sounds and actually manipulate them and create new instruments. Then we chop them up, organize them and take the sounds and pretty much mutilate, manipulate and morph them into new sounds that sound similar to the original but are completely new and organic. Our goal is to create an instrument that's never been heard before but is equally organic to the original piano or trumpet…
Our goal is to create an instrument that's never been heard before but is equally organic to the original piano or trumpet…
Ask: Many of your instruments are enjoyable when being performed. Do you use any special MIDI controllers?
Joe: We still use MIDI keyboards really. But what we've done is we've built the controls into the interface. For example, in Cinematic Guitars Infinity we've automated XY pads and 3D mixers. So we do a lot of that control and automation built into the actual performance of the patch, so you can sound just as expressive as some kind of advanced MIDI controller.
Ask: What do you make of the integration of hardware and software with Komplete Kontrol and Akai Advance being integral to the future of Sample Logic?
Joe: Well, our products are available in the VIP store, as part of the VIP software. But to answer your question, I don't know. We have to see where the industry is moving. I'm not sure anything revolutionary has been done yet.
[ad_unit]
Ask: I guess they're making it easier so that the end user doesn't have to map everything manually.
Joe: Right! But all the instruments we make are already mapped to fit the controller. Talking about controllers... Something I've not mentioned is with Cinematic Guitars Infinity we actually invented Kontakt's first real XY slider. It doesn't exist in any other sample library, but I'm sure it will soon. It really is an XY slider, and with that we created the 3D Mixer which is both in CGI and Gamelan. There's four sounds, one in each corner of the XY. Then as you move the XY slider around it's mixing in a 3D visual way, so the sound moves to where the slider is.
Ask: Once you create something new for Kontakt, does it become easy for competitors to figure it out and deconstruct the instrument to get at the source code?
Joe: Yeah, absolutely. The script is hard and locked, but once someone else figure's out what object we're using and how we're achieving it then it becomes easier for others to re-create.
Ask: OK. But we saw it here first! I guess that then gives you added incentive to continue innovating for Kontakt?
Joe: That's our goal really: to stay ahead of the curve. We want to do things that nobody else is doing.
Ask: I know you're working on some pretty cool things that you can't reveal yet. But is there anything you can tell us about what you're working on?
Joe: Hmmm. There's not much I can say except it's groundbreaking and never been done before and will change the way music is made. But beyond those very vague and broad statements, I can't go into too much more detail.
Ask: I understand you might not want to go into depth about the plug-ins you use to create your signature sounds. However, I'm curious if you're using effects in your own Kontakt instruments to process sounds?
Joe: With our new engine, we're finding the manipulation and morphing process is slowly migrating from doing it all in post and bringing them into Kontakt. We're using the Kontakt interface we've created and scripted to do the processing. It's great, because now we use the raw sounds we've recorded that are mixed and mastered and do a lot of the morphing under the hood. It gives users the ability to change the effect and manipulate it themselves because it's not a bounced down audio file of what we did. It's more what the effects are doing in the interface. Plus it can all be tempo synced and interactive from the users' point of view.
With our new engine, we're finding the manipulation and morphing process is slowly migrating from doing it all in post and bringing them into Kontakt.
Ask: Do you have any tips for those wanting to get into sound design and even develop Kontakt instruments? But, I don't want to encourage more competition for you!
Joe: Ha! If you want to join our team, please reach out. Beyond that I'd say don't do it. Leave it up to the professionals !! (laughs)
But every year with technology making it easier and easier, the fish bowl is getting smaller and smaller and there's more fish. It's becoming more of a challenge. So our focus is how can we stand apart from the rest.
But to answer your question, for someone wanting to get into our industry, I'd say start small. The journey now is a lot different to the journey when we started out. So start small, learn and slowly grow.
Ask: Thanks Joe! Looking forward to the coming Sample Logic instruments during the rest of this year.