From a sequencer triggered by M&Ms to controlling music with our minds to another sequencer controlled by and projecting light, Music Tech Fest was packed with forward thinking tools for music makers.
It's 2016 and the future is already here – or just around the corner at least. Providing a showcase for innovative technologists and artists alike, the inaugural Berlin edition of Music Tech Fest provided some tantalizing glimpses of disruptive technologies that should be making their way to the masses soon.
The sprawling Funkhaus complex, recently home to Superbooth, was an appropriate home for the conference, which made good use of both the gorgeous, acoustically-treated performance halls and the numerous smaller rooms and hidden areas tucked throughout the former GDR public radio facility.
Experimental Technology
Exploring the #MTFSpace exhibit, exciting control technologies were on display. Mind Controlled Music featured a velcro-fastening headband with three metal electrodes connected to a box. I found it difficult to determine what control I was actually able to exert during my test run, but by reading users' brain waves, either focusing or relaxing the mind could produce different results – triggering new loops – at intermittent intervals. On a screen opposite the user, these interval portals were shown along with the currently playing loop waveforms, and a graphic representation of one's concentration state. Though the results weren't entirely conclusive, the concept is certainly alluring – could we actually be controlling our DAWs directly with our brains in the near future?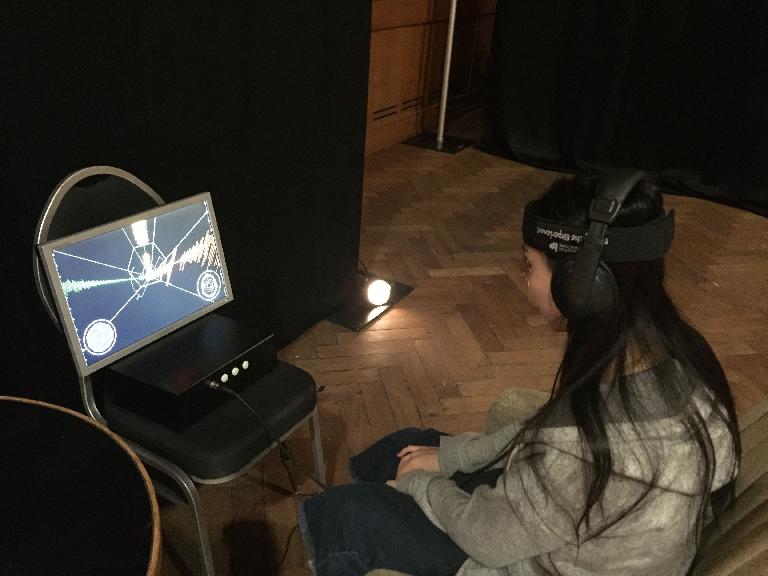 Candy Sequencer
Showing what can be done with a cleverly-programmed camera input, Candy Sequencer, as the name suggests, uses candy – M&Ms, to be precise – to trigger notes in a sequencer. A large board with a 16x16 grid of M&M-sized indentations gave access to a bar's worth of 16th notes, with 16 different sounds available to trigger: just place an M&M on a corresponding step to trigger the sound on that row. While it seemed to have issues detecting darker-colored candies – and likely isn't intended to make it to market anytime soon – projects like this certainly show the potential for alternative visual control apparatus that could be especially appealing on stage.
New Performance Paradigms
The not-so-imaginatively named Interactive Cube is a prototype from an enterprising young Italian programmer that maps four steps of four sounds of an LED sequencer grid to four faces of a cube – with the other two faces available to change the triggered sound, or the available bars. I couldn't quite picture the practicality of it in the studio, but I could see how it might be an attractive performance option for someone who doesn't already have their hands full.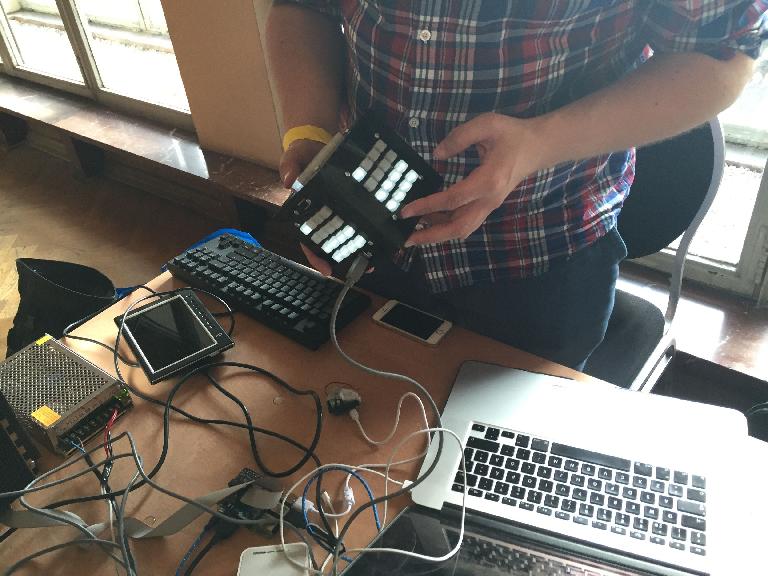 [courses_slider]
Developed at The Hague, Light Seq is an innovative sequencer that not only provides a compelling solution to sequencing, but doubles as a captivating synesthetic display of light that not only controls but simultaneously reflects the musical output. A grid of hexagons, each with a light-sensitive optical trigger, makes up the possibility matrix, while a set of form-fitting hexagonal blocks, each equipped with a multi-color LED, are placed on corresponding slots to trigger them. A bespoke controller changes the color, rate, and rhythmic pattern of each block's LED, resulting not only in a wide array of sequencing possibilities, but also an attractive light show that correlates directly to the sound coming out of the speakers – in stark contrast to those all-too-common excessive knob tweaks that don't seem to change the sound much, if at all.
GIRD stands for Gestural Interactive Remixable Dancefloor, and uses a Max For Live patch to translate physical movements – detected by chips embedded in the users' gloves – into clip triggers, parameter controls and more, while a unique light display behind the programmers reflected the triggered clip colors as they changed during the demo.
Similarly, Nagual Sense is an iPhone app that uses gestural motion to control varying elements of a song loaded. While it currently only works with songs supplied through the app, the idea of controlling your own music with this technology is intriguing. Nagual Sound has also developed Nagual Dance, a game for Xbox which uses a Kinect camera to translate movements into sequence triggers and parameter changes. While the technology isn't readily available to be applied to your own live set, they are inviting producers to create songs and sell them through the Nagual Sense platform, allowing fans to interact with their music in new ways while opening a potential new revenue stream.
Drum Machine Redux
Previously premiered at MusikMesse, Polyend's literal drum machine, PERC, was on display at #MTF, and it was certainly impressive to see up close. Translating MIDI messages to rapid-acting, velocity-sensitive hammers which strike real drums, the precision of the response looked incredible and sounded fantastic. With support from the likes of Sigur Rós and Aphex Twin, it hopefully won't be long before PERC's technology is available to revolutionize live performances, studio drum work, and possibly spawn entire new genres of music. We've also learned Polyend is already working on adapting their mechanics for other instruments, so the future is looking especially bright for their upstart operation.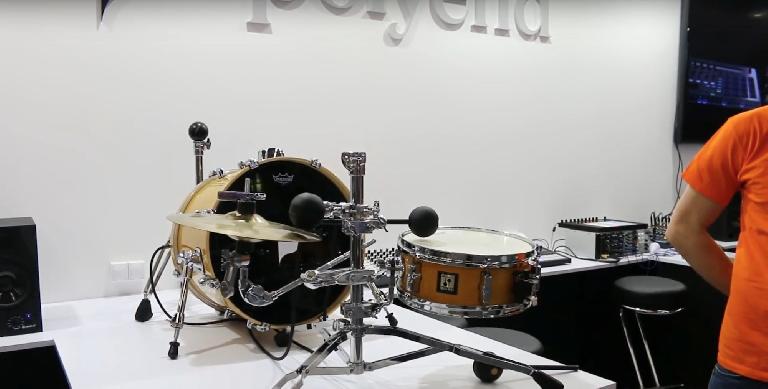 Watch our Polyend interview from Musikmesse here:
A New Way To Hear?
Recently announced with a press release shortly before #MTF Berlin, Nura is planning to revolutionize the way we listen to music. Combining in-ear headphones for detail within a larger over-ear cup for tactile bass reproduction, the result is not only surprisingly comfortable, but also completely sealed to prevent any sound from entering or escaping – possibly even more effective than standard noise-cancelling technology.
The real selling point is Nura's completely personalized frequency response. Utilizing cutting-edge audio science, a built-in microphone takes a quick reading of the user's hearing range by detecting resonance from the ear drum. Once this is configured via the Nura app, you can switch between an unaltered signal, or signal boosted according to the user's frequency response. The app can store multiple user profiles, so you can switch between users on the same headset via the app. As an added bonus, you can adjust the "Kick" amount of the outer ear bass response for a physical low-end experience.
The results during my test were impressive – the enhancement of detail with my personalized curve was striking, though switching to the previous user's curve was far too extreme for my ears. It's sobering to realize how differently we all hear music, but Nura's innovative technology could come closer to providing a solution for this than anything before.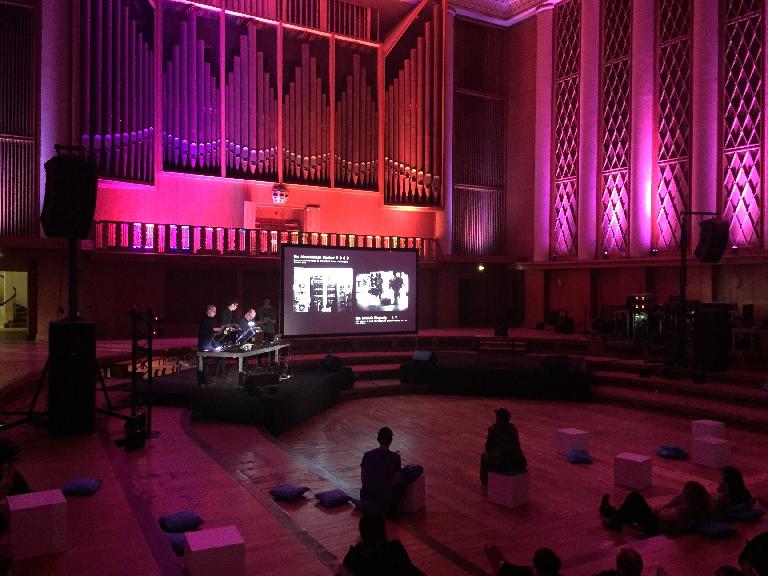 Music Technology Future
Although certain installations hadn't been fully set up on the first day I was able to attend and I didn't get to hear nearly enough of the impressive musical performances that had been lined up, there's no question Music Tech Fest is a unique and vital event. In contrast to the amazing yet occasionally nostalgic analog revolution on display at Superbooth, #MTF looks firmly towards the future, expanding realms of possibility by pushing digital technology to its limits. With previous editions in Wellington, Boston, London, Ljubljana, and Sweden, anyone interested in emerging music technology should keep an eye out for Music Tech Fest in the future.