Fancy grooving out on your Maschine? Of course you do! In this tutorial-article Mo Volans demonstrates how to split up your samples across Maschine's pads and get grooving!
If you plan to use Maschine to load groove-based loops, especially musical ones, you will probably want to alter the way they play back at some point. The most efficient way to create alternative edits is to split your samples up and span them across Maschine's pads. Here's how...'¨

Your Loops In Maschine
First up, you'll want to start with an empty instance of Maschine in your DAW or in the standalone version, either will work just fine for this process. In this case, I am using Maschine within Logic Pro 9, so you will see some DAW specific moves as we progress.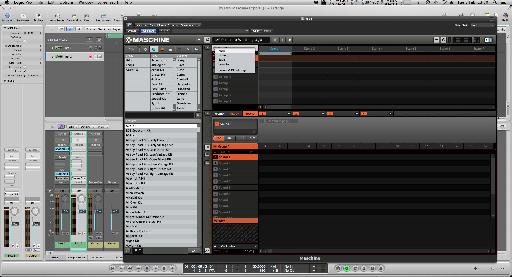 The blank instance of Maschine.
You can now load your groove-based loop of choice into Maschine. This can be done by using the browser or via drag and drop directly from your desktop or audio folder. I have used a WAV loop here and dragged it straight into the first pad in Maschine's first group. The only change I made here was switch from one shot to an ADSR envelope. This allowed me to have total control over playback.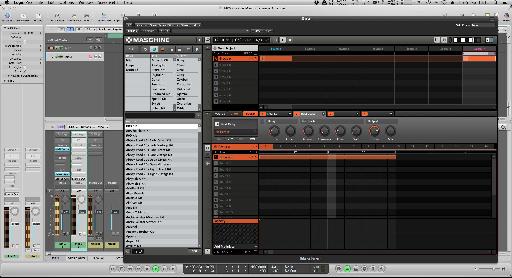 The single loop playing back.
The loop we'll be editing:
Slicing, Dicing And Spanning
We now need to start editing the loop so we can split it into sections. Start the process by hitting the audio edit button... the one with the neat little waveform icon. This will give you access to Maschine's built-in audio editor.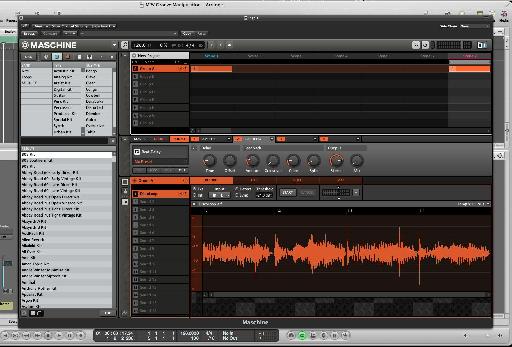 Maschine's audio editor.
Once here we can select the slice tab and go to work. Select the '˜Detect' mode and use the sensitivity function to allow Maschine to work out where the transients are in your loop. If you find things are getting out of control, you can manually delete and add new markers exactly where you want them.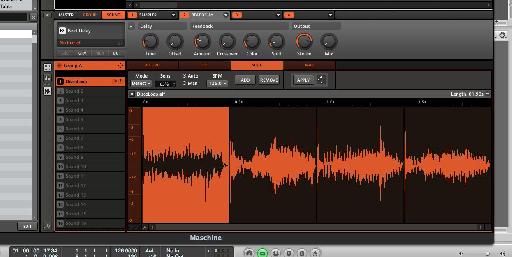 The loop is sliced up.
In this case, I was using a pretty short, straightforward loop, so it was easily sliced into four equal sections. Once this was completed, I was ready to map the separate slices to individual pads.
To execute an auto map you will need to hit Apply. This will create a group with all your slices mapped to the consecutive pads. Maschine will also create a part that plays back the original loop perfectly.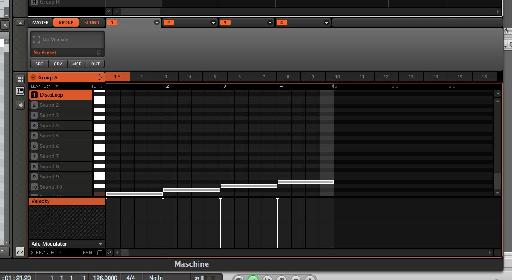 The slices are auto mapped.
Creating Your Alternate Pattern
Now that you have the hits all mapped out, you can start to create an alternative pattern by simply selecting a new part and recording in any sequence you like. I went for something a little more percussive with some extra gaps.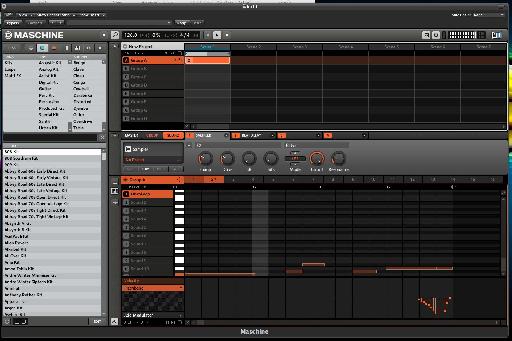 The new sequence is recorded.
The new sequence in isolation:
The sequence can then be spiced up by adding some automation and controller data. In this case, I added some pitch shift to the end of the pattern. This was then further enhanced by the addition of some stereo delay and resonant low pass filtering.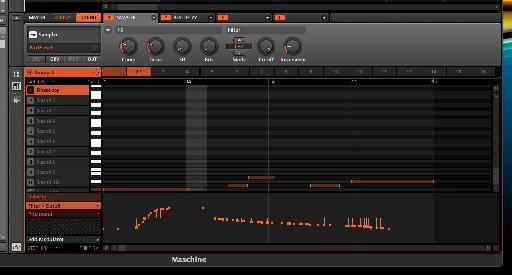 Some filtering and effects are added.
The pattern is mixed with some basic drums:
Try feeding your own loops into Maschine and playing them back in this way. The results can often be pretty surprising and very different from the original groove. Instant remixing at your fingertips.