When there are so many stellar software plug-in amp emulations why would you want to record guitar using a real hardware amplifier? Rich Tozzoli rips up the rule book and explains. [with audio]
There's no denying the usefulness of guitar amp simulator plug-ins. They get a huge variety of sounds, have lots of different amp and cabinet models, and don't require mics to record. But it's still good to use a real guitar amp sometimes and capture them with multiple mics. Let's look at a few tips on using the real thing.
The Feel
Even with all the great modeling technology, there's still nothing like the feel of plugging into a real amp. While they will of course vary widely in quality, your guitar has a certain give and take'"sometime called '˜sponginess''"that only a real amp delivers. That means when you dig into a note a bit harder, the amp tends to break up a bit more. This is especially true with tube amps, as the tubes start to saturate and clip (in a musically pleasing way).
'¨I've found through the years that after recording with plug-ins and going back to a tube amp, you actually play differently. Your notes tend to sustain more, and you can have a dialog with the amp that simulators don't provide. Its kind of like having a meal; sure you can stop in to a fast food joint for a burger, but you can also have a chef cook you gourmet dinner. Both will get you full, but the chef tends to make things taste a lot better!
The Sound
Again, no denying how great plug-ins are, I use them all the time. But they can't replicate the feel you get plugging into the real deal and cranking it up. As someone who does a lot of TV music, and hears my cues coming back through the speakers on a show, I always notice the real amps. I tend to have a variety on hand at any time, Gibsons, Fenders, Magnatones and Mesa Boogies. For example, although I have Mesa Boogie models in a variety of plug-ins, nothing sounds like a Les Paul through my Mesa Mark IV head and cabinet. I notice that when I hand in cues recorded with that combination, TV editors will blast those riffs and cut scenes to them. Also, the sound is much more distinct than any generic guitar plug-in. This also applies to my old Gibson amps. I'm inspired to play them, and they have a unique tone. That literally translates through the television.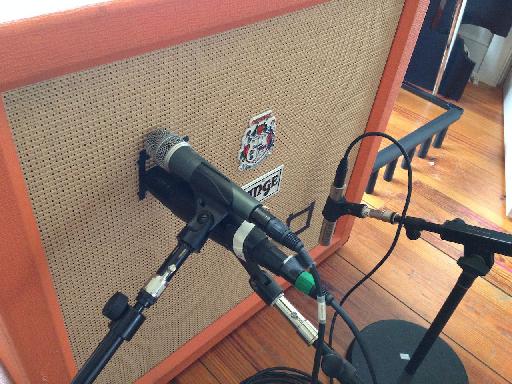 Mix and Match
When tracking real amps, I will use at least two mics, and sometimes more. My standard go-to combination would be a Shure SM57 (preferably a Beta 57) and a Sennheiser 421. This lets me have more control over the tone in the mix when I need them to cut through. The SM57 is a classic for a reason, it has the midrange grit, bite and presence. But the 421 has more top and bottom, and helps fill out what's missing in the 57 alone.

Sometimes I will use an EQ to notch extra bottom out of the 57 to make room for the 421, and cut some of the mids on the 421 to make room for the 57. It all depends on the track, but for general purposes that technique tends to open the sound up.

Tie The Ribbon
'¨The other variable in the Mix and Match equation is a ribbon mic. I'm a big fan of using them on guitars, especially distorted electrics. I will turn to either a Beyer M160, Beyer M260, Royer 121 or AEA NUVO 22. Ribbons have a warm, creamy sound and can really help thicken up a guitar part.
One, Two, Three
Any of the above ribbon mics sound great in combination with a 421, which would be a nice two mic combo to use. But sometimes, I'll use three mics. The SM57 Beta, The Sennheiser 421, and any of the above mentioned ribbon mics. This lets me have the ultimate flexibility when in the final mix stage. Just try to make sure the sound hits all the mics at the same time so they stay in phase.

Mix and Match Amps
On a recent TV session, I used a two amp setup with three mics on each cabinet. I tend to cut a track and then double the part immediately. But what I did on this session was cut my first track on a Telecaster with a set of Rio Grande Texas Barbeque pickups through the Mesa Boogie Mark IV head and an Orange 4X12 cabinet. Then, as soon as we had the take, I switched to my Les Paul Custom with Gibson Burstbuckers going through a Colby Dual Tone Booster head and Colby 2X12 Cabinet.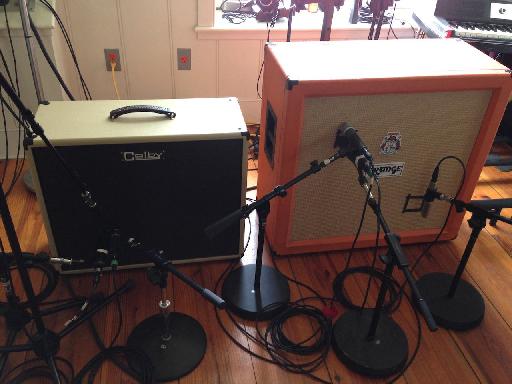 This two-amp setup allowed me to create a quick double track of the cue but with two amps and two different guitars. Therefore, the sound was just a bit different than just using the same setup to double the track. Add in the variety of mics on each cabinet, and I could achieve a wide variety of tones within a single piece of music.

Try it Yourself
If you can, try to use a real amp next time you record electric guitars. Sure, it's not as easy as just using a plug-in, and you have to set up mics and adjust levels, etc. Hey, you may even keep your neighbor up for a little while. But that unique SOUND will hopefully inspire you to create a better track.

Learn more about producing guitars in this video course at AskVideo.com.

Here's an example of using two different guitar/amp combos in two channels'¦ they sound similar but have slight tonal variations to give a thicker sound:
Same amp/guitar combo both channels, but double tracked Telecaster with Rio Grande Texas BBQ hum buckers through Mesa Boogie Mark IV head:
Rich Tozzoli: Guitars and Bass

Ray Levier: Drums

Recorded at: Clubhouse Studios, Rhinebeck NY