Push 2 is the new incarnation of Ableton's Live controller and instrument. There's improvements all round and Noah Pred dives in to discover what's changed and how it'll improve your Live workflow.
When Ableton first released Push along with Live 9, they redefined the limits of DAW-hardware integration, blurring the lines between instrument and controller while revolutionizing studio workflows. With this weekend's surprise announcement of Push 2 during a closing keynote at their debut music-maker's conference, Loop, Ableton is set to change the game yet again. The revision of their flagship controller boasts some appealing new features, but comes with a higher price tag than the original. So what's all the fuss about?
Build
The first Push was a huge hit worldwide, and Ableton has taken charge of the supply chain from top to bottom, eliminating previous hardware partner Akai from the equation. The difference in size and weight between Push 1 and 2 is nominal, though the newer model came out slightly thinner and lighter, yet seems more than sturdy enough for long days of musical abuse. Somehow, I found the rubberized finish on the original Push seemed to attract more dust than anything else in the studio, and certainly not from lack of use; thankfully, Ableton opted for a slick anodized aluminum top plate here that seems to have eliminated this issue for good.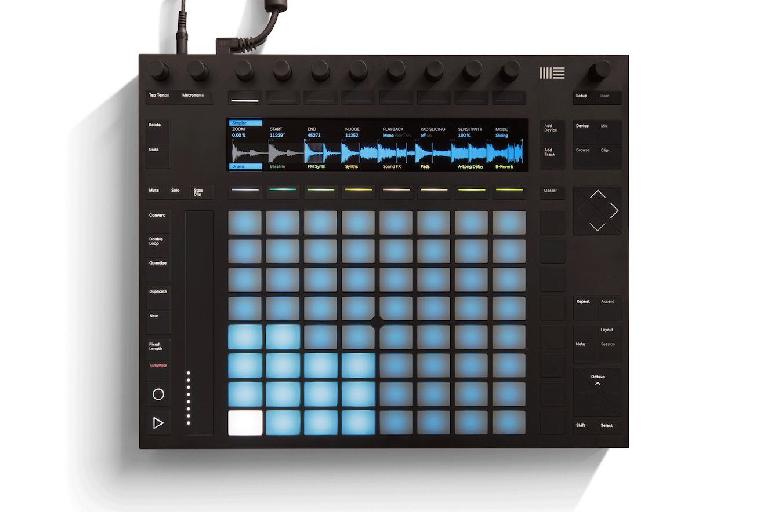 The general layout appears essentially the same: 64 velocity-sensitive backlit multicolor pads, a ribbon touchstrip, eight touch-sensitive rotary encoders, and an array of dedicated contextual buttons along each side. The gorgeous full-color display jumps out to provide a level of detail the first edition simply couldn't deliver with its comparatively meagre LCD. Designed to be crisp and clear when viewed from any angle in a wide range of lighting conditions, navigating Live without looking at the computer just got a whole lot more realistic.
Rather than the two rows of dedicated function buttons formerly located just beneath the screen, the new multi-color backlit function buttons have been split with one row above and one row below the display, allowing for intuitive contextual interactions, color-coded with the tracks and other information displayed—all of which is well organized without any extraneous distractions.
The recessed function and dedicated buttons are backlit in high-contrast, and deliver a satisfying yet subtle confirmation click. Wherever possible, unnecessary buttons have been removed: in and out buttons are now replaced by contextual navigation arrows, and the dedicated Volume and Pan & Send buttons have been replaced by a new Mix view mode that makes them obsolete.
Push 2's responsive pads seem a bit more sensitive and softer than the previous model.
Three additional buttons appear in the form of a dedicated Layout button—for toggling between, say, real-time note entry and melodic step sequencing on a MIDI track—a Convert button for converting audio to MIDI instruments, and a Setup button for rapid access to display and pad settings.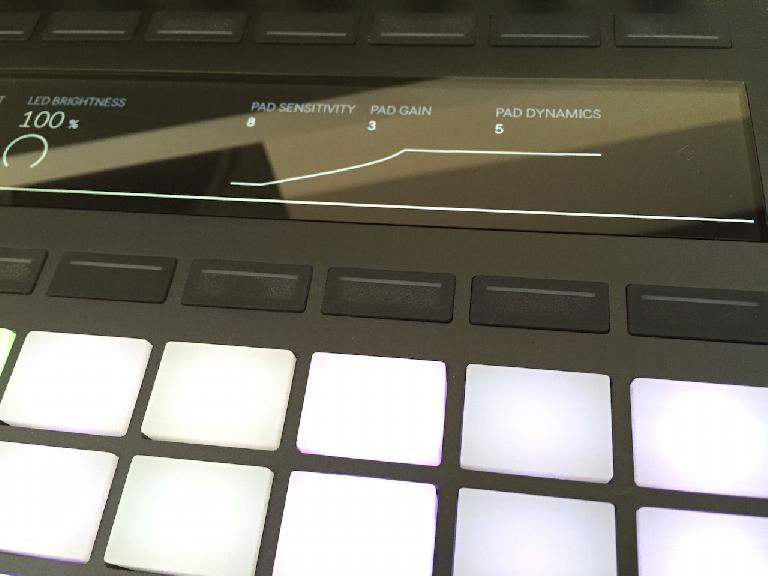 Push 2's responsive pads seem a bit more sensitive and softer than the previous model. Three settings—Sensitivity, Gain, and Dynamics—attenuate an overall response curve to get them behaving just how you need for your particular playing style, and I found I could articulate them with more control than I was used to from Push 1.
[ad_unit]
Browser
With the first Push, I often found myself returning to the computer to navigate the browser. This was due in large part to my habitual usage of numerous third-party plug-ins—which is now possible on both editions of Push for the first time with the free update to Live 9.5.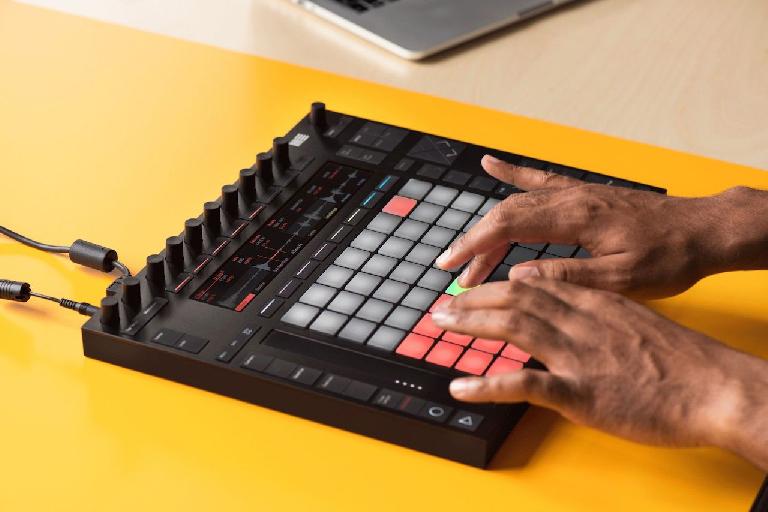 Not only can I now access all the devices I need directly from Push, but the combination of using the encoders to smoothly scroll through cascading subfolder menus makes it a much more enjoyable process—so long as I don't need to type in a search term. Previews are now possible while navigating the browser via Push, which is a handy improvement as well.
Perhaps the most notable feature of the new Push Browser is the contextual elimination of irrelevant categories: for example, there's no need to show MIDI Effects or Instruments folders when you're browsing for devices on an Audio track, so Push simply doesn't show them, streamlining the search and speeding up the process of finding the tool you need. Unfortunately, audio files remain unaccessible to audio tracks via the Push browser; aside from this, I would say Push 2 now has a strong case as the superior browsing interface over and above the GUI browser.
Simplify
Where Push 2 really takes a step forward as a musical instrument and creative tool is with the new audio manipulations made possible by the rebuilt Simpler device. Without going into full details on the new Simpler—which should soon appear in another Ask.Audio piece—what you need to know with regard to Push is that there are now three Simpler modes: Classic, 1-Shot, and Slice.
Where Push 2 really takes a step forward as a musical instrument and creative tool is with the new audio manipulations
Classic replicates the behavior of the previous Simpler, playing all triggered notes from the same starting point—with the addition of a Warp mode option, so samples can be time-stretched to always play along with the Global Tempo no matter the pitch, allowing for crazy synchronized chords and drastic edits. Classic is also the only mode with a full ADSR Volume envelope, which is replaced by Fade In and Fade Out times in the other two modes. 1-shot quite simply allows for unlooped monophonic playback in Triggered or Gated note modes. Both Classic and 1-Shot modes can be played and recorded via the standard Scaled or Step Sequencer note layouts.
Slice mode is where Push really comes into play. Easily dividing a sample into constituent slices is a breeze, with the Sensitivity dial adjusting the number of slices available. Pad Slicing mode lets you specify the chunks you want to assign to pads as the sample plays by triggering the corresponding pads accordingly. It takes some practice to get the hang of, but Push lets you zoom in and nudge the start point of each Slice so smoothly that you'll never want to edit samples with a mouse again. A polyphonic mode lets you play multiple slices simultaneously in the default 64-pad mode, while hitting the Layout button in Slice mode switches to a Drum Rack styled step sequencer—and hitting the Convert button lets you easily convert the Simpler to a Drum Rack for further sound design flexibility once you've fine-tuned your Slices as needed. I did find myself wanting access to a melodic Step Sequencer layout in Slice mode, but what seems to matter most is that Push now delivers some amazing creative features along with elegant sample editing power that was previously available only via Live's GUI.
[ad_unit]
Pushing Forward
There's no question Push 2 brings Ableton's flagship controller much closer to the machine they set out to make: an instrument that lets you create without needing to look at your computer. For those curious about getting a Push but held out 'til now, Push 2's new features ought to make a convincing case despite the somewhat higher price tag. I also have to imagine Ableton will be unveiling more cool features for Push 2 soon enough, but we'll just have to wait to see what they have in store down the line.
So if you already own a Push, do you really need Push 2? In a classy move, many of the key new features in Live 9.5 are available on Push 1 as well, but there's simply no competing with that new display. While the trademark fluid workflow translates more or less completely from 1 to 2, at times I did find myself wishing for the latched Mute/Solo/Stop buttons of Push 1 that are now reduced to momentary functionality on Push 2—a small trade-off for that big display, which makes it a more inspiring instrument than ever.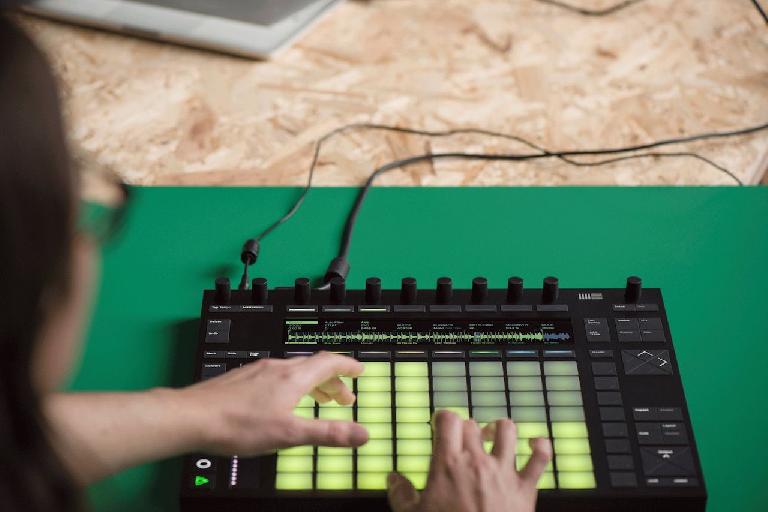 [courses_slider]
To sweeten the deal for those considering an upgrade, Ableton has unveiled a unit return model other manufacturers could learn a lot from. Contributing to the global community by donating returned Push 1 units—along with the requisite Live licenses—to youth education programs around the world, Ableton is offering those who return their Push 1 30% off a Push 2 in return. Getting new gear, slicing new beats, and helping kids at the same time—that's a plan I think we can all Push for.
Price: EUR 699 / USD 799
Pros: Enhances the fluid, inspiring workflow of Push 1 with a fresh design; integration with the new version of Simpler takes sample manipulation to a new level; the gorgeous display and elegant encoder integration virtually eliminates the need to rely on Live's GUI—or your mouse—when using Session mode.
Cons: Recessed USB input may not accept generic USB cables; requires power supply for the display and backlighting to be useful; no MIDI output for hardware connectivity; screen seems to scratch easily.