How can a synthesizer be small and huge at the same time? When it's a Micromonsta'¦ Hollin Jones puts this tweaking friendly, accessible, and excellent sounding synth through its paces.
With all the excitement over the resurgence of modular synths as a popular phenomenon, it's easy to forget that "modular" is not the only variety of synth available. Indeed when I was learning my craft in the early 1990s, standalone synth modules—by which I mean self-contained, MIDI-triggered boxes—were pretty commonplace. The traits that made this kind of synth popular then still apply today, with the added bonus that the internal circuitry is invariably much more powerful now. They're small, portable, hands-on and don't need a computer to run.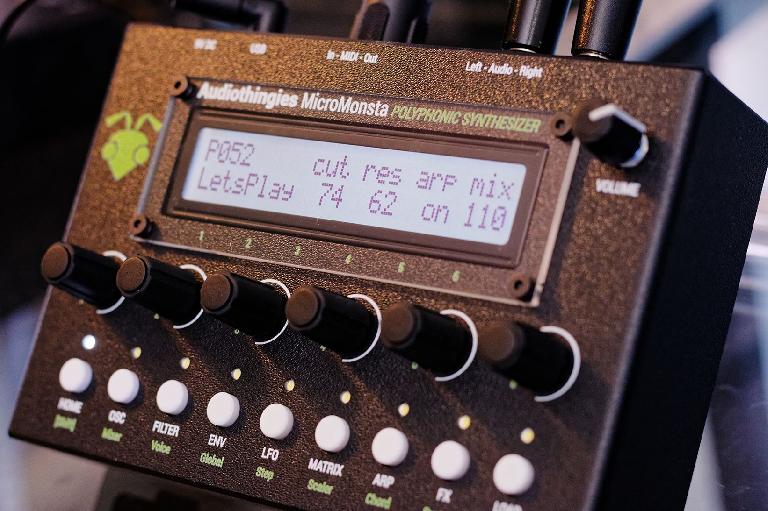 Micromonsta is the first standalone synthesizer from the wonderfully named Audiothingies, an independent developer based in France. At a shade over 300 Euro / $330, it's arguably affordable enough for hobbyists as well as professionals and unlike some hardware synths, does manage to appeal to those just getting started with synthesis as well as those who are already experts. Let's take a look at the nuts and bolts.
Look and Feel
The synth is small and light but very well built. Part of the weight saving comes from having an external PSU: at present, only EU power supplies are bundled though the developer is planning to source alternatives for those buying in other countries or you can save money by buying your own. I used a generic, switchable PSU set to 9V with the correct pin attached and it worked perfectly. On the rear panel are stereo audio outs, MIDI I/O, power and a USB port which is used for firmware updates and wavetable swapping via an upcoming software application. It doesn't send or receive audio over USB—Micromonsta is strictly old school in this regard.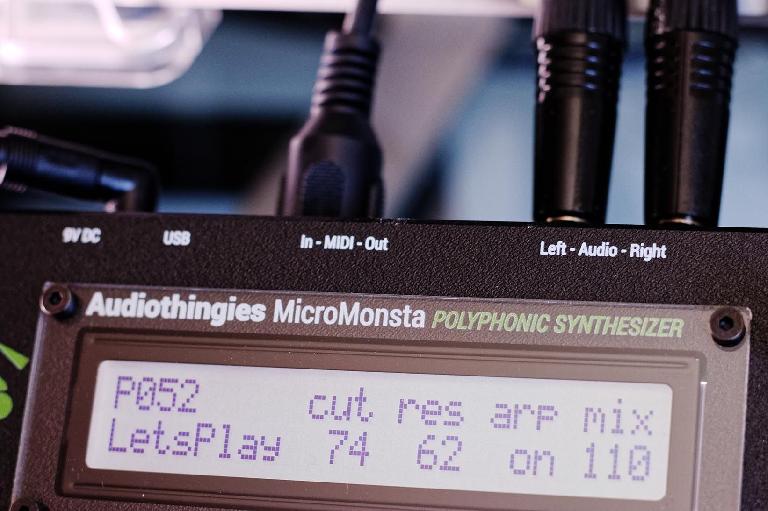 The two-line LCD screen is decently sized considering the overall dimensions of the box, and although there's some inevitable abbreviation on any small screen, does a good job of conveying information. Anyone who grew up with hardware digital synths, samplers and workstations will snap fairly quickly back into recognizing shortened words like "cut", "res" and "del" for what they actually mean. Even if you haven't had experience using instruments like this, the text is pretty easy to get to grips with.
Buttoned Up
The developer has come up with a great approach to usability while maintaining a simple and uncluttered layout of controls on the front panel. The volume control is self-explanatory, and under the readout are six endless rotary knobs each with a press function. These correspond to the 1–6 parameters shown on the screen, and even though the knobs extend physically beyond the readout, you quickly become accustomed to the fact that this is the case. As you will probably have guessed by now, it's all about contextuality when it comes to the controls. The knobs alter whatever parameter is currently shown in their given slot. Pressing knobs 1 and 2 will also cycle up and down through presets, which is handy for live situations.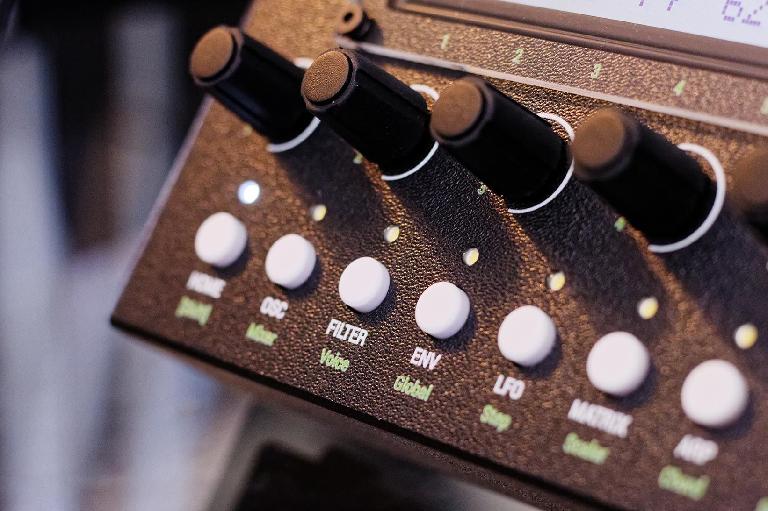 The nine buttons along the base have a couple of functions. The primary one is shown in white text and the secondary one, via holding shift while pressing, in green. Additionally, pressing a button multiple times will cycle through different function pages: between oscillator 1, 2 and sub osc for example, when pressing the OSC button. Again, this makes navigating quite straightforward where it could theoretically have been tricky.
Sound Creator
The small size of Micromonsta belies its huge sound, and there really is something intangible about the sound you get from hardware-driven synths. It just sounds bigger and warmer—certainly in this case. It's 8-voice polyphonic although this can be switched to monophonic or legato behavior in the Voice section. As noted there are two oscillators as well as one sub oscillator, a multimode filter, three envelopes and LFOs, six modulation slots, three scalers and one lag operator per voice. Within this you can select from 12 oscillator types and 30 wavetables, eight filter types and some internal effects including delays and stereo. Variable Unison modes let you fatten up patches too, which sounds great. You can detune voices and oscillators in fine detail, which lets you add slight imperfections to patches, a popular technique.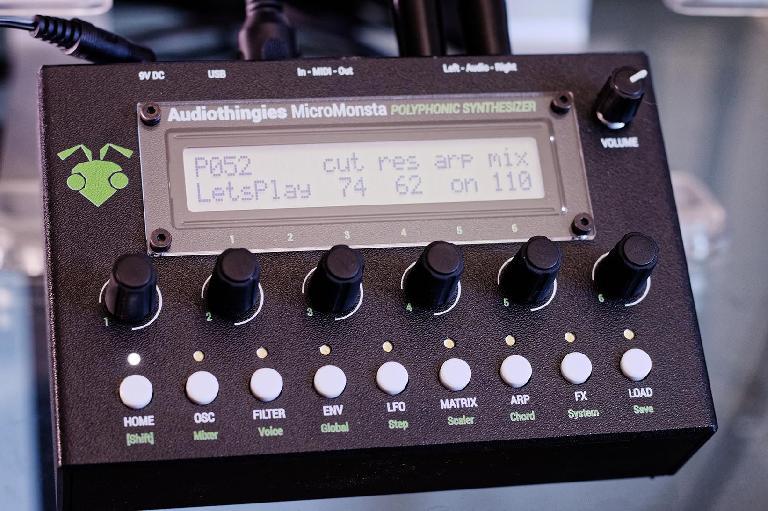 [courses_slider]
As well as unison and detune, Micromonsta has a few more tricks up its sleeve to help you get a bigger and more interesting sound. First up is the onboard arpeggiator with a step pattern editor, slide and accent tools accessible through the edit knobs. This is quite intuitive to get to grips with although with a lot of variables on offer you might want to refer to the manual when first learning it. It can help too of course to have MIDI clocked from externally so that your tempo obeys your host setting, though this is not hard to do.
A mod matrix is also available and again the design makes this remarkably friendly to work with, considering the limited physical controls available. A quick glance at the manual will explain what's what as far as modulation goes. Last but not least, you get a chorder module which lets you generate up to four-note chords within a key or scale while pressing a single note, and is fully configurable. In the wrong hands this kind of tool could be fiddly on a small hardware unit, but here it's very well implemented.
Some kind of Monsta
Sonically, Micromonsta is awesome and has to be experienced in the flesh to truly appreciate it. It's also insanely fun to play with and tweak, more so than almost any hardware synth I've used for many years. This could be partly down to the pure hardware focus: there's no software patch editor and no USB to software plug-in like some synths use. That might disappoint some people, but I'd argue that it's helped the developer to focus even more on making the synth brilliant at being a really useable hardware synth. It makes you want to play with filters, effects, voices, wavetables and arpeggios in a way that a lot of software or hardware synths don't. It's inspiring and fun, truly powerful and punches well above its weight. If you can get your hands on one you'll find out why.
Price: 303 EURO / $330. Check site for pricing in your currency.
Pros: Sounds amazing. Tremendous fun to tweak and play. Clever and efficient layout and workflow. Packs tons of functionality into a small box. Relatively gentle learning curve even for beginners. Good performance features. A superb way to bring gorgeous hardware synthesis into your setup without spending a fortune.
Cons: Only EU power supplies bundled at present. No direct computer integration, if that bothers you.