The trend these days is to photograph ourselves doing, well whatever... Musicians are no exception. Now with an iPhone and an iTrack Pocket you can take excellent video and audio with no fuss.
It's easy to underestimate how many people use YouTube as a platform for promoting their music, and musical '˜selfies' are a big part of this. Sorry for using the term, but it seems accurate to describe the modern phenomenon of filming yourself performing. Although its background is in high-end studio hardware, Focusrite has been branching out into the iOS world, most notably with its recent iTrack Dock, a pro audio interface for the iPad. The iTrack Pocket is a similar concept only designed for the iPhone, and it's approved by Apple.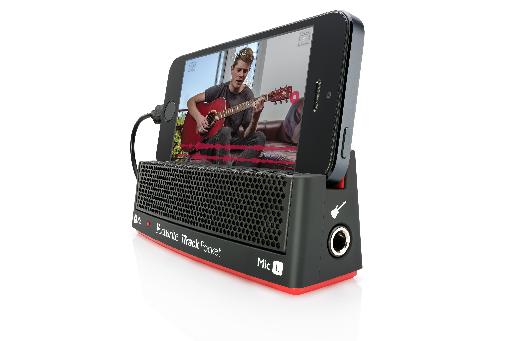 What is it?
"I was genuinely impressed with this interface and I think it really fills a gap in the market."
It's a clever idea: although iPhones have built-in mics, they're only really 'ok' for proper audio recording, and a dedicated accessory will always offer you better results. Designed for the iPhone 5 or higher, it holds your device securely in Landscape mode and there's a micro USB to Lightning cable which powers the mic and also connects the two. Interestingly, the groove to hold the phone will also accommodate an iPad Air (and by extension an iPad Mini) though with the Air you'll need to prop it up as it's too heavy to stand by itself. That's fine: this is designed for a phone not an iPad, but with a simple book or something placed behind it, you'll be able to use it with an iPad too. There's no 30-pin connector available but these have long since been superseded anyway by the Lightning format.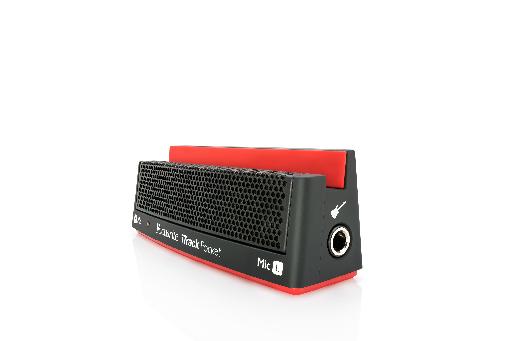 It's incredibly lightweight but feels well built, and the front face contains a stereo microphone and a clipping indicator. On one side is a level control and on the other, a dedicated guitar jack input. Like all iOS audio devices it's class compliant so no drivers are needed and it works with many different recording apps. Focusrite makes a free one called Impact and again though it's for phones it works just fine in 2x view on iPad as well.
Look at me!
When you record in most apps you'll just get sound but Impact supports video as well : in fact it records video by default so it really is perfect for an all-in-one way to record yourself and upload it straight to YouTube. Helpfully it can use both the front and rear facing cameras, so you can take advantage of the much higher resolution of the rear camera even if this means you can't see yourself onscreen while you perform.

"The audio fidelity is leaps and bounds better than the phone's internal mic can manage."
The audio fidelity is leaps and bounds better than the phone's internal mic can manage, and although you are recording '˜in the room', with a bit of careful positioning you can get a really intimate sound. The app can be set to capture just from the mic or from the mic and the guitar input, and shows you a waveform as it records. Headphones (via your phone's headphone out) can be turned on and off as well. There are also effects in the software so you can apply variable levels of reverb and compression. Even though these controls are simple, they can add a lot in terms of polishing up the overall level and depth of a recording. You can also top and tail the file and when you're done, share it to various locations including YouTube.

Final thoughts
I was genuinely impressed with this interface and I think it really fills a gap in the market. It's ultra portable and powers itself, and offers a far better recording quality than you'd get from your device or a webcam, plus the added bonus of synced video. A nifty invention.

Price: $99.99 / £79.99

Pros: Super-portable. Great sound quality. Free Impact app is fun and easy to use. Works with other recording apps. Genuinely fills a gap in the market.
Cons: Slightly expensive for what it is.

Web: www.focusrite.com