Seems like more than ever everyone wants to gets their hands on an Akai MPC! No surprises there. And unsurprisingly the iMPC app for iPad has been very successful too. Sara Simms gets hands on.
As a long time fan of Akai products, I was excited to be able to try out Akai's new iMPC app. I think it's great that Akai has jumped into the app market for their products, since there are now more producers than ever who want to make music whilst on the go. The iMPC gives you the ability to make music, anywhere; it's ideal for travelling, and for the musically adventurous.

The iMPC is a collaboration between Akai, and software developers Retronyms. From the minute I launched the app, I loved the classic MPC layout, and its light colored design. An application's appearance is always an important factor for me; I think the more you like the way the GUI looks, the more you'll want to use the app.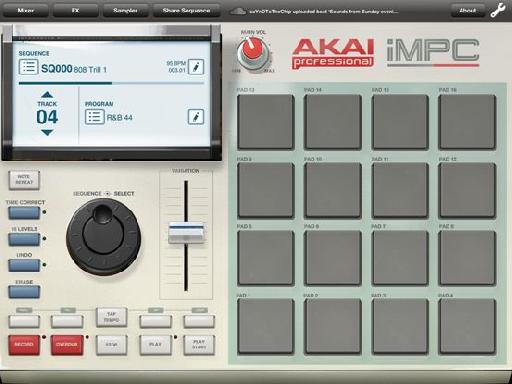 For those of you who are seasoned MPC users, making beats on the iMPC should be a breeze. For others who need a little help getting started, the iMPC comes with a very handy iMPC user's guide that will quickly show you the ropes.
Here are a few of my favorite features of this great app...
Data Screen
On the top left, you'll find the data screen. The data screen displays the Sequence, Track, and the Program. You can select one of the sequences, or re-order them to create your own. You can have up to four Tracks to work with, and each Track has its own Program. Each Program is a series of sixteen samples that are laid out across the iMPC's pads.

Sound Library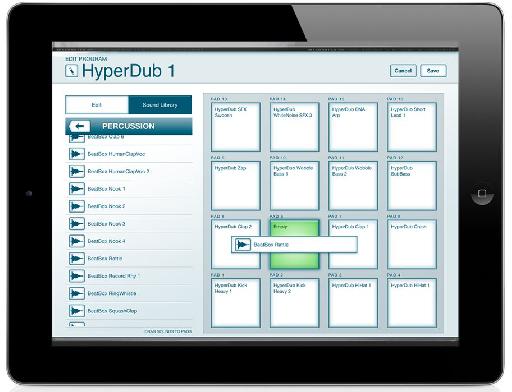 The iMPC comes loaded with a large sample library of classic Akai sounds, and new iMPC samples. All of these samples can be accessed through the Sound Library. You can also create your own samples, either by using the iPad's microphone, or its line in.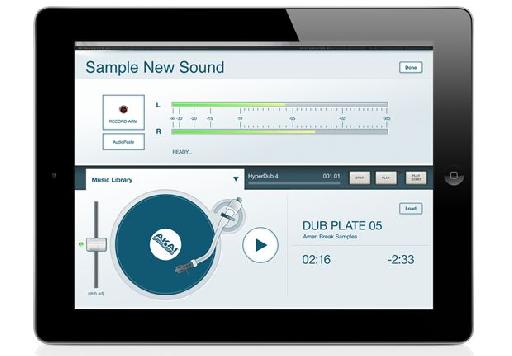 One really cool feature of the iMPC is its ability to record your own samples, using the multi-touch turntable interface that's included in the app. You simply load up a track from your iTunes library, move the needle on the record to where you'd like to begin recording, then press play and record. Both old school and new school producers will love this feature; it makes sampling so fun! After you record your sample, you can clean it up by trimming it, and testing it out on a pad.
Another unique feature of the sampler is the iMPC's ability to import samples from other apps, using the AudioPaste menu. There's a long list of compatible apps, including iElectribe, and iKaossilator. Being able to share samples from one app to another really is a useful feature.
Pads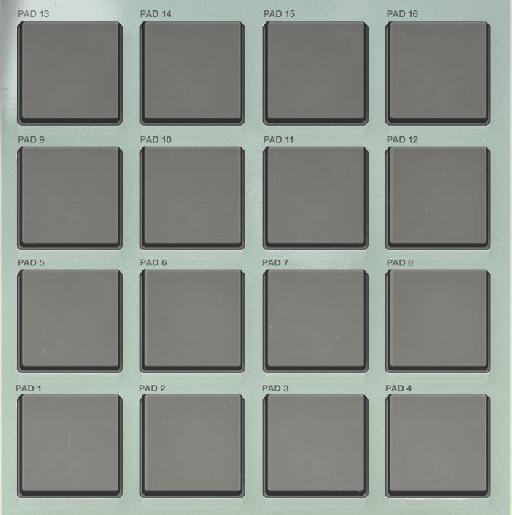 The iMPC features the virtual version of the 16 pads Akai is famous for, which make creating patterns a breeze. I think one of the best things about the iMPC is it gives you the ability to create music using your hands; it provides you with an organic way of making beats.
Performance Controls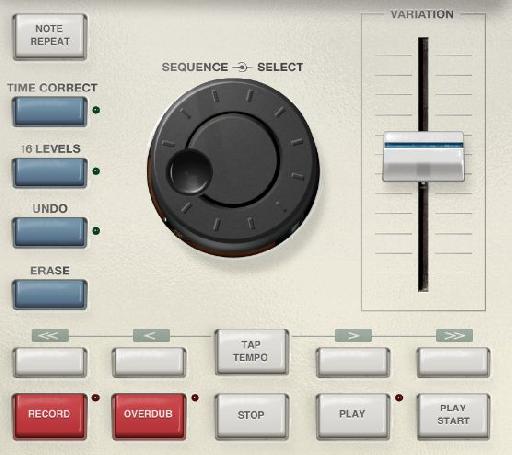 Along the left-hand side of the iMPC, you'll find the Performance Controls, which are helpful for quantizing your beats, and adding Swing. One of my favorite features is the '˜16 Levels' controls that allows you to use all 16 pads to modify the parameters of one sample. You can use this feature to alter the velocity and length, change the tuning, or filter your sounds.
Mixer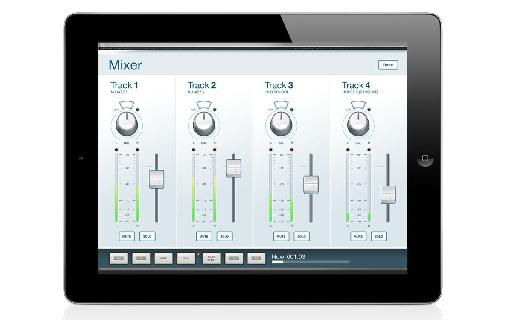 Included on the iMPC is a simple four channel mixer, where you can pan, adjust the volume levels and mute or solo your tracks. Like the rest of the iMPC, it has an attractive design and is easy on the eyes.
FX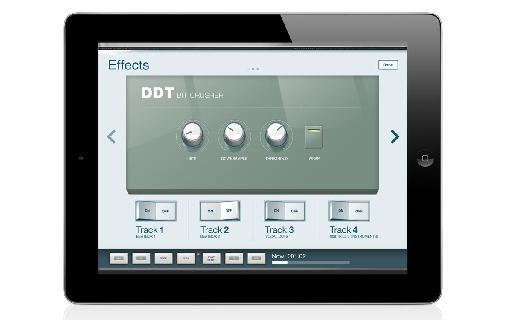 The iMPC comes included with three effects; a bit-crusher, a tempo-sync-able delay, and a Master Compressor/Limiter. For both the bit-crusher and the delay, there's an on/off switch on each individual track, which I found to be a useful feature. You can also use these effects creatively, in a live performance setting as improvisational tools. While the Master compressor/limiter does pack a punch, I would use this with care, as you want to avoid distorting your sequence.
Sharing Your Music
One of the most innovative things about this app is the way it allows you to share your music with the world. You can post your music instantly on SoundCloud, directly from the app. Any songs that you share online are also instantly added to the iMPC Community, which is powered by CloudSeeder. The iMPC community provides a good opportunity for producers to promote their beats, and build an audience for their music.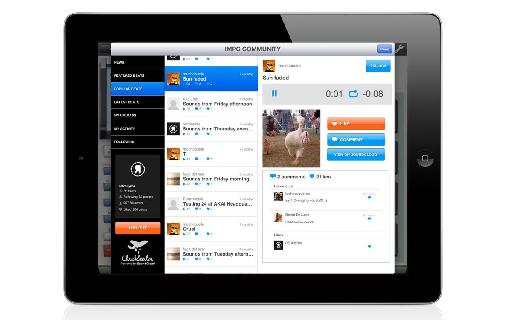 More Export Options
The iMPC works together with iTunes in a neat way. You can choose to export your music as a .WAV file to iTunes; all of your custom samples, and sequences will appear in a file called 'iMPC Documents' in iTunes. Any sequences you export for the MPC will also appear in the same folder, making it easy for you to drag and drop your samples to a desktop computer. Ideas for new beats can be easily started on the iMPC, and later transferred to another machine for polishing and refining. You can also export your full sequence to MPC Desktop, and continue to craft your beat using MPC Renaissance or Studio, or the standalone MPC software.
Other Notable Features
Here are a couple other features that I thought were pretty unique about the iMPC:
Tabletop Ready App
The iMPC is the first Tabletop-ready app, which means when you buy it, a free version is unlocked inside Tabletop. Tabletop is a modular environment application by Retronyms that allows you to build a studio consisting of other musical apps.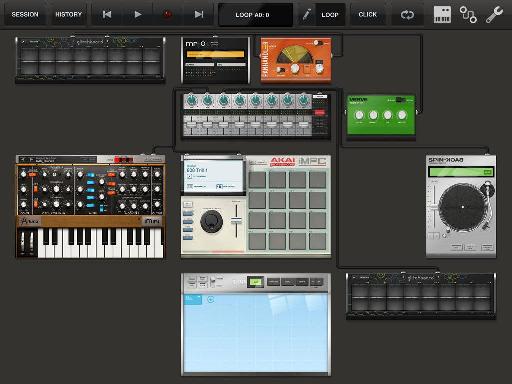 WIST Support
I really like how many other futuristic technologies the iMPC is compatible with. You can sync the iMPC with Korg's WIST, which gives you the power to wirelessly sync between a number of compatible apps on iOS portable devices.
Overall, I think the iMPC is an extremely well-designed app that's both fun, and practical to use. I really like the nods to the old-school beat making techniques, like the ability to sample records using iTunes and the onboard turntable. I think the iMPC offers a few very cool export and sync options for forward-thinking producers. I also like the iMPC Community that's being built around the iMPC, which gives new producers an outlet for sharing and receiving feedback on their music. I'd highly recommend this app to everyone who is interested in beat-making, and trying out new musical apps. Whether you're a novice or a seasoned pro, I think you'll find new inspiration in the iMPC.
Specs:
Cost: $6.99 USD

Available on the iTunes Store
The Good:
Legendary Akai layout

Sample library, and the ability to sample

Export to a variety of formats

Futuristic sync capabilities
The Not So Good:
The only thing I really wish is that the iMPC's pads felt like the real Akai pads. Well, I guess you can't quite have it all in an app!