Korg's polyphonic analog synthesizer, minilogue, received many plaudits since its announcement at NAMM 2016. But just how good is this sub $500 synth in the real world? Find out in our video review.
I had an opportunity to check out the Korg minilogue at NAMM and meet some of the creators, but as NAMM is a never-ending jungle of gear, distractions, and noise it can be difficult to form a lasting impression of any piece of gear. I was excited by the prospect of the minilogue and couldn't wait to get one in my hands. Lucky for me, the good folks at Korg sent one over straight away. Here's what I found during my month with the minilogue.
The Hardware iSynth
I feel that the minilogue is as close to a hardware iSynth as we'll ever get. It feels very 'Apple Like' in its design. That's a compliment, for sure. The minilogue seeks to make synthesis approachable to everyone without skimping on the power. Korg certainly succeeded in this task; the minilogue is a powerful synthesizer with true analog sound, but it's laid out in a manner that is approachable to everyone and leverages the power of its multi-voice engine in a really intuitive way.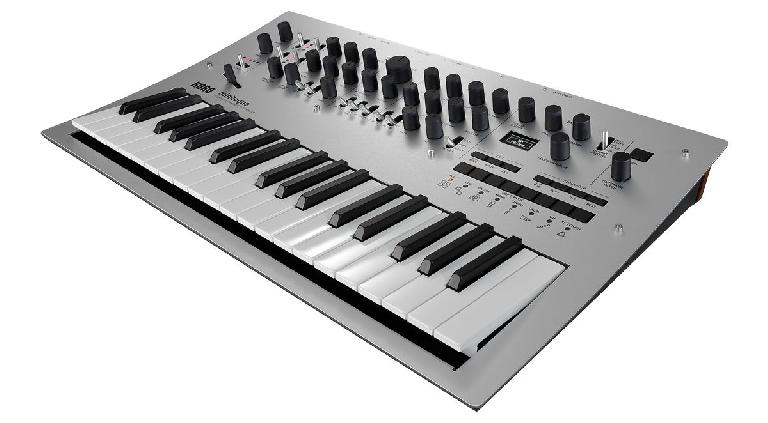 Under the Hood
The minilogue is a 4-voice analog synth with 2 oscillators per voice. The voices can be configured in a number of different 'modes' that allow you to play in a variety of ways from polyphonically to stacked unison. Many of the common controls and variations of these voice modes can be controlled with a single 'voice mode depth' knob. In unison mode, for example, the voice mode depth knob adjusts the 'detuning' effect of the voices. In arpeggiatior mode, the knob rotates through the various available arpeggiation patterns. It's a paradigm that works very well, and it allows you to really feel like you're getting the most out of your synth in an ergonomically designed way.
Design
The minilogue's design is sleek and modern. The knobs are plastic, but sheathed in a rubberized coating that makes them very easy to grip and adjust. The toggle switches are metal and feel very sturdy. The face of the minilogue itself is a thin brushed metal that is pretty good at repelling fingerprints, and the casing is faux wood. The keyboard itself is extremely light, but it definitely doesn't feel 'cheap'. It feels like the minilogue could withstand a few knocks on the road.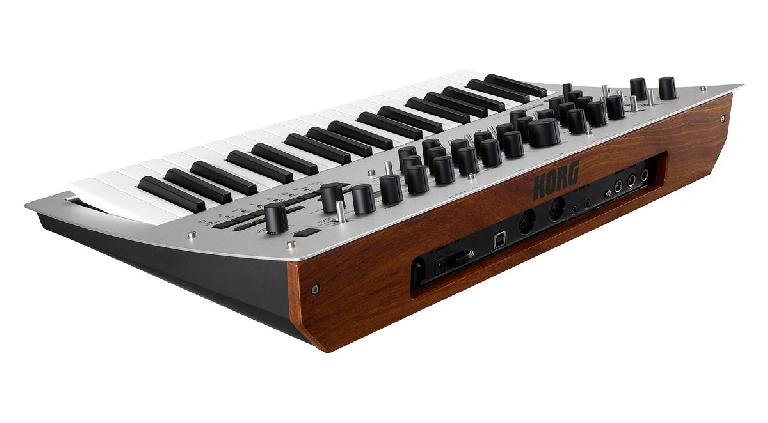 [courses_slider]
The Sounds
I found the preset sounds to be very typical 'Korg' in nature. This may or may not appeal to you, but the great aspect of the minilogue is how easy it is to program. I was able to dial in some classic synth patches fairly quickly, and the ability to map just about any parameter on the entire synth to the slider stick (in lieu of a pitch wheel) was really cool. There are no pedal inputs on the minilogue, but you can sync it with a variety of other MIDI devices in addition to a very cool sync port specifically designed for interfacing with Volca modules.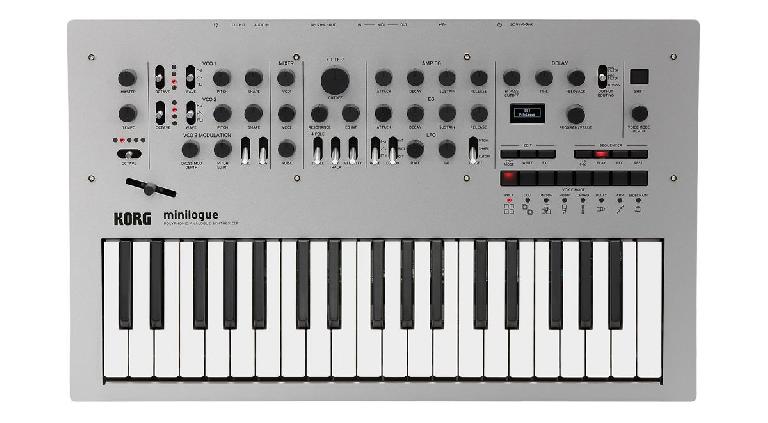 At a price point of under $500, this synth is a no-brainer.
Conclusion
At a price point of under $500, this synth is a no-brainer. With 4 voices, decent build quality, the unique 'voice mode' paradigm, a programmable slider stick, and a built-in oscilloscope the minilogue is positioned to be the boutique 'synth to get' in its price category. A polyphonic analog synthesizer for under $500 with a built-in oscilloscope? Sign me up!
Watch synth expert Matt Vanacoro reveal the ins and outs of the Korg minilogue in this video course in the Ask.Audio Academy