Vocal processing can be tricky to get right, but Roland might just have cracked it with the new VT-3'¦
Extreme voice processing has always been rather easier to achieve in the studio than in a live scenario, and even then the process could be a little tricky. Despite this, the popularity of vocoding and voice synthesis remains strong, especially in electronic music. The smallest but arguably most innovative of Roland's new AIRA range is the VT-3 Voice Transformer, a highly portable but well constructed box for changing live vocal input.
Look and feel
Around the back you'll find a combo XLR / jack mic input with phantom power, stereo jack outs which can be split into separate wet and dry mono channels and a pedal input to trigger the effect remotely. You also get a USB port that can carry audio to and from your computer and also carries power, and a mains power input.

The VT-3 aims to take the hassle out of vocal processing, and I'm happy to report than in this it definitely succeeds. I've usually not bothered much with heavy vocal processing apart from the odd bit of pitch correction, because it can be such a hassle to set up and get right. Not here though. Hook up the mic, sort out monitoring and you're off. There are master volume and mic sensitivity controls as well as a peak meter, and wet/dry effect mix and reverb sliders that make controlling input and output levels simple as well as three slots to store presets.
Robots in disguise
You can choose from a range of nine effects and these are also modifiable using the Pitch and Formant sliders, which move your voice up or down both in pitch and character in real time. The Auto Pitch settings let you sing in a stepped effect, as you will have heard on many tracks. The Vocoder setting is reminiscent of Roland's classic VP-330, and in fact emulates it using the new ACB technology. It sounds great'"basically it's the effect the Beastie Boys used in 'Intergalactic'. You can use the 'Robot' button to ensure the vocoding stays on a single note that you set with the pitch slider, or turn it off to have the effect follow the pitch of your voice input. I spent ages playing with this and pretending to be a Cylon.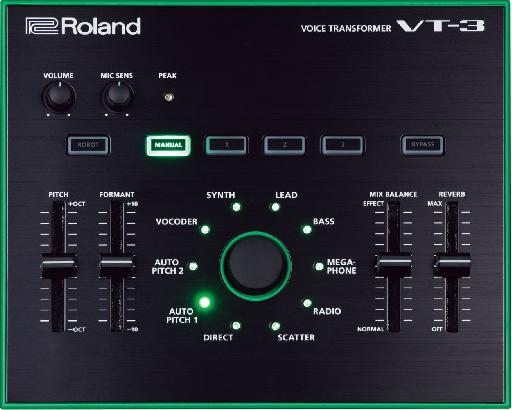 The VT-3 also contains a voice synthesizer and three presets that make use of this specifically. Sing into it and it mirrors the pitch of your voice with a synth noise, and if you choose to make sounds rather than singing words this can be incredibly creative. Other presets include Megaphone and Radio, instant extreme EQ-style presets and good for hip hop. Last but certainly not least is the Scatter effect which has a really clever pattern and tempo detection system. This analyses what you input in real time and creates stutter and other glitch effects based on it. So say something slow and the effect will mirror that, or something quick to trigger extreme stutter.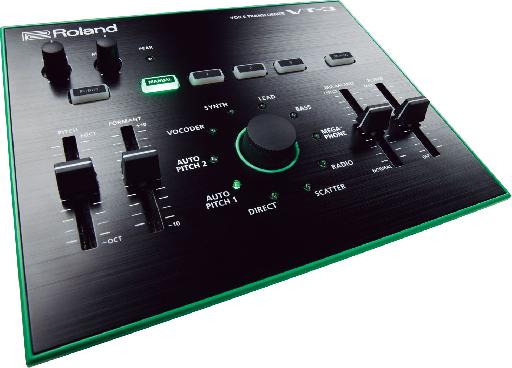 Roll VT
I honestly didn't expect to find a great deal to say about a vocal processor, but the VT-3 is without a doubt the most fun and accessible way to play with vocals in real time that I have ever used. Not only does it take the hassle out of vocoding, it's tremendously flexible with its other effects as well, meaning it's not just for fans of robot or auto-tuned voices. Crucially you don't have to be an expert on carrier waves, you can just plug in and go. It would be great in the studio of course but also and perhaps more importantly, in live situations where vocal processing has always been much harder to get right. Expect to see these popping up all over the place, especially at that very competitive price.
Price: $199
Pros: Amazing fun to use. Very accessible yet powerful. Great vocal processing tools. Superb for live performance.
Cons: Nothing!