Is the new virtual analog engine powered Yamaha reface CS synth as small, fast, portable, and excellent sounding a synth as Yamaha hope it will be? Matt Vanacoro finds out in this video review.
The Yamaha reface series is a unique concept for the modern keyboardist to wrap their head around. Take a quality sound engine, put it in an extremely portable form factor, give it battery power, add built-in speakers, and you've got the ultimate mobile music making machine. The CS is the analog-style synth of the bunch. I'm going to warn you right now, I loved every single one of the reface keyboards, and I'm pretty excited about them all. I'll try to reign in the exclamation points but… wow!!! (see, that was only 3 and I wanted to put 5.)
Watch this video overview of the Yamaha Reface CS here:
The Sound
The reface CS sports an 8-note polyphonic virtual analog engine. There are no presets to be found here. All of the sound-generating parameters are 'what you see is what you get'. It's a wonderful nod to the analog synths of old, and I still can't quite believe the huge sound you can get out of this small package.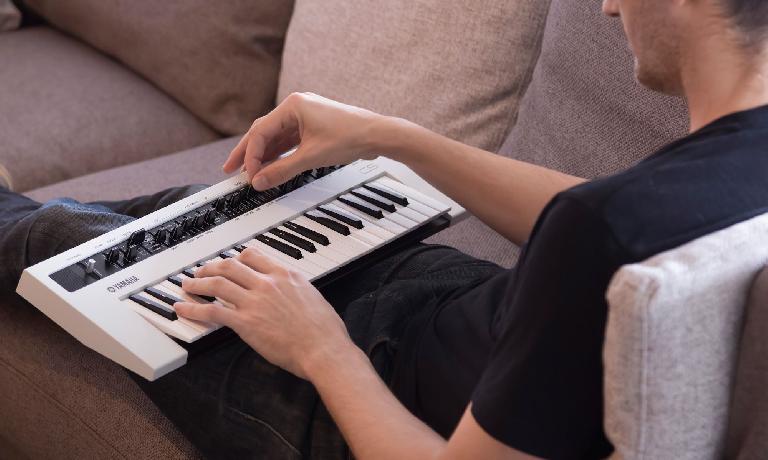 With a variety of oscillator types, including saw, pulse, sync'd, ring mod, and FM, you've got quite the tonal palette to start with. Add a filter section that is surprisingly well designed for the amount of space Yamaha gave themselves to work with and you can really shape your sound. I found the effects to be decent, but really the part that stands out here is the oscillator/filter section. You really can craft everything from a powerful, soaring lead to a lush pad rather quickly. In fact, I found this keyboard to be the perfect tool for sketching out sound ideas as well as for teaching about synthesis.
[courses_slider]
The Hardware
One of the things I was really impressed with on all of the reface keyboards is the attention to detail with the hardware. Each synth feels physically completely different, and they all do quite a good job of evoking the time period of the keyboard they model. The CS is a glossy white, and the metal pitch stick as well as the retro-looking sliders truly evoke analog synths of old.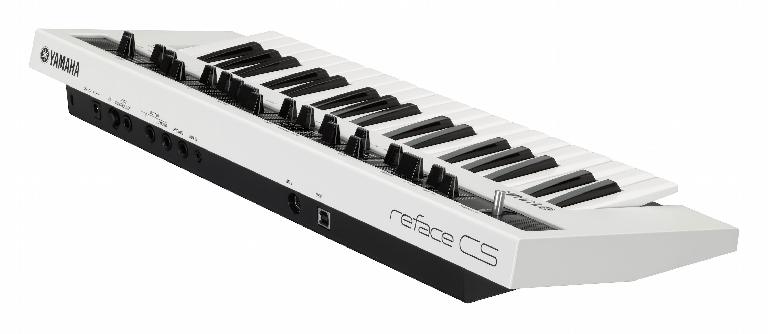 There is a phrase looper included on the CS, although I wasn't too keen on the choice of activating it with a slider/fader. It took a little getting used to. The speakers are obviously meant for portability, but they have quite the range and can absolutely be relied upon for sound design. I found that when I designed a patch using the speakers, I didn't have to tweak much when transferring that patch to my keyboard amp. Although I should warn you, you likely will be tweaking quite a bit. This keyboard just BEGS to be played with.
Finally, I truly appreciated the battery powered option. I found I got the advertised 5 hours easily out of the CS, and in fact with powerful Eneloop Pro rechargeable batteries I got quite a bit more.
[ad_unit]
Check it Out
The CS is only one of 4 great keyboards by Yamaha (spoiler alert for the next few reviews… I really REALLY liked them all). It's portable, it sounds great, and I would take this on the road with me to practice with, warm up with, and do some quick recording with in a heartbeat. The tiny keys are not really made for precision live playing, and I've seen some folks ding Yamaha a bit for that. I, however, went into this expecting a truly portable synth and that's what I got. I was incredibly happy to get my hands on the CS. Check out our video review for some sound samples and a more in-depth look!

Price : $499
Pros : Extremely portable, big sound, speakers are more powerful than they look, battery power, USB and standard MIDI compatible, beautiful aesthetic design.
Cons : Using the looper can be tricky due to the fader design
Website : http://usa.yamaha.com/products/music-production/synthesizers/reface
(Stay tuned to Ask.Audio for more Yamaha Reface video reviews over the coming week)