Using analog circuit behavior, Roland have taken the original semi-modular System-100 from the 70s and recreated it as an AU, VST and Plug-Out synth for AIRA System-1 and System-1m.
The new System-100 Plug-Out software synthesizer from Roland reproduces the semi-modular mono synth from 1975 and integrates the Model 101 and Model 102. What this means is you can expect a "fat and uniquely versatile two oscillator monosynth with modular routing capabilities."
This new plug-out soft synth works with the System-1 and System-1m and can be used by any compatible VST or AU host like Logic Pro, Cubase or Ableton Live. The System-100 uses analog circuit behavior to recreate each and every detail of the original.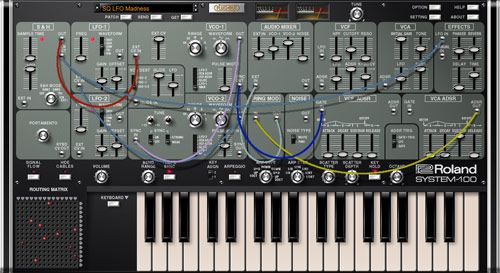 Roland AIRA System-100 Plug-Out Synth
Main Features
Perfect replica of SYSTEM-100 sound and behavior

ACB provides expansive, liquid tone of the original

Model 101 Synthesizer and Model 102 Expander in a single instrument

Sophisticated architecture with dual VCO, dual LFO, S&H, Ring Mod, Noise and more

Versatile semi-modular patching capabilities

Integrated Phaser with modulation inputs, Reverb and Delay

Advanced arpeggiator with Scatter capabilities

VST, AU and PLUG-OUT compatible
More details HERE http://www.roland.com/products/system-100_plug-out/
Buy the System-100 for €175 HERE https://contentstore.roland.com/aira/detail/system-100_plug-out/?ref=system-100_plug-out&bn=promo&_ga=1.204125970.343565453.1428512284
Download a Trial HERE http://www.roland.com/products/system-100_plug-out/downloads/