Korg are close to revealing a new synth app for iPad and iPhone, the iWavestation. Having just recently ODYSSEi, the Arp Odyssey iOS app, Korg have turned their attention to the popular Wavestation.
A preview of Korg iWavestation first took place at SynthFest UK and was spotted at the Music Expo in Milton Keynes, UK by eagle-eyed Martin Delaney.
Interestingly, Korg employee, Ian Bradshaw, appeared on the microKAST (Korg technology podcast) back on 20th October this year, giving demos and explaining the upcoming iWavestation. Here's the episode below... the first 7 minutes are focused on iWavestation.
[ad_unit]
There are some stunning ambient pads and sounds. Waveforms are graphically represented and color-coded and "as the wave sequence is playing you can see it stepping through". The app will be available later in 2016 by itself initially. That is, it won't be integrated into Korg Gadget straight away. iWavestation is "everything the Wavestation can do." There's over 1,500 sounds available and optional cards will be available via in-app purchases.
You can use the on-screen virtual keyboard or use the Korg Plug Key or another MIDI controller. The virtual keyboard has some unique features like being able to set the scale type and play chords. "There's also a Kaosillator style interface where you can determine whether it's playing single, dual, triple or four notes in configuration.
This photo was taken by Martin Delaney at Music production Expo 2016: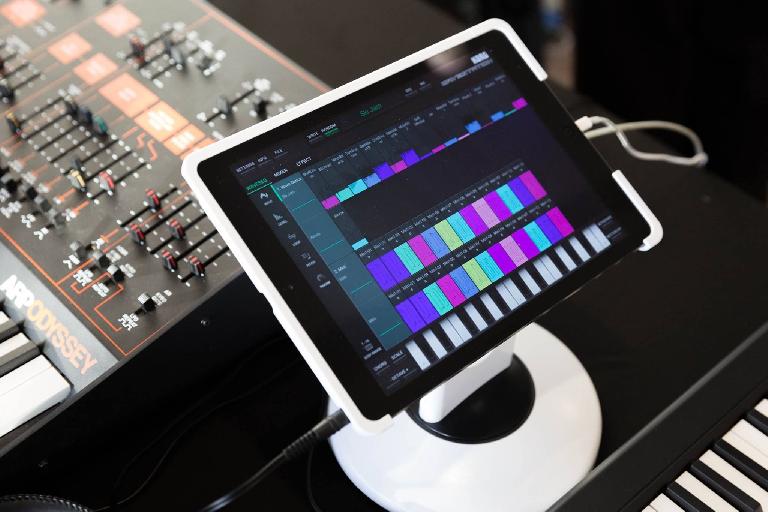 [courses_slider]
Although the price hasn't been set, it's likely to be around $29.99 on the iOS App Store.